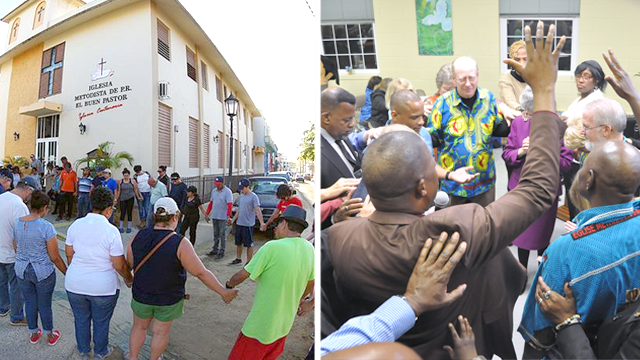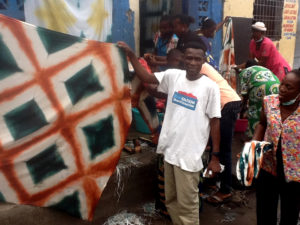 A small, joint team of Eastern PA and Peninsula-Delaware Conference Cabinet members and church leaders arrived Wednesday night, Feb. 14, in Kinshasa, the Democratic Republic of the Congo's (DRC) capital city. About an hour away in Mpasa, they began a two-week visit to several places where the Bishop Peter D. Weaver Congo Partnership is hard at work helping to save and improve lives through healthcare, education, and development.
Also on Feb. 14, Ash Wednesday and Valentine's Day, another team of Cabinet members and church leaders from Eastern PA arrived in Puerto Rico on a similar mission of mercy. They are there to visit Methodist churches trying to recover from Hurricane Maria's damage and destruction, where there is also much hard work being done and just as much need, if not more, for our conference's generous assistance.
These simultaneous mission journeys have taken our full Cabinet—Bishop Peggy Johnson and her four district superintendents, the Revs. Dawn Taylor-Storm, Irving Cotto, Tracy Bass and Bumkoo Chung—out of the country, leaving the Rev. Anita Powell, Director of Connectional Ministries (and a former superintendent and Cabinet Dean) to stand in for them.
Congo Partnership support

The purpose of the DRC expedition, Feb. 14-26, is to strengthen the Congo Partnership through the team's visits and volunteer work at various mission venues there. They will tour: the Mpasa Medical and Nutrition Center; the Wembo Nyama Children's Ministry; the Cape Lodja Agricultural Project; and a secondary School and trade school, both in Diengenga. They will also teach local pastors school classes and join area clergy and laity in worship.
Joining the Rev. Taylor-Storm, South District Superintendent and team leader, are Bishop Johnson; the Rev. Bob Wilt, pastor of Lima UMC; Anthony Barnett, Lima UMC's Administrative Council chairman; and Ann Jacob, another Lima UMC member who attends seminary at Boston University. She is studying in Germany and will meet the team in Kinshasa.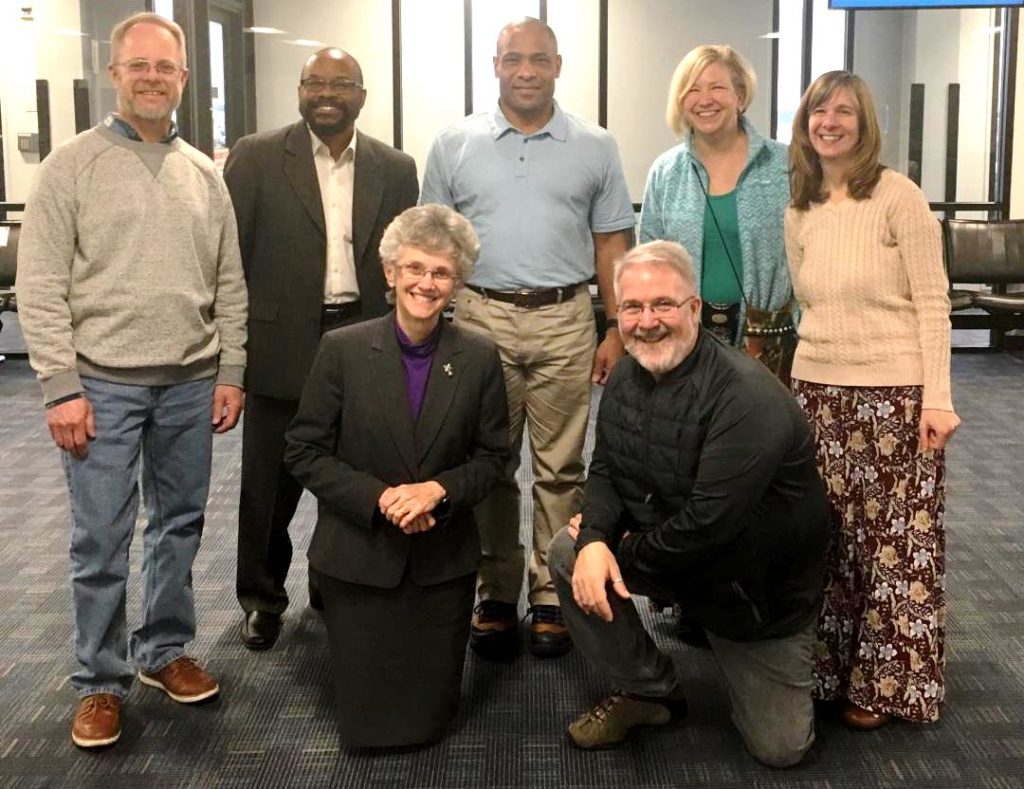 Lima UMC hosted a celebration of the Congo Partnership last November that featured visits by the UMC's new Central Congo episcopal leader, Bishop Daniel Onashuyaka Lunge, and Dr. Adolphe Yamba Yamba, lead physician and mission coordinator for the Congo Partnership, based in Mpasa. The South District has raised over $150,000 to help build and furnish Mpasa's new pediatric clinic. The North District has also raised and donated funds to support the Mpasa Medical Clinic & Nutrition Center.
Also on the team are three clergy members serving in the Pen-Del Conference: the Rev. Joseph Archie, a superintendent; the Rev. Vicki Gordy-Stith, Director of Connectional Ministries, and the Rev. David Ryan, who is on-loan there from Eastern PA. Bishop Johnson will have to leave the team Feb. 23 and fly to Dallas, Texas, for a Council of Bishops meeting.
Bishop Lunge and Dr. Yamba Yamba will spend time with the team. And the Rev. Jonathan Baker and Donna Baker, RN, a Global Ministries missionary couple assigned to the Congo Partnership, will host them during their visit.  The Bakers have announced their retirement March 31, after three years of missionary service there.
Helping Puerto Rico Rise Again
Meanwhile, a six-member team is visiting Puerto Rican Methodist churches and their communities Feb. 14-23 to learn about the destruction caused mostly by Hurricane Maria in September and the urgent needs that Eastern PA Conference churches can address there. They will visit churches in the San Juan area and in outer rural areas that continue to suffer most from a lack of electricity, food and other necessities six months after the historic storm struck the beleaguered island.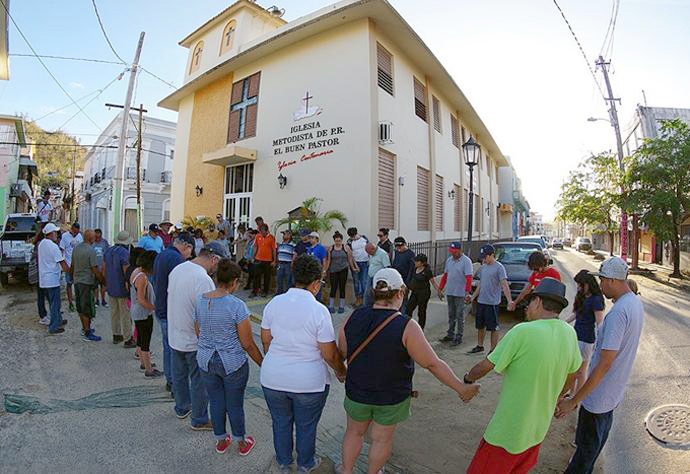 Joining superintendents Cotto, Bass and Chung are: the Rev. Nicolas Camacho, community outreach pastor at West Lawn UMC and lead organizer of the conference's new Helping Puerto Rico Rise Again campaign; the Rev. Herbert Coe, pastor of St. Daniel's UMC in Chester; and Andres Cotto, a musician and member of Casa del Pueblo UMC in Hatboro and Irving Cotto's son. Camacho must leave on Sunday, Feb. 18, to return home to his job at the Communities in Schools program in Reading.
Team members will meet, pray, fellowship and worship with Bishop Hector Ortiz and pastors and members of some of the 96 Methodist churches, 33 of which were damaged. The team will also deliver monetary gifts to the church leaders, while gathering information and stories of struggle, survival and ministry to bring back and share with Eastern PA churches.
The conference launched its Helping Puerto Rico Rise Again campaign in January to raise $100,000 by Annual Conference in June. The goal is to help the autonomous Methodist Church of Puerto Rico (MCPR) repair heavily damaged church facilities, support beleaguered pastors and fund recovery efforts in their communities, addressing some critical needs that may not be cared for by UMCOR (the UM Committee on Relief), FEMA or other sources of help.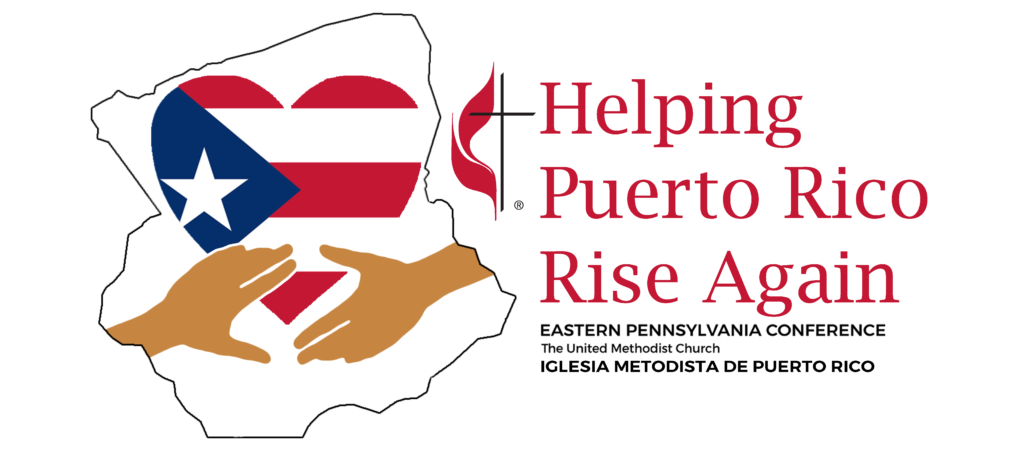 Bishop Johnson and Cabinet members ask that Eastern PA Conference churches, members and friends keep both teams and their hosts lifted in daily, faithful prayer for safe travel, good health and God's blessings on them and those they will meet, as they mutually share Christ's love and blessed assurance of hope.
Read more information about these two mission expeditions on our conference website, in NEWSpirit newspaper and Digest and on our Facebook page. We also hope to have more photos to share on our Flickr page when the teams return.