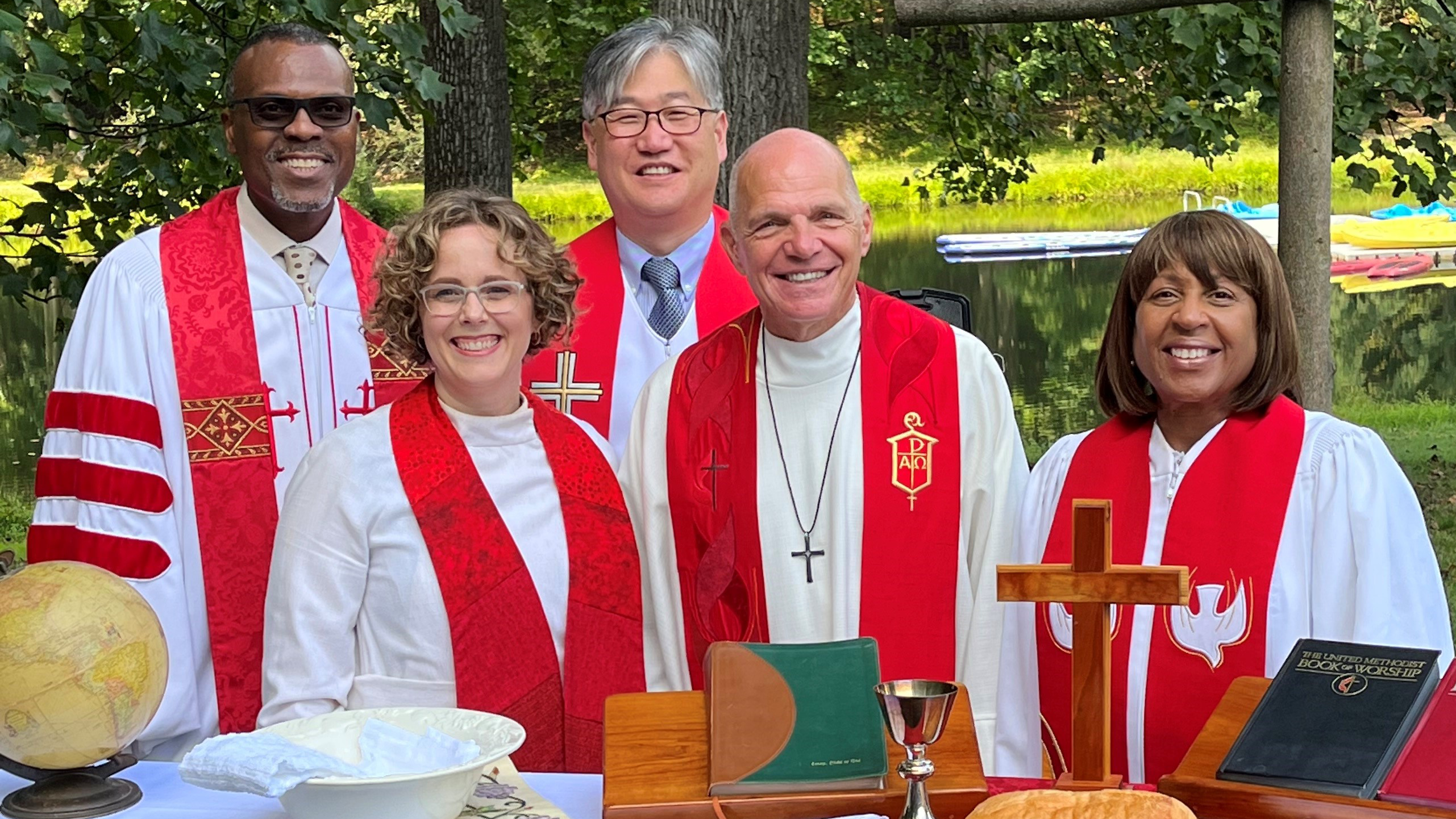 From left to right: Rev. Dr. Andrew L. Foster III (East District Superintendent); Rev. Jennifer Freymoyer (West District Superintendent); Rev. Hun Ju Lee (North District Superintendent); Bishop John Schol; Rev. Evelyn Kent Clark (South District Superintendent)

The Eastern Pennsylvania Conference of the United Methodist Church is made up of about 415 churches, which serve nearly 103,000 members in 16 counties. Led by Bishop John Schol, the Conference's mission is to make disciples of Jesus Christ for the transformation of the world.
Today, this mission is the focus of the conference's churches–congregations which speak to diverse and multi-generational populations in the many cities, towns, and rural areas throughout our area. These congregations seek to call persons to new life in Christ, nurture persons to be disciples of Jesus Christ, and address the needs in our communities as well as throughout the world through mission and ministry and by advocating for justice.
Boundaries of the Eastern Pennsylvania Conference:
The Counties of: Berks, Bucks, Carbon, Chester, Delaware, Lancaster, Lebanon, Lehigh, Monroe, Montgomery, Northampton, and Philadelphia.
In Columbia County: The township of Conyngham; the borough of Centralia; and, in the township of Beaver, Davis Chapel near Zion Grove.
In Luzerne County: The townships of Black Creek; Butler; Dennison; Foster; Hazle; and Sugarloaf. The city of Hazleton, and the boroughs of Conyngham, Freeland, Jeddo, West Hazleton and White Haven.
In Northumberland County: The townships of Coal, East Cameron, Mt. Carmel, Ralpho, Shamokin, West Cameron, and Zerbe.
In Schuylkill County: The town of Joliet in the township of Porter; and all of the other townships except Eldred, Hegins, Hubley, the balance of Porter, Upper Mahantango, and the borough of Tower City.
Eastern PA Conference Office
Physical Address
980 Madison Avenue
Norristown, PA 19403
Ph: 800-828-9093
Fax: 610-666-9093
Mailing Address
P.O. Box 820
Valley Forge, PA
19482-0820
communications@epaumc.org