Sanctuary Not Deportation: A Faithful Witness to Building Welcoming Communities
You who live in the shelter of the Most High, who abide in the shadow of the Almighty, will say to the Lord, "My refuge and my fortress; my God, in whom I trust."          — Psalm 91:1-2
As the faith community, we are called to accompany our community members, congregants and neighbors facing deportation.
Justice for Our Neighbors (JFON)
Rev. Carlos Reyes Rodriguez accepts position with National Justice for our Neighbors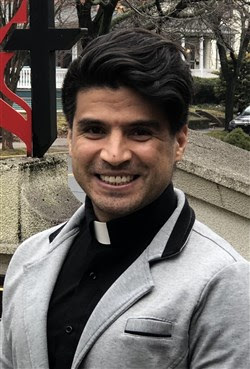 Rev. Carlos, an ordained full member deacon of the Peninsula-Delaware Annual Conference, has been serving on the Conference staff as Coordinator of Hispanic and Latino Ministries. He has served as an endorsed missionary from the General Board of Global Ministries.
Starting March 1st, Rev. Carlos will join the National Justice For Our Neighbors (NJFON) staff committed to 18 sites throughout the United States. As the new Racial Equity and Community Engagement Manager, Rev. Carlos will be responsible for leading the organization's racial equity work by developing and implementing training materials that provide a theological framework for immigration issues and supporting advocacy work that centers the immigrant community. NJFON is a nonprofit organization affiliated with the United Methodist Church that serves as the backbone to a network of organizations that welcome immigrants by providing affordable, high-quality immigration legal services to low-income immigrants, engaging in advocacy for immigrants' rights, and offering education to communities of faith and the public.
Interfaith Immigration Coalition (IIC) Resources: