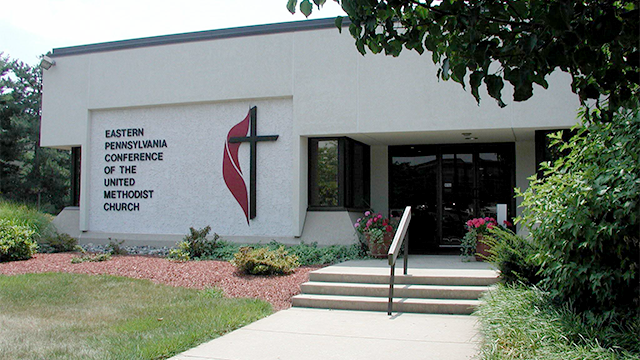 The Eastern Pennsylvania United Methodist Conference Center, at 980 Madison Avenue, Norristown, PA 19403, is a 10,000 square-foot, single level building that serves as headquarters for the organization of churches, clergy and lay members who together compose the United Methodist Church in the Southeastern PA region. It is located at the intersection of Madison and Monroe avenues, just off of Trooper Road (SR 363), near the Trooper Road exit on PA Highway 422. We are south of Egypt Road and near Audubon Square Shopping Center in Eagleville. For GPS navigation, use the address: 1040 Madison Avenue.
The building, with a sizeable parking lot, is owned and operated by the Eastern PA Conference and was dedicated December 13, 1975. It houses the offices of Bishop John Schol, leader of the United Methodists of Eastern Pennsylvania and Greater New Jersey, and the Eastern PA Conference offices of the Treasurer, Connectional Ministries, Pension & Health Benefits, Communications and Congregational Development. It also houses the main offices of the Mid-Atlantic United Methodist Foundation, which serves three conferences. Also working occasionally out of the conference center are the Coordinators of Youth & Young Adult Ministries, Latino Ministries, and the Development for Camp & Retreat Ministries.
The Conference Center has two full meeting rooms and several open meeting areas. Meeting Room A, the largest, can accommodate about two dozen people seated at tables, or additional seating in classroom style and around the perimeter. It also has a retractable screen for visual projection and a worship altar with a cross, candles and a large Bible. Meeting Room B is board-style conference room with a large meeting table and 10 chairs, plus space for additional perimeter seating. There is another small, open meeting space in the back, with a table and eight chairs. The conference center has a full kitchen inside a staff break room, and a small kitchen equipped to accommodate meetings. We also have a workroom with photocopiers and a small prayer chapel.