Our Mission
The United Women in Faith seek to connect and nurture women through Christian spiritual formation, leadership development, creative fellowship and education so that they can inspire, influence and impact local and global communities.
Our Vision
We are a powerful, fearless force driven by God's love and united in sisterhood. With a focus on women, children and youth, we act for justice and transform communities.
We face the realities we see in the world, even when they are not the ones we would like to see. However, our goal is not to bear witness simply to harms but also to God's love by acting boldly to change those harms.
Our Action
Bold action, like faith, takes courage. Our bravery is inspired by God's love and our powerful commitment to improve the lives of women, children and youth. United Women in Faith works for justice through compassionate service and advocacy to change unfair policies and systems that harm women, children and youth—from racial and gender injustice to economic inequality, climate issues and more.
UWF South District 'Day Apart' Sept. 20
EPA's South District United Women of Faith will host their A Day Apart Sept. 20, beginning at 8:30 AM, at Innabah Camp & Retreat Center in Spring City. Their theme: "You Are Not Alone: Rise and Shine!" (from Isaiah 41:10). Guest speakers will be the Revs. Karen Bartkowski and Tracy Duncan and Minister Paulette Brown. Cost for lunch: $14. Pre-register by September 10. Send checks payable to "South District UWF" to: Becky Givler, 279 Hurley Rd. Coatesville, PA 19320. Contact Delois Need at  delonedd@gmail.com for more information.
EPA women to welcome Sally Vonner, new UWF CEO, Oct. 21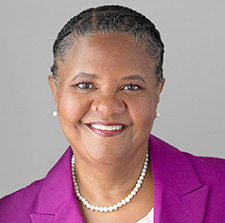 Eastern PA's United Women in Faith will welcome a very special guest speaker at their 50th Annual Celebration on Saturday, October 21: Sally Vonner, the international United Women in Faith organization's new General Secretary and CEO. The celebration will happen at Asbury United Methodist Church in Allentown, from 9:30 a.m. to 2 p.m., with lunch at noon.
Vonner, who was installed July 29 as UWF top executive, has worked at the women's mission organization since 2010. She oversaw the branding that included changing the name from United Methodist Women. She is the second African American to lead the women's mission organization. (Read Vonner installed as women's group leader.)
"Stepping Out on Faith" and 1 Corinthians 7:17 are the celebration's theme and guiding scripture. To register contact Mary Ann Repsher at rep164@frontiernet.net or call 610-588-1084. For information email Sandra Wilson at wilsonsan1@aol.com.
United Methodist Women is now United Women in Faith!
Watch video
.