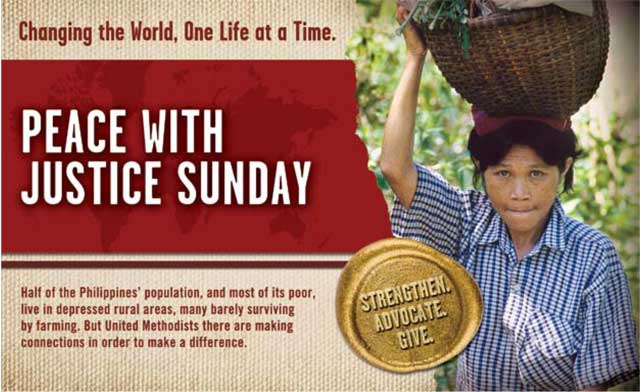 Conference grants available for peace and justice ministries
Prepare your church to observe the UMC's Peace with Justice Sunday May 27, and receive on that day the special offering that supports life-affirming ministries of hope and change. The offering is divided between ministries worldwide funded by the General Board of Church and Society and ministries of peace and justice in our own conference. Since 2013, the BWC has granted more than $37,000 to local churches doing justice work.
Is your church engaged in a creative ministry of social education or action to further the cause of peace with justice? If you would like to apply for a Peace with Justice Ministry Grant, read the application and its funding criteria on our website, then complete and submit it to the Rev. Jessica Ross, Peace with Justice Coordinator, at pastorjess@outlook.com.
What is your church doing—or what can you do—to work for Peace with Justice in your community? Peace with Justice is just part of the on-going work of our Eastern Pennsylvania Conference's Church and Society Work Team.
Download and use available Peace with Justice Sunday resources to help your church highlight mission and outreach in your community. Please give generously to the ongoing work of Kingdom building. It's not about politics. It's about public policy—a Wesleyan social witness—that addresses the needs of the poor, the oppressed, the marginalized, those who are hungry, and those who are suffering.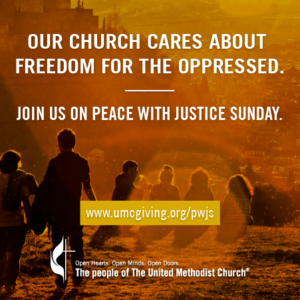 "I came so that you may have life and have it abundantly," explains Jesus in John 10:10.
Let us work and pray and give together to help ensure that those conditions that harm or limit peace are rooted out and policies that can ensure peace and justice for all may prevail.
The resources provided can offer you numerous ideas to make this Peace with Justice Sunday a time of giving, highlighting your church's giving story, and sharing the love of our Savior, to all who are in need.
You can make a difference by supporting this special offering and by "Making Disciples of Jesus Christ for the Transformation of the World!"
Please avail yourself of the multitude of resources available.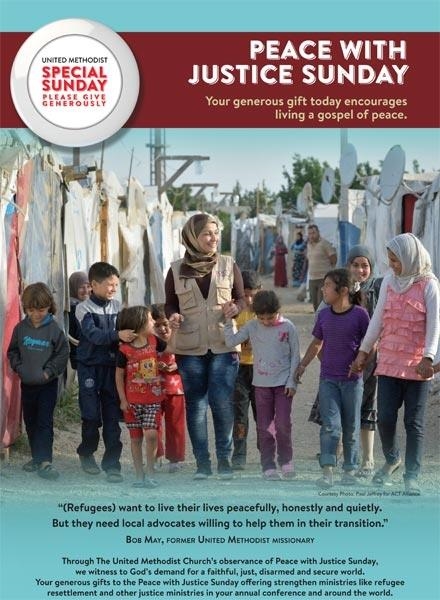 Additional Ideas for PWJ Sunday.
Add a Peace with Justice Mission Moment to your Order of Service
Report statistics about concerns in your community such as poverty, addiction, and food insecurity.
Provide Information on how to contact your local, state and U.S. legislators.
Hold an information seminar on Emergency Services for your County.
Share the General Board of Church & Society Faith and Facts Cards that highlight issues coinciding with seasons or Scripture readings. For example highlight Worker Justice when studying Jeremiah 22:13 or James 5:4. You can download Faith and Facts Cards at www.umcjustice.org by searching "Faith and Facts Cards PDFs," or you can purchase printed cards from the store link at the top of the website: store.umcjustice.org. The Cards are available to purchase by topic in packs of 25 for $1.00 or all the cards for $4.00.
If you want more information contact the Rev. Jessica Lynn Ross, Eastern Pennsylvania Conference Peace with Justice Coordinator and Pastor of Pocono Lake UMC. Office Phone: 570-646-2650 E-mail: pastorjess@outlook.com or pjess@ptd.net.