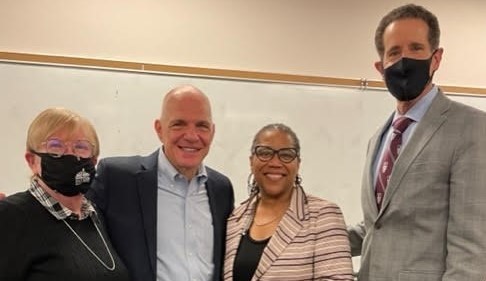 Palmer Theological Seminary, at Eastern University in St. Davids, PA, serves up a "Wesleyan flavor" to its weekly United Methodist chapel services on Tuesday evenings, featuring mostly EPAUMC clergy speakers. The services happen at 6:05 PM in McInnes Hall, Room 251, and on Zoom.
In addition to Thursday night seminary-wide chapel services planned by the school's chaplain, the Tuesday evening programs are designed to present a "Wesleyan flavor," says the Rev. Bronwyn Yocum, Director of Methodist Student Advising and Ethos. "Most, though not all, of the speakers are United Methodist, and we often use UM materials."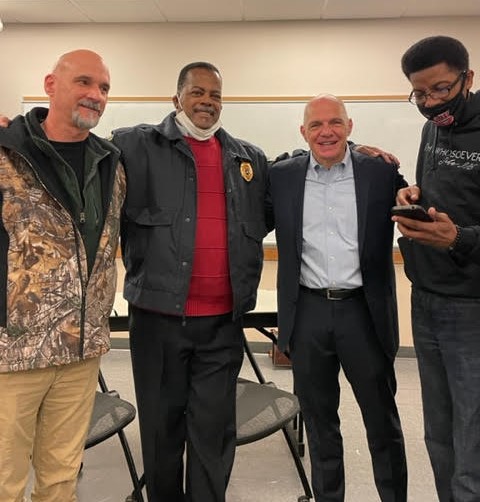 Dr. Yocum says the chapels are open to anyone and are presented both in a classroom and on Zoom so that alumni can attend online. She helped start them when she was hired by the seminary in 2018 "to help it develop a closer relationship with the United Methodist Church.
"We have had bishops, district superintendents, conference leaders, area clergy, a UM hospital chaplain and a former clergy member who was called up to serve in Desert Storm."
The Rev. Amy Banka, an alumna and pastor of Hopewell UMC, spoke Feb. 1, and talked with students about the challenges of starting ministry, since she leads the conference's Residency in Ministry (RIM) program. Carmen O'Shea, new Director of Pocono Plateau Camp & Retreat Center spoke last week.  
February, March chapel speakers
On Tuesday, Feb. 15, the Rev. Marilyn Schneider, a deacon serving at Grove UMC and leader of the conference's Prison Ministry & Restorative Justice team, spoke, to be followed Feb. 22 by the Rev. Karen Bartkowski, Associate Pastor of Lima UMC and a 2021 alumna.
March's schedule features: March 15— Eastern University President Ronald Matthews; March 22—the Rev. Evelyn Kent Clark, alumna and South District Superintendent; and March 29—the Rev. Dan Lebo, alumnus, a former camp director and campus minister and now pastor of Gravel Hill UMC. On two nights, students in the Theology and Practice of Worship class taught by Yocum will lead chapel services.
Because there's only an hour break between evening classes, the chapels in the past were "Chapel and Chew," with a light supper included. But the COVID pandemic stopped that practice for now.
"The chapel service is a half-hour break to hear a word from the Lord," Yocum explains. The services include prayers, scripture reading, sometimes music, a speaker and time to share joys and concerns. But Wesley's Covenant Renewal Service and a group participation in Lectio Divina have also happened "with very positive results."
"Last semester our student government leaders presented scripture through drama and then led a discussion of the scripture they had portrayed," said Yocum. "And we are exploring the possibility of joining in with Marilyn Schneider and the conference Prison Ministry team's Undies for Easter prison outreach project. Our dean was the director of Eastern's Prison Ministry program, and was very interested in connecting."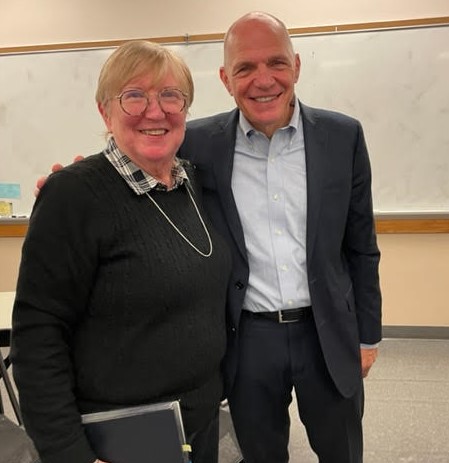 SECOND SEMESTER TUESDAY CHAPEL SCHEDULE (February to April)
6:05 PM in McInnes 251 and on Zoom
Anyone interested in attending the UM chapel services via Zoom can email Bron Yocum at bronwyn.yocum@eastern.edu.
Feb. 1. Rev. Amy Banka, alumna, Sr. Pastor, Hopewell United Methodist Church, Downingtown
Feb. 8 Carmen O'Shea, Director of Pocono Plateau Camp, Eastern PA Annual Conference of the UMC
Feb. 15. Rev. Marilyn Schneider, Director of the Eastern PA Conference's prison ministry and deacon serving at Grove UMC
Feb. 22. Rev. Karen Bartkowski, Associate Pastor, Lima UMC, 2021 alumna
No March 1 – Reading Week
March 8. Student Assembly
March 15. President Matthews, President of Eastern University
March 22. Rev. Evelyn Kent Clark, alumna, District Superintendent, Eastern PA Conference, UMC
March 29. Rev. Dan Lebo, alumnus, Pastor, Gravel Hill UMC
April 5. Worship class leads chapel
No chapel April 12 – Holy Week
April 19. Worship Class leads chapel
April 26. End of year service