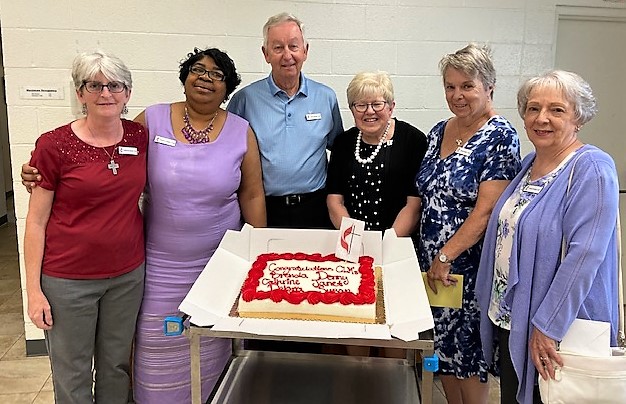 Six new Certified Lay Ministers (CLMs) "graduated" in a Service of Recognition June 5, at Salem UMC in Orwigsburg. After months of class sessions on Zoom, they met each other in person there for the first time. Yet, despite so much distance learning and some difficulties, they spoke of becoming a close-knit cohort through it all.
"This is the first time we're all together; but we've bonded by praying with and for each other all along," said Judy Ehninger, director of the CLM program. "It's not been an easy year, with Covid, sickness and other challenges; but God calls us in the middle of stuff in our lives. This class has bonded and persevered."
Indeed, the classmates met on Zoom in four 10-hour module sessions, attended Dismantling Racism and Basic Sexual Ethics courses online, and completed hours of home assignments—all totaling 100 hours of work from April 2021 to May 2022.
Each new CLM took several minutes to briefly share testimonies of what the months of training taught and meant to them.
CLMs share challenges, learnings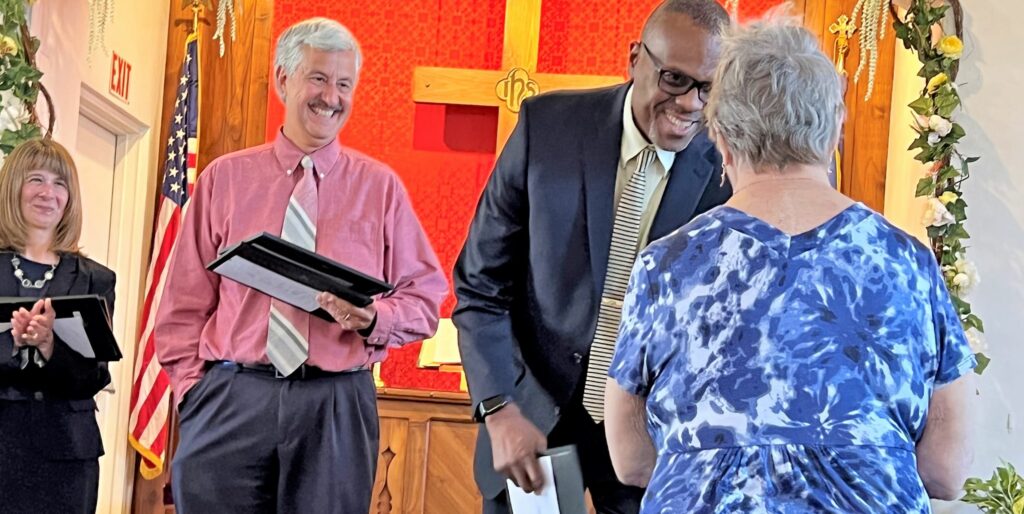 Janet Gratz, of Haws Avenue UMC in Norristown, told the audience that she thought of quitting when she was in the hospital with five broken ribs. "But God helped me, and Judy encouraged me through it."
Brenda Binns, a member of the host church, Salem UMC, credited her small cohort with being "instrumental in helping me get through this. If you want to do this, get a support group. They hold you accountable and they uphold you. It was good sharing this wonderful journey with them."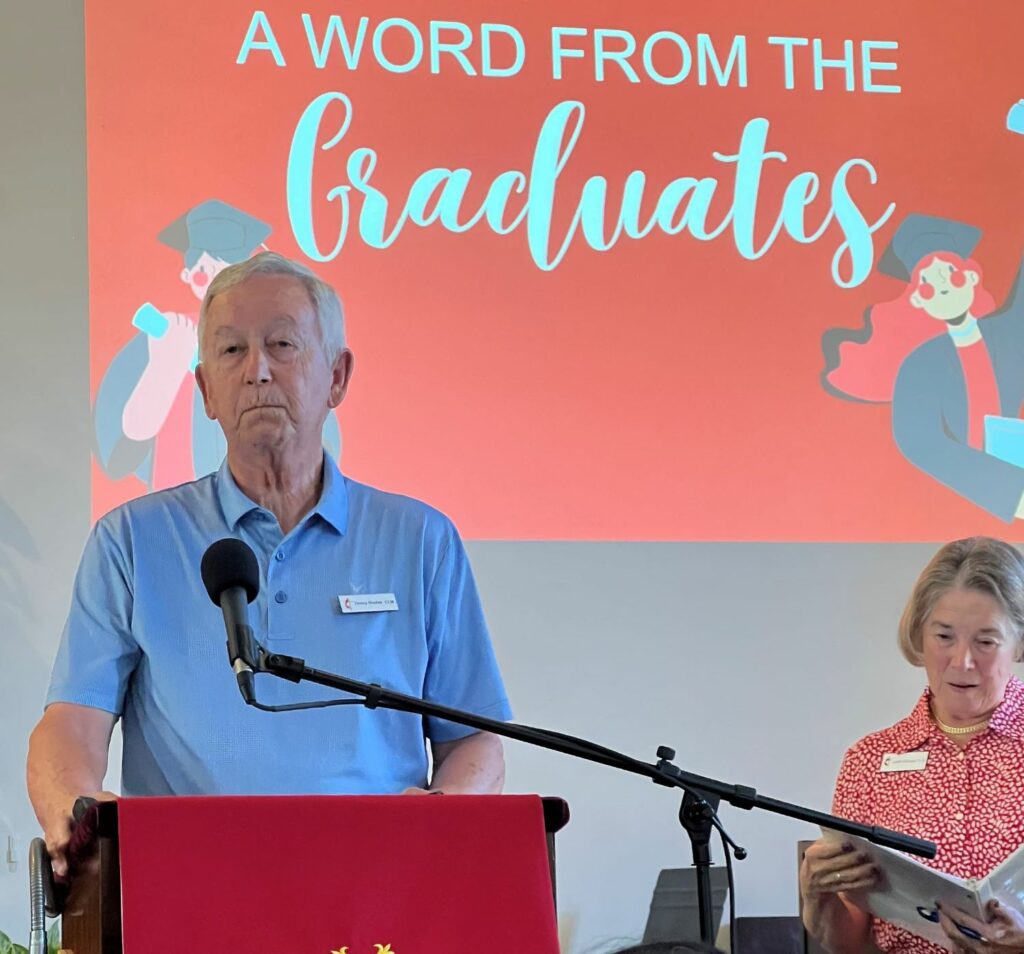 Dennis Booher, also of Salem UMC, called himself "a lifelong learner; and I hope to continue learning." Like many CLMs, he has been for years a Christ Servant Minister (CSM), a basic lay ministry role that precedes the more advanced CLM role. He recalled retiring from his job years ago to focus on lay ministry and then taking copious classes before finally deciding to join Binns in pursuit of Certified Lay Ministry together.
"Many years ago I was completely broken, and I cried out to my God," confessed Catherine Doane, of Stroudsburg UMC. She didn't explain why, but she said God rebuilt her life, just as He had promised. "I took baby steps (and) became a CSM for a while. But I didn't know it could work out for me to become a CLM, since I worked fulltime.
"Then Covid hit," she continued. "And that gave me the time to do the work I needed to become a CLM. We've shared so much together; and now, we're excited to see each other here for the first time."
Debra Lumpkin, of Haven Peniel UMC in Philadelphia, and Susan Hocking of Simpson UMC in Gordon, both shared a modicum of the wisdom they learned from the training.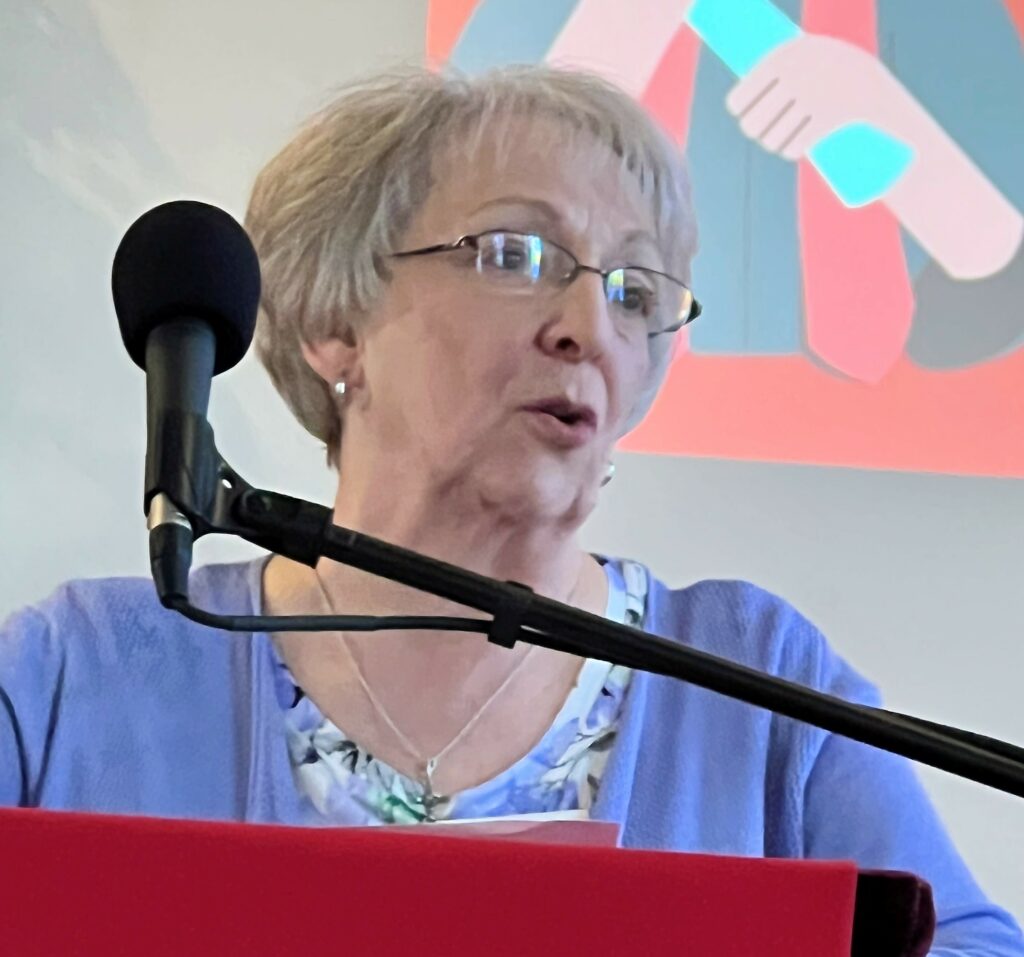 "I learned what my responsibilities are, and what they are not," said Lumpkin. "I pray I will honor God in performing my duties for Him." She also recalled learning much about Methodism's fraternal founders, John and Charles Wesley.
Hocking, who "started this journey 13 years ago" and has also taken many classes along the way, called the CLM training "an emotional time." She has led Simpson UMC, the church where she was raised, as a lay supply pastor since 2019, and has served as the organist and choir director there since 1968.
"I love what I'm doing," she said. "I'm thankful for the support of my local church family and for the friendship of my classmates….I feel my ministry as a lay supply pastor has been enhanced and strengthened. The class encouraged me in my thinking and teaching; and I thank all the teachers."
Ehninger also thanked the five teachers who taught various classes. They were:
Rev. Anita Powell
Rev. Lloyd Speer
Rev. Janet Hess
Rev. Michael Roberts
Rev. Mark Salvacion
The service began with a video greeting from Bishop John Schol, who celebrated the new CLMs for accepting the call and special training to serve churches and communities in advanced ministry alongside clergy and lay leaders.
Conference has 110 CLMs, 1,200 CSMs
The Revs. Andrew Foster III and Steve Morton, of the East and North districts respectively, presented certificates with words of encouragement to the new CLMs on their districts. The Rev. Dawn Taylor-Storm, Connectional Ministries Director, offered an opening prayer but first honored Ehninger's leadership since 2012, noting that EPA has one of the fastest-growing programs among all conferences. Currently, Ehninger reported, there are 110 CLMs and 1,200 CSMs.
Ehninger also thanked George Hollich, EPA's longtime Director of Christ Servant Ministries, who recalled beginning his involvement in Lay Speaking Ministry in 1978. She described him as "our record-keeper and standard-keeper" because he ensures that CSMs and CLMs fulfill all mandatory requirements for training and continuing education.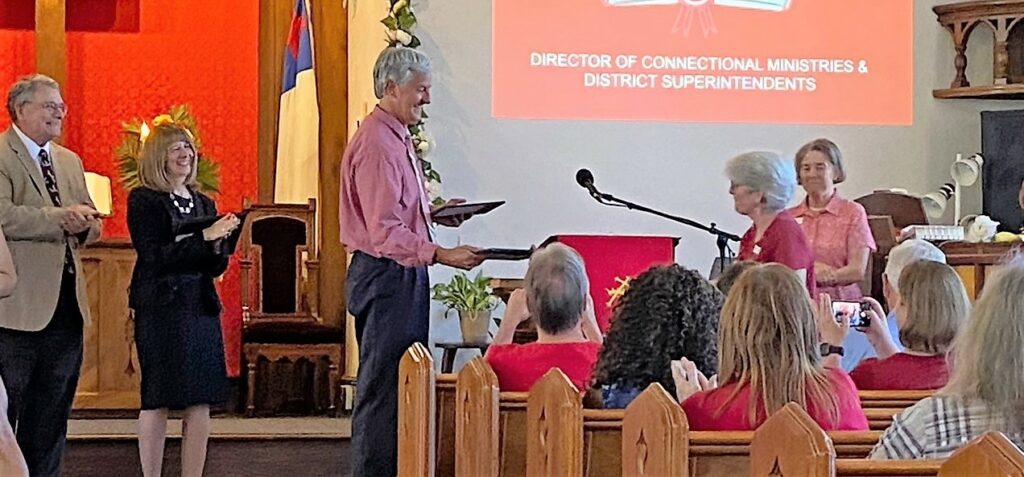 While the presentation of certificates and comments from the CLMs climaxed the service, it was Steve Morton who set the tone in his brief but uplifting sermon, titled "Help is on the Way." He assured the lay ministers that the Holy Spirit empowers disciples to persistently do God's work despite challenges and obstacles in their way, even in the face of discord, division and declining interest and membership in the church.
"Some in the church only see trouble ahead," said Morton. He described the road ahead as full of potholes, but with signs indicating that road crews are at work and promising that help is on the way. "Don't ever forget who you are and the power of the Holy Spirit that called you into ministry."
Later, in his benediction, Morton challenged the CLMs to face ministry potholes and difficulties with faith and determination. "Let hope be the light within you."
CLM Graduates Spring 2022
East District
Janet Gratz Haws Avenue United Methodist Church, Norristown
Debra Lumpkin Haven Peniel United Methodist Church, Philadelphia
North District
Brenda Binns Salem United Methodist Church, Orwigsburg
Dennis Booher Salem United Methodist Church, Orwigsburg
Catherine Doane Stroudsburg United Methodist Church, Stroudsburg
Susan Hocking Simpson United Methodist Church, Gordon
Thanks to the Revs. Andrew and Lorraine Foster for photos