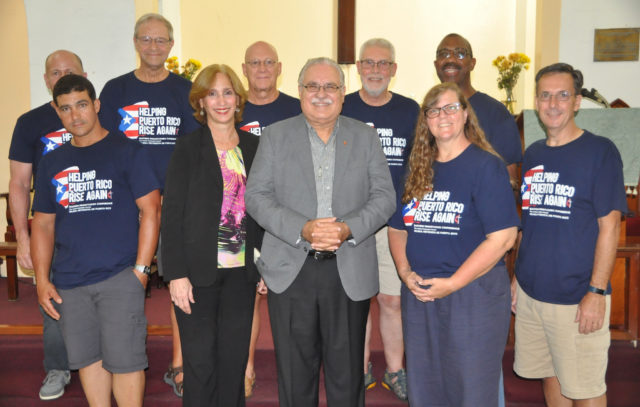 P.R. Methodist Bishop Ortiz to visit here
BY JOHN W. COLEMAN
Three Eastern PA Conference Volunteers in Mission teams will head to Puerto Rico this year, in March, June and November, to do much-needed, ongoing disaster recovery work. The Rev. Nicolas Camacho, who led the conference's first team there in November 2018, is already looking for and hearing from potential volunteers for 2020 to further assist the Methodist Church of Puerto Rico's (MCPR) extensive church and community restoration efforts.
Meanwhile, Bishop Hector Ortiz, who heads the MCPR, will come here March 4 to speak at Bishop Peggy Johnson's Lenten Day Apart for Clergy. Eastern PA and Peninsula-Delaware conference clergy will gather with him for worship, fellowship and lunch on that Monday before Lent at conveniently located Aldersgate UMC in Wilmington, Del. (Any clergy interested in having lunch with Bishop Ortiz must register and prepay. Contact Amy Botti at abotti@epaumc.org or 610-666-1442, with any questions.)
Ortiz will meet that afternoon with the cabinets of both conferences. And he will join lay and clergy members of the Eastern PA Conference Latino Commission for a discussion at 6 pm at the Conference Center.
Ortiz visited and spoke with the first Eastern PA VIM team (above) that came to Puerto Rico in November 2018. He thanked them for coming and for the Eastern PA Conference's nearly $100,000 in donations, raised during its yearlong Helping Puerto Rico Rise Again! campaign.
Recovery may take up to 10 years
FEMA (the Federal Emergency Management Administration) says it may take up to 10 years for Ortiz' beleaguered island to rebound from the widespread devastation wreaked by Hurricane Maria in September 2017. So, Camacho, who coordinates our conference's Puerto Rico Recovery Assistance Project, is hoping more Eastern PA churches and members—especially those with building construction skills—will continue to volunteer and donate funds (Conference Advance Special #0345PR, Helping Puerto Rico Rise Again) for the extensive recovery effort.
Seven team members from four churches are set to go March 30 to April 6, led by Scott A. Szoke of West Lawn UMC Reading. The Rev. David P. Harris, pastor of First UMC Palmyra, and his wife Penny Ellen Harris will be joined by the Rev. Elaine Bortman, pastor of Ranck's UMC New Holland, and by Robin Miller, Cheryl Lynne Feldman and Leonard J. Font, all of Pocono Lake UMC.
Szoke was supposed to be on Camacho's November 2018 team but had to withdraw to remain close to his gravely ill father, who later passed. He and Robin Miller are skilled in construction work, which is especially needed by the MCPR. Only two team members have been on mission trips before.
Nine members of West Lawn UMC will represent the conference as the next team to go June 15-22, led by Camacho, who is the church's community pastor. (New Hanover and Lampeter UM churches have also sent teams to Puerto Rico but not representing the conference.)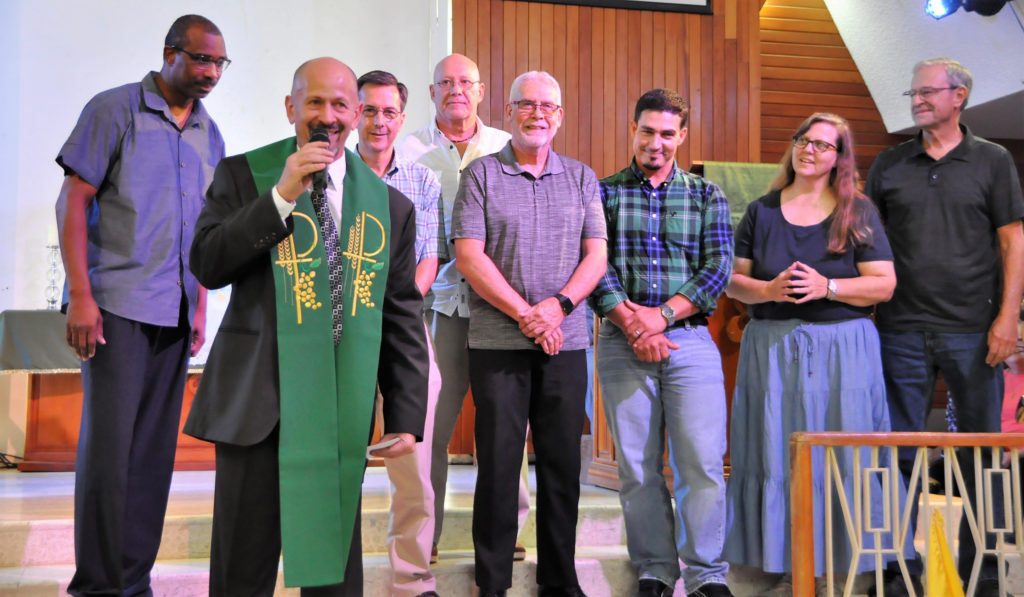 Camacho, a native of Puerto Rico, former military chaplain and veteran missions leader, will lead another 12-member team there Nov. 9-16 to work on two homes in Camuy, located in the northwest. They will aid the recovery work that La Roca Methodist Church is doing in that community with UMCOR support. The conference's first VIM team brought a $5,100 donation to support that work when it visited and worshiped at the church last November.
REHACE (Rehaciendo Comunidades con Esperanza or Rebuilding Communities of Hope), is the MCPR's growing and very busy social services agency. While it is repairing homes across the island with funds from FEMA and UMCOR, the damaged homes in Camuy did not qualify for FEMA assistance because over half of the residents there don't have the required deeds to their homes, even if they have lived there for decades.
3 first VIM team members to return
Camacho's team in November will include three returning members of his first team and five Spanish-speaking members from two of the conference's Latino churches: Nuevo Creacion (New Creation) UMC in Lancaster and Espiritu Santo (Holy Spirit) UMC in Philadelphia. The 12 team members are:
Nicolas Camacho
David Page
German Rodriguez Barrial
Miguel Pichardo
David L Dempsey
Robin Brunner Allen
George Hill Allen
Lilliam M Ivins
Luis Antonio Lozada
Edvin Rene Madrid
Donna Bonney
Nelson Ortiz (from Glad Tidings Assembly of God, Wyomissing PA )
Team members will pay much of the roughly $900 per-person cost for their mission trips (for airfare, food, lodging and contribution to gas). But their churches will provide some financial assistance. Meanwhile, the conference's Connectional Ministries Office pays for each person's liability insurance, about $35.
"On these trips we will work hard, but we will have a lot of joy and fun as well," Camacho assures his teams, who lodge at MCPR camps and are cared for and labor alongside REHACE's staff and volunteers. "We're committed to helping Puerto Rico recover however long it takes. I don't believe we should stop until the job is done, until God tells us to stop."
Bishop Johnson shares Camacho's sentiments: "Though Hurricane Maria was more than a year ago, we know there is still much work to do for a full recovery. We will continue to support our sisters and brothers in Puerto Rico."

For more information the post-hurricane housing recovery crisis in Puerto Rico, read "Housing is key to Puerto Rico's recovery. Will 2019 see funding, solutions?"