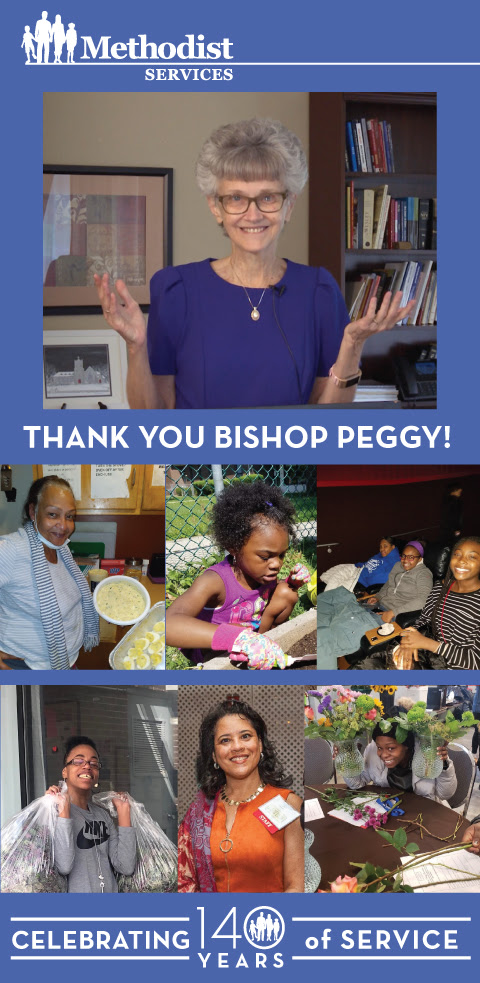 Upon the Retirement of Rev. Peggy A. Johnson, Methodist Services/Methodist Home for Children President & CEO, Anne Rice-Burgess Remarked:
"Bishop Peggy, we have been honored to spend time with you & are grateful for your dedication to transitional housing, especially to Bridge House Transitional Housing at Methodist Services in Philadelphia. You helped inspire us to move forward with our Bridge House Room Renovation work, upgrading rooms for Methodist Services' Bridge House residents. On behalf of Methodist Services' Board, Staff, our Residents and all those we serve, we send deep appreciation for your sustained stewardship. We will miss your gravitas & graciousness. You brought light in times of darkness, equity in times of unbalance, and ongoing love, faith & joy to your ministries & holy work. We have been truly blessed to be part of your ever-widening circle."
Elected bishop of The United Methodist Church by the Northeastern Jurisdictional Conference in 2008, The Rev. Peggy A. Johnson was assigned to the Philadelphia Area, comprised of nearly 1,000 churches of the Eastern Pennsylvania and Peninsula-Delaware Annual Conferences. As of Sept.1, Bishop Peggy will retire & minister with congregations in Virginia and provide consultation on Deaf and Disability ministry across the Conference.