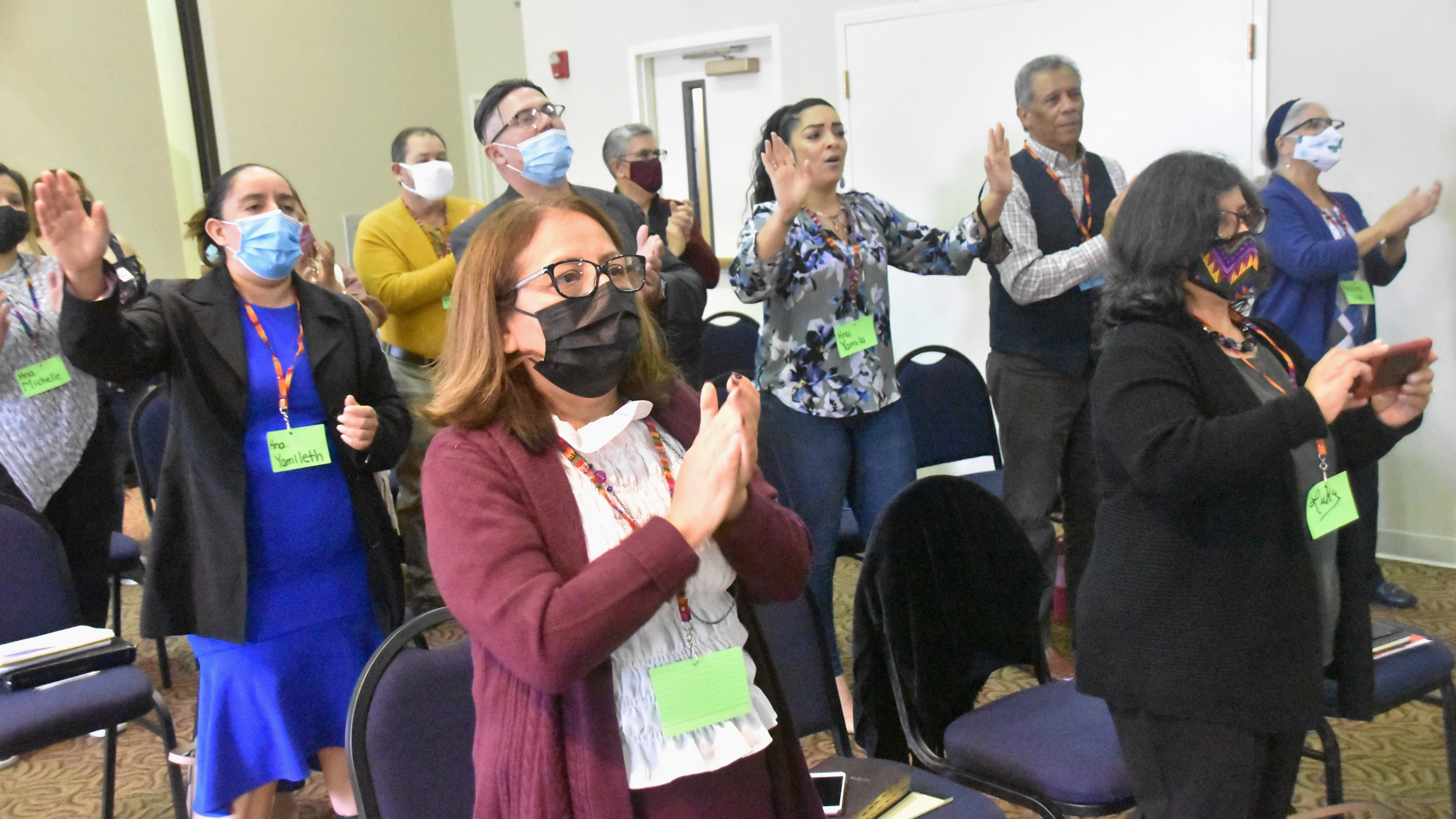 Members of the Eastern PA Conference Latino Commission celebrated Christmas together Dec. 4, as families enjoyed feasting and fellowship, music and mirth, worship and witnessing to their faith.
The Rev. Luky Cotto, Latino Ministries coordinator, was sadly unable to join them onsite at Lehman Memorial UMC in Hatboro, as she recuperated from surgery. But she appeared on a laptop screen via Zoom, bearing the most plentiful and precious gifts of the celebration: a full report on how their various churches and ministries were blessed by accomplishments and support during this year, along with plans for the year to come.
Cotto celebrated 21 new lay missionaries trained by the commission this year through the UMC's National Plan for Hispanic/Lay Ministries. Three are now deployed as lay pastors to forge new Latino communities of faith, and six are assisting their pastors at Latino churches.
The commission also welcomed 85 participants—children, youth and adults—to its 40th Latina Semana (Latino Week) Summer Camp at Gretna Glen Camp and Retreat Center. It celebrated its annual Convocation of the Holy Spirit in May with inspirational prayer, worship and teaching. And it heard reports and elected new officers at its annual membership meeting in October.
"Generation of Revival," a weekend spiritual retreat for Latinx young adults, ages 16-27, is scheduled for Jan. 7-9 at Gretna Glen Camp & Retreat Center.
Cotto further highlighted new and growing ministries in Latino churches and communities, and three new, promising Latino community outreach efforts at predominantly Anglo churches.
Some Latino ministry highlights
El Mesias (The Messiah) UMC, the oldest Latino UM church in Philadelphia, badly needed funds to resurface its outdoor playground to protect children in its resident pre-school program from a recent infestation of rats, amid other urgent repairs. After a story published on the conference website was shared, the church received generous aid from the Philadelphia Foundation and will receive more from St. John's UMC in Ivyland. The East District also gave the church an initial grant to help remedy the problem.
Cotto reported that Espiritu Santo (Holy Spirit) UMC in Philadelphia also received a generous donation to fix its damaged roof.
El Buen Samaritano (Good Samaritan) UMC, has welcomed 13 returnees to its youth ministry, as it regathered for onsite worship and ministry at West Chester UMC. Cristo Rey (Christ the King) UMC's new fasting and prayer ministry has drawn over 15 people, with more coming weekly. A Latino community outreach ministry started in Coatesvillle three years ago continues, and members are participating in the commission.
Meanwhile, Casa del Pueblo, which Cotto started 13 years ago, continues to grow in two locations—at Lehman Memorial and at St. Paul's UMC in Warrington— with recent baptisms and confirmations. And the merger of two Latino ministries into one new congregation, Casa del Rey (House of the King) UMC in Allentown, continues to grow stronger with vibrant leadership and ministry plans, Cotto reported.
"God is moving in our congregations and communities of faith," she said, reflecting her joy visibly onscreen. But completing her joy are three new Latino outreach ministries launched at Anglo churches.
3 new Latino ministries in Anglo churches
Morrisville UMC is an especially mission-oriented congregation in a small, culturally diverse community, with neighbors from Africa, India and Latin America. In 2020 it hired Beditza Cadillo as Minister of Latino Ministry.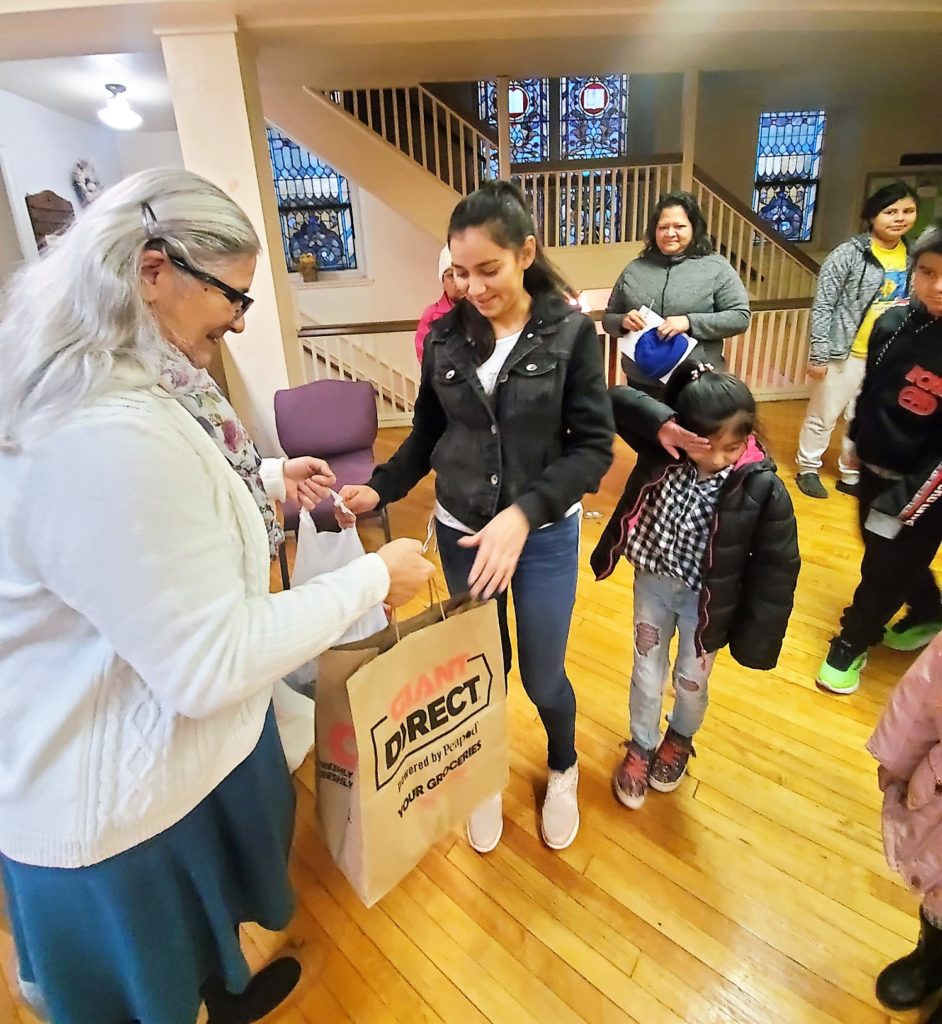 Haws Avenue UMC in Norristown, led by Latina pastor, Lisa DePaz, started Comunidad de Paz (Community of Peace), a new faith community, which had its first formal worship service in November, with 21 members from 12 families. The church increased outreach to its burgeoning Hispanic community in January 2020.
And Calvary UMC in Mohnton, a suburb of Reading, recently added Madeline Amill, a part-time Latina pastor, to its staff to help the church reach another largely Latino community—reportedly the largest per capita in the Northeast.
Morrisville UMC provides its surrounding Latino community with groceries and other necessities for struggling families, plus faith-inspiring Bible studies and worship, and ESL (English as a Second Language) classes.
With the blessing of her pastor, Cadillo, a longtime lay missionary leader at Espiritu Santo UMC, gladly accepted the opportunity to staff Morrisville's new ministry. She has drawn upon her creative instincts, diverse experiences and resourceful contacts to help make it a success.
Cotto helped the Rev. Wendy Bellis, who retired as Morrisville UMC's pastor in 2021, to launch the ministry. Now the new pastor, the Rev. Towanda Connelly, has taken the baton to help move it forward, notwithstanding challenges caused by the COVID pandemic, including her own bout with the virus.
"The church is located next door to a school; so, they did an after-school program and found out most of the students spoke Spanish," recalled Connelly. "We were running into language barriers, because the students were joining our church's youth ministry, to the point where the youth director had to buy a translator (online app) to communicate in Spanish."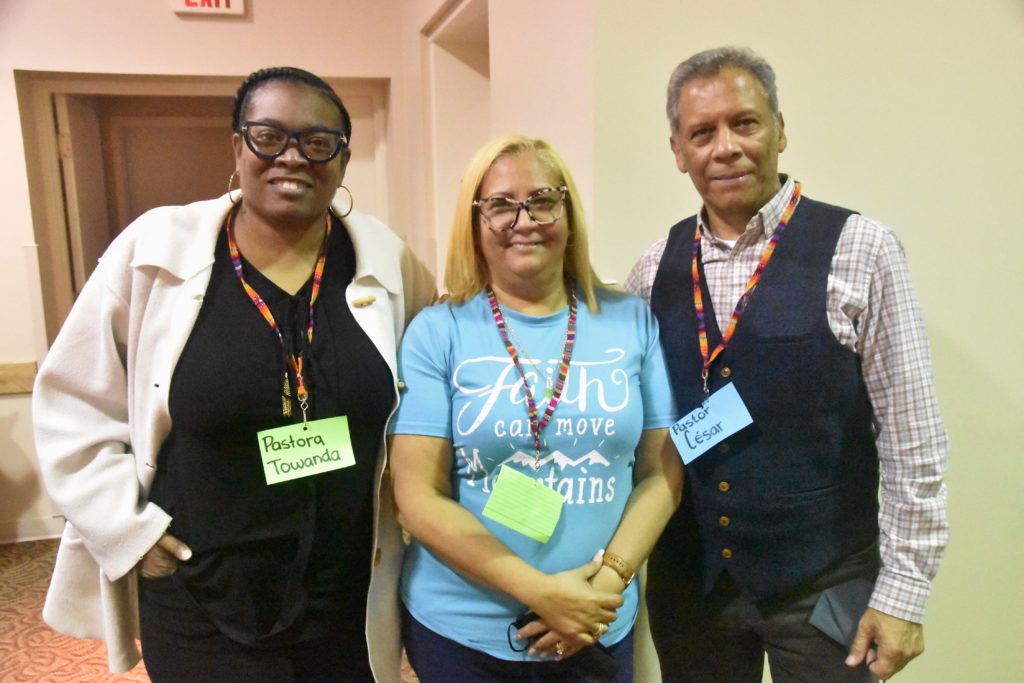 Bellis convinced the congregation to hire someone to direct bilingual outreach to the growing Latino community.
"Beditza has been on fire, and our connection to the community is becoming stronger," Connelly reported. "She has definitely facilitated that for Morrisville, and we do our part to help her provide what's needed. We work together."
"I love serving the Lord, and I love working with the community," said Cadillo. "And Morrisville is full of different kinds of ministries. It's been amazing just seeing the love that the congregation has for people."
New pastoral team 'a work of the Holy Spirit'
At Calvary UMC in Mohnton Madeline Amill recently joined the staff as a part-time co-assistant pastor, alongside Matthew Davis and lead pastor, the Rev. Tamie Scalise. She and Davis will be commissioned in January, said Scalise, who called the newly diverse pastoral team "completely a work of the Holy Spirit."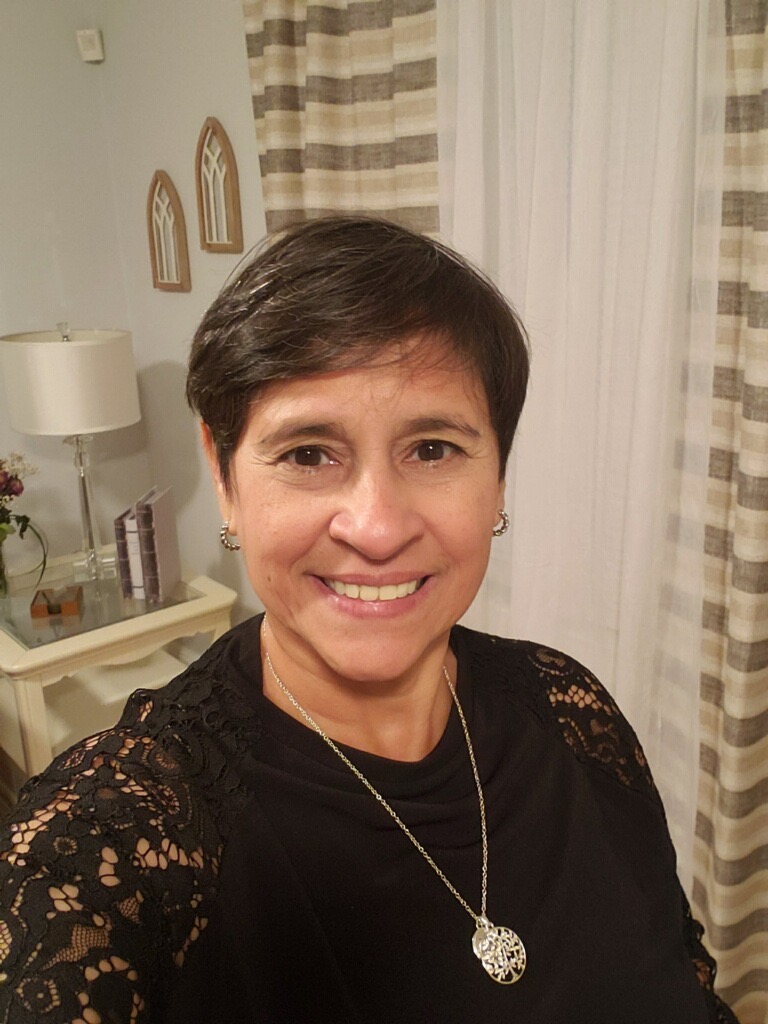 Amill, from Puerto Rico, is a longtime leader at Nuevo Nacimiento (New Birth) UMC in Lebanon, led by the Rev. Elena Ortiz, which has proven to be a birthplace for many trained and eager-to-serve lay missioners. Commuting from Lebanon, she was also hired this year as part-time pastor of a small, Latino church in the Peninsula-Delaware Conference, where she will continue to work on weekends through 2022.
Meanwhile, this lay missioner will spend weekdays learning, making connections and starting outreach ministries to serve Calvary's growing Latino community. The Rev. Nicholas Camacho, a retired pastor, formerly at West Lawn UMC in Reading, knows the area well and will guide her initially in that quest.
The ultimate team goal is not to create a separate Latino Ministry, said Scalise, but to enlarge Calvary's tent to become a multicultural, bilingual congregation with fruitful relationships—essentially a "new place for new people." The church will provide support for this effort, along with startup funds from the conference's Latino Commission and Congregational Development Team (CDT).
"I thank God for this opportunity that I knew someday would come to pass," said Amill. "It's what I felt in my heart when I said 'One day, God will put me out there to serve our people in mission through the church.'"
Another promising Latino community outreach ministry and lay missioner assignment is being explored in Hazelton, although currently without a sponsoring church but with support from the CDT.
Latino populations are thriving in Hazelton, the Reading area, Norristown, Coatesville and other communities. The conference recognizes the need for more UM ministries, evangelism and congregational development to serve those populations, resourced by trained missionary leadership, ample funding and strategic partnerships.
Luky Cotto, who plans to retire in mid-2022, is guiding and resourcing the Latino Commission in its efforts to address those emerging needs, while also continuing to support existing Latino churches and ministries.