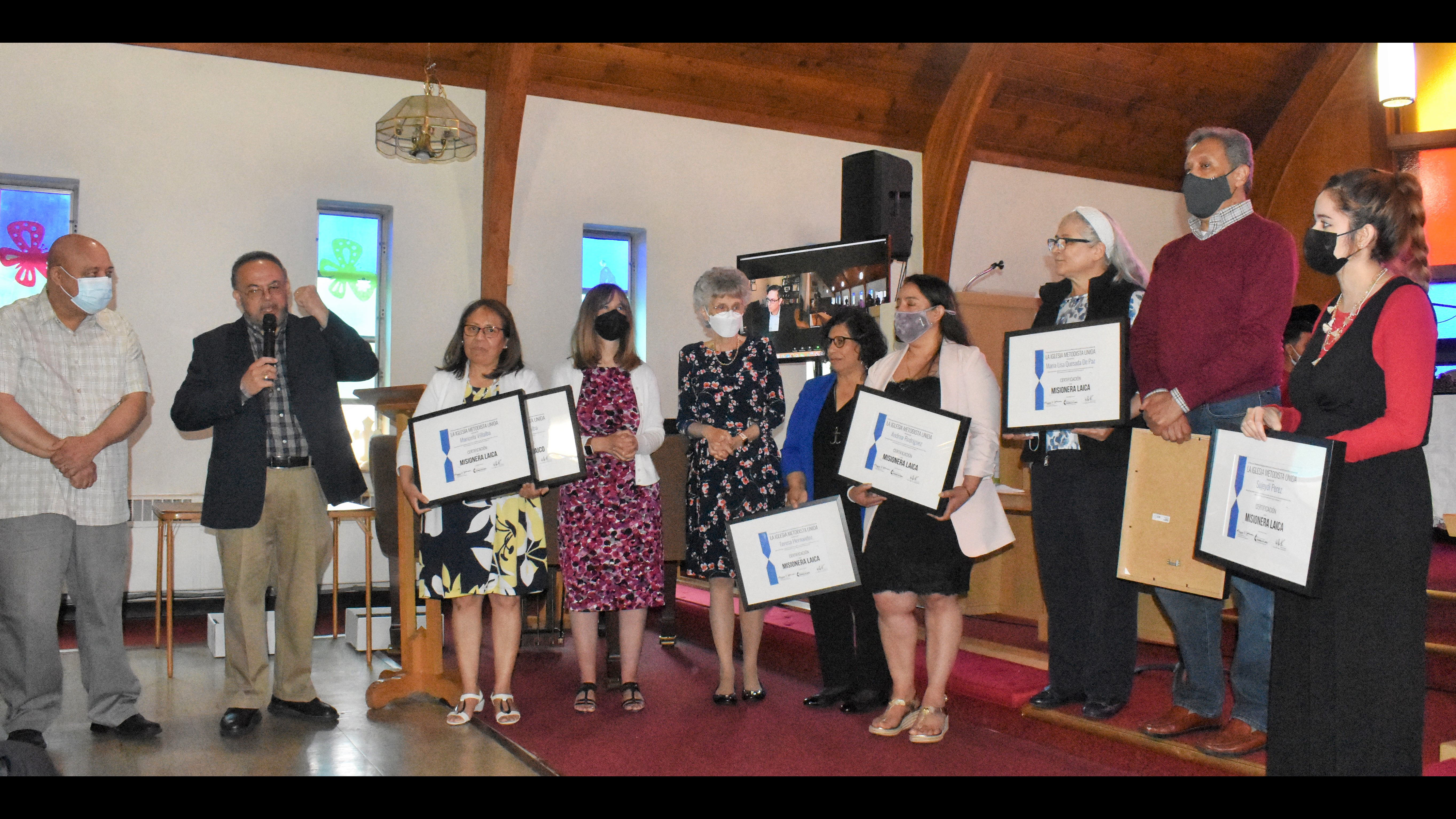 The Eastern PA Conference Latino Commission emphasizes faith formation and leadership development for all ages—from children who attend Latino Week Camp at Gretna Glen Camp & Retreat Center, to adult learners, including the 21 who recently became Lay Missioners in the National Plan for Hispanic/Latino Ministry, a program of the UMC's Global Ministries missions agency.
Latino Week (Semana Latina) resumes Sunday, June 27, to Friday, July 2, as just one of Gretna Glen's many Summer Camp events. But Gretna Glen has hosted this popular camp for 40 years. (See "Latino Camp celebrates faith, family, fun" from 2019.) The commission was set to celebrate that remarkable four-decade history in 2020; but the camp was canceled due to the COVID-19 pandemic.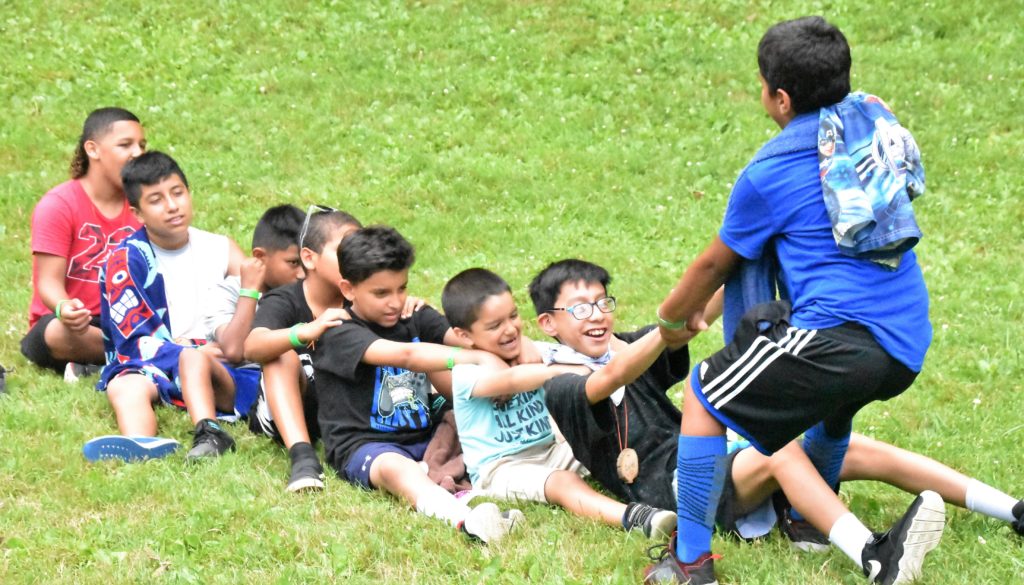 About 60 children and youth will arrive there with adult counselors and volunteers Sunday evening to enjoy a week that will feature learning, laughter, love of nature, lessons of life, and loads of fun. That includes: swimming and boating, crafts and campfires, ropes courses, archery, Gaga and other games. But it also includes Bible Discovery lessons, leadership development instruction, use of the camp's prayer labyrinth, worship and cabin devotions, and finally the annual FOHS (Full the Holy Spirit) rehearsals and the always inspirational sharing of young talents and testimonies at the end.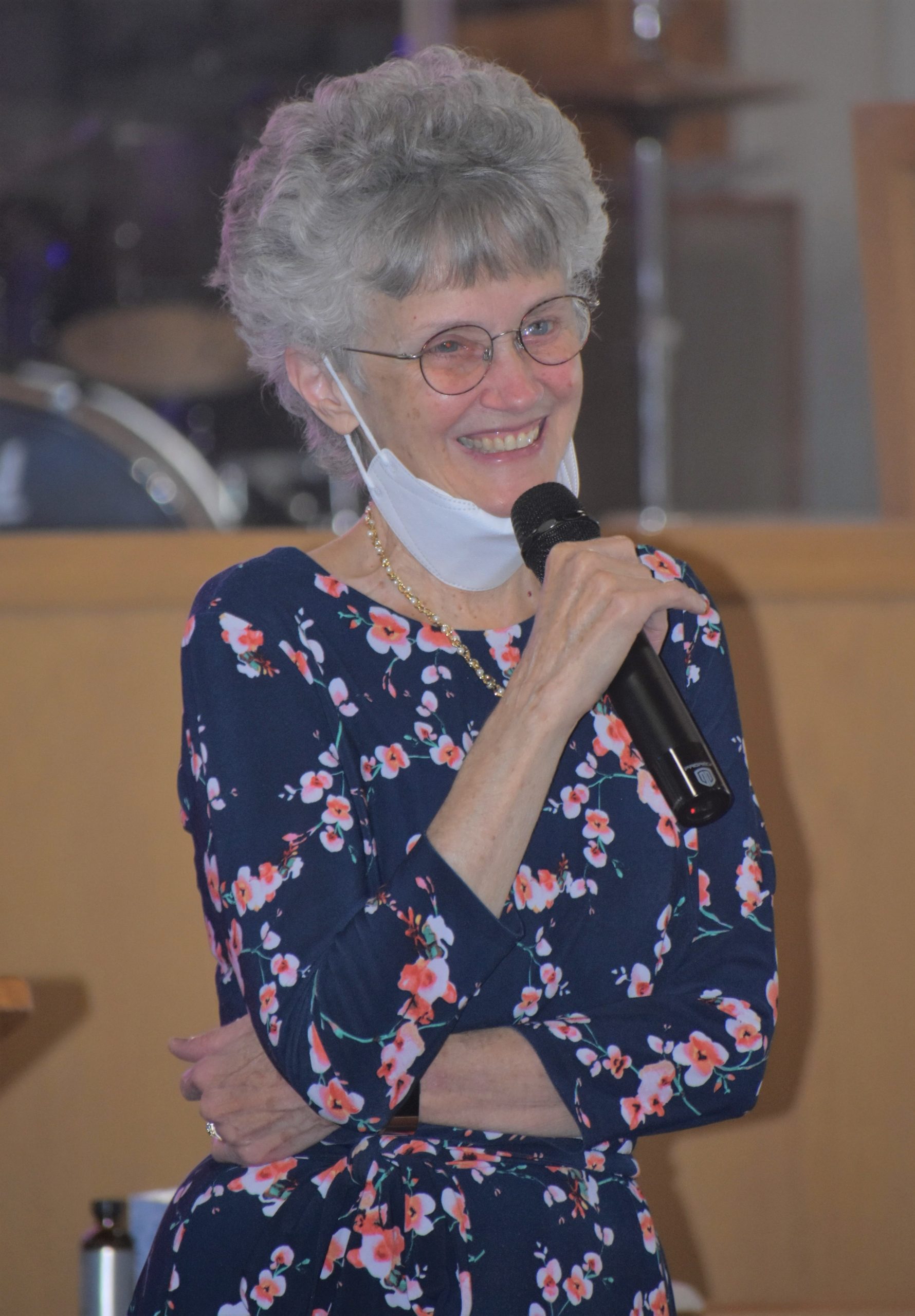 The Latino Commission's Holy Convocation May 29, usually held close to Pentecost Sunday, was indeed full of the Holy Spirit, featuring ample prayers, music, poetry, testimonies, liturgical dance, fellowship and a sermon preached by Bishop Peggy Johnson (left). The bishop, enjoying her last time of sharing in worship and Communion with commission members, brought small train whistles to share with the children and adults there as props for her sermon on the convocation theme, "God Is Still Listening."
Holy Convocation celebrates faith and fellowship
Despite a hard rain and expectations of low attendance that Saturday morning, about 70 members, some of them fasting, came to the newly merged Casa del Rey UMC, located at Emmanuel UMC in Allentown. They came ready to worship and celebrate together, and eager to make up for last year's cancelation due to the pandemic.
Attendees represented eight Eastern PA Latino churches and ministries: Cristo Rey, El Buen Samaritano, Casa del Pueblo, El Mesias, Espiritu Santo, Haws Avenue, Casa del Rey and New Creation. Plus some came from the neighboring Peninsula-Delaware Conference.
"The Holy Convocation is a yearly gathering of Latinx pastors and lay persons seeking to renew their faith through prayer, worship, fellowship, and social witness," explains the Rev. Irving Cotto, Commission Co-Chair. "Ever since God planted in our hearts this celebration during a spiritual retreat decades ago we have tried to remain faithful to the original vision. Taking the concept from the Hebrew Scriptures (Leviticus 23:27; Numbers 29:7) our congregations set aside this time to listen to God's voice calling us to 'do justice, embrace faithful love, and walk humbly with our God.'" (Micah 6:8 CEB).
The Rev. Luky Cotto, Conference Latino Ministries Coordinator, describes the gathering's time of prayer: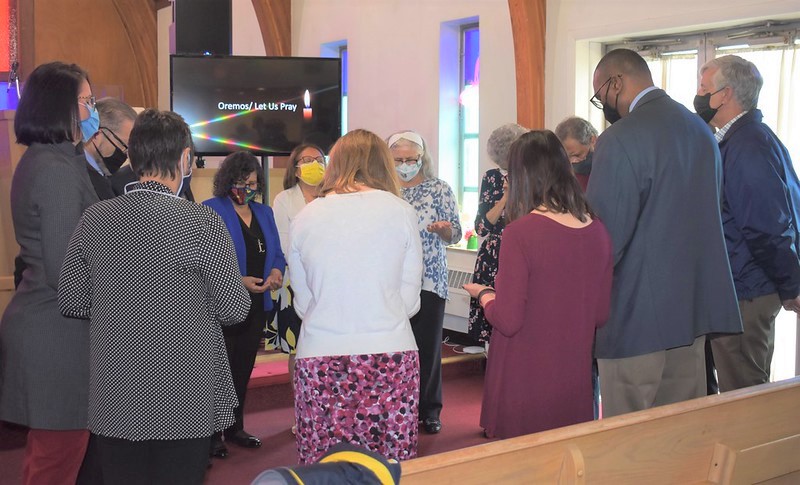 We all prayed by ourselves; and then three people prayed for all our petitions written on index cards and placed in baskets—praying for the world, for our own concerns and for special persons. Irving asked the three district superintendents present, the Director of Connectional Ministries and the Bishop to pray for all the Pastors. And then the Pastors prayed for them. The anointing with oil in our prayers made it even more powerful. We felt the presence of the Holy Spirit moving in the lives of the people at the altar and in the pews as well.
21 new Lay Missioners recognized
Another highlight moment, Cotto says, was when Manuel Padilla, acting Director of the National Plan for Hispanic Latino Ministries, addressed the assembly virtually and then oversaw the presentation of framed certificates to 21 new Lay Missioners, including three from the Peninsula-Delaware Conference. Read "Latino Commission continues lay training classes on Zoom.")
In addition, Lillian "Luky" Cotto and Bishop Johnson were both celebrated for their retirements this year. Cotto will retire as pastor of Lehman Memorial UMC's Casa del Pueblo ministry; but she will continue in her part-time role as Latino Ministries Coordinator.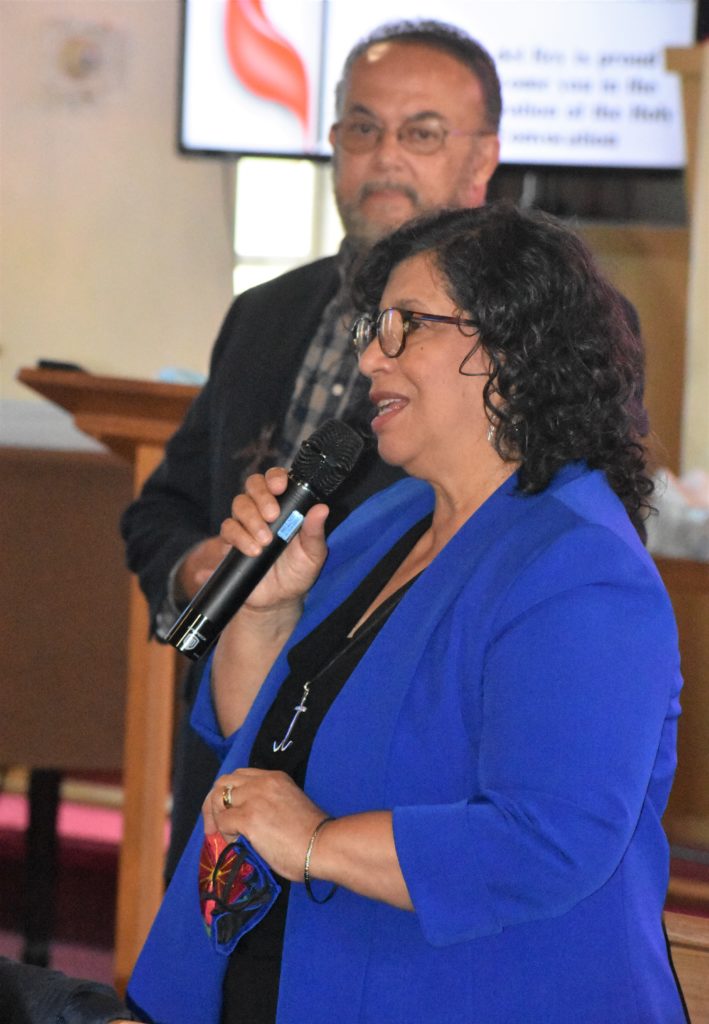 "I think the Lord has something special in store for His people now, after more than a year of suffering, separation, sadness and uncertainty," she said. She works hard to support new and veteran Latino ministry leaders at various churches around the conference. "In 2 Chronicles 7:14 God called on His people to humbly themselves and pray to Him, and our churches are doing that."
Indeed, while she waits prayerfully for UM Global Ministries to assign a new missionary pastor to succeed her at Casa del Pueblo, Cotto is busy preparing her faith community of about 32 families for a leadership transition and overseeing its Amigos community services center. She is also coordinating the conference's next Encuentro (Encounter) II class in September to continue training new lay missioners.
The convocation ended with a commission fellowship meal—the first in two years. But the organizational meeting that usually follows was rescheduled for Saturday, Oct. 2, at 1-3 PM, with lunch. Esperanza in Philadelphia will host the event. The revered center of education, community economic development, social change and arts and culture was founded in 1986 with support from the Hispanic Clergy of Philadelphia.
Enjoy viewing photos on our Flickr page from the Latino Commission's 2021 Holy Convocation (by Michelle Cygan) and from the 2019 Latino Week Camp