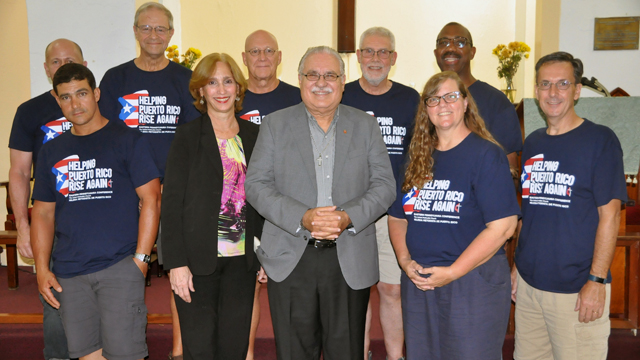 REHACE, the social ministry arm of the Methodist Church of Puerto Rico, stands for Rehaciendo Comunidades con Esperanza (Rebuilding Communities of Hope), an apt description of that church's mission to help restore the hurricane-ravaged island.
Hope. The word is becoming flesh… and bone and muscle and all other parts of the Body of Christ, mobilized through daily labors of love among people who have a mind to work.
Members of the Body of Christ, from near and far, are lifting heavy beams, replacing damaged doors and roofs, tearing down molded walls and ceilings, removing debris and performing countless other feats of strength and skill…and love. No job is too big or too small, including simply praying with and cheering up beleaguered residents who wait patiently for their damaged homes to be repaired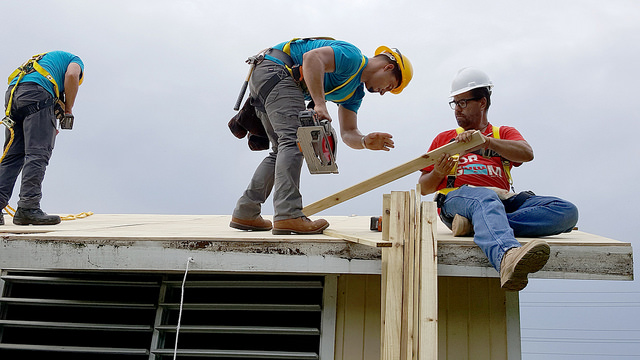 More than a year after Hurricane Maria slowly ravaged their island in September 2017 with wind, floods and widespread destruction, that wait continues. Many residents lack deeds to their properties, disqualifying them for help from the Federal Emergency Management Agency (FEMA).
Progress is slow but steady, as REHACE identifies repair and rebuilding needs in three areas of the island and coordinates the efforts of a growing number of visiting teams of volunteer laborers from United Methodist churches and conferences in the U.S.
The Eastern PA Conference sent its first Volunteers in Mission team to Puerto Rico November 3-10, bearing gifts of hope. Previous church teams have gone there from Chiques UMC in Mount Joy, New Hanover UMC in Gilbertsville, and Lampeter UMC in Lancaster. But this nine-member, interracial conference-wide team comprised clergy and laity from seven churches, including one Lutheran church.
They helped restore an elderly couple's home in Arecibo, replacing the damaged roof, removing drywall ceilings infected with black mold, retiling a bathroom, removing extensive debris, and other tasks. Another VIM team will continue their major work until the job is done and Luis Perez Montalvo , 89, and Felipa Martinez, 86, can return to their home.
The Eastern PA team lodged at the Campamento Cumbres del Calvario (Camp Summit of the Cross), one of three Methodist camps in Puerto Rico, joining two other United Methodist teams from the North Carolina Conference and Lincoln, Nebraska, onsite. They also worshiped amid celebrative praise music and dance on Sunday, Nov. 3, at La Roca Methodist Church in Camuy. There the Rev. Nicolas Camacho, team leader, preached enthusiastically about resilient hope.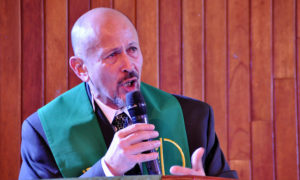 Camacho, a community pastor at West Lawn UMC in Reading, also presented a $96,105 check to the Methodist Church of Puerto Rico (IMPR—Iglesia Metodista de Puerto Rico) from funds raised all year by the Eastern PA Conference through gifts and offerings. While the bulk of it will support the IMPR's overall, extensive recovery efforts across the island, $5,105 is being used specifically for critical, unfunded work being done by La Roca Methodist Church in Camuy, which did not qualify for FEMA support.
REHACE is managing recovery work and supplying other needs in three broad regions of the island, with an expanded local staff, supplies and other resources funded by UMCOR. Agency staff gave the Eastern PA team a full orientation and onsite guidance, support and supervision, as they have for all visiting mission teams from conferences and churches. Local individuals and teams are also participating in the lengthy recovery undertaking.
"Puerto Rico will rise again, but we cannot do it alone," said Eliud Deva, a REHACE project coordinator and former fire department official, who informed the Eastern PA Conference team of hurricane's dire impact on the island. He cited extensive losses of electricity, communications, clean water, buildings, roads, bridges, relocating residents, businesses, jobs, and up to 4,000 human lives. "We need your help. We need you."
Eastern PA funds donated to the recovery effort came from the conference's Helping Puerto Rico Rise Again campaign, including donations from districts and love offerings received from churches and at Annual Conference.
Team Members were: the Rev. Nicolas Camacho (West Lawn UMC), John Coleman (Servants of Christ, Philadelphia), David Page (West Lawn UMC), German Rodriguez Barrial (New Creation UMC), David L. Dempsey (Trinity Evangelical Lutheran Church, Bechtelsville), the Rev. Shauna K. Ridge (Thorndale UMC), Wilbert Labriola (Thorndale UMC), Lee N. Kentner (Hopewell UMC), the Rev. Herbert Coe (St. Daniel's UMC, Chester).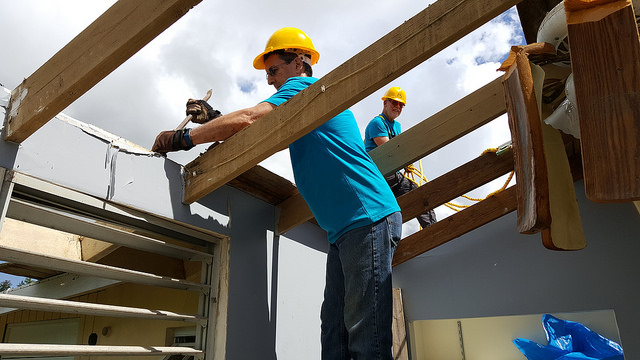 Some team members were skilled mission trip veterans with valuable construction or renovation experience, including roofing. Others had little or no experience. Only two spoke Spanish: Camacho, a native of Puerto Rico, and Rodriguez, who left Cuba for the U.S. as a refugee 15 years ago and attends Nuevo Creacion (New Creation) UMC in Lancaster.
Bishop Hector Ortiz, head of the IMPR, upon his return from a UMC Council of Bishops meeting in Georgia, visited and thanked the team for their work and their conference's donation.
"Your presence here is blessing, a sign of hope, that we are not alone," he told them. Ortiz reported that over a hundred mission teams had come in 2018 and many more are expected in 2019.
Meanwhile, over 300 of his own church's members were working in the recovery effort alongside the visiting teams.  Even he had participated in a joint U.S.-Puerto Rico effort to rehabilitate five homes. "We are making mission together," he said, citing people of various backgrounds and theological views, "which is part of the greatness of our Methodist connection."
Ortiz's executive assistant Carmen Ana Perez, who oversees REHACE, reported that the Eastern PA Conference's donation would be used to "multiply the number of homes we can repair. We have a list of 425 now, but we want to do more," she said. "If we can find more money for materials, we can do more because the need is huge."
REHACE leaders are also hoping to receive more skilled volunteers, like those on the Eastern PA Conference team, to do more roofing and other much-needed repairs.
The next Eastern PA Conference VIM team is complete for a March 2019 trip, which Camacho will lead again. He is organizing another one and will train a new team leader for a June trip, and he expects another to follow it in November.  Camacho met with the conference Cabinet and the Latino Commission Dec. 17 to update them both on the Puerto Rico mission and ongoing needs.