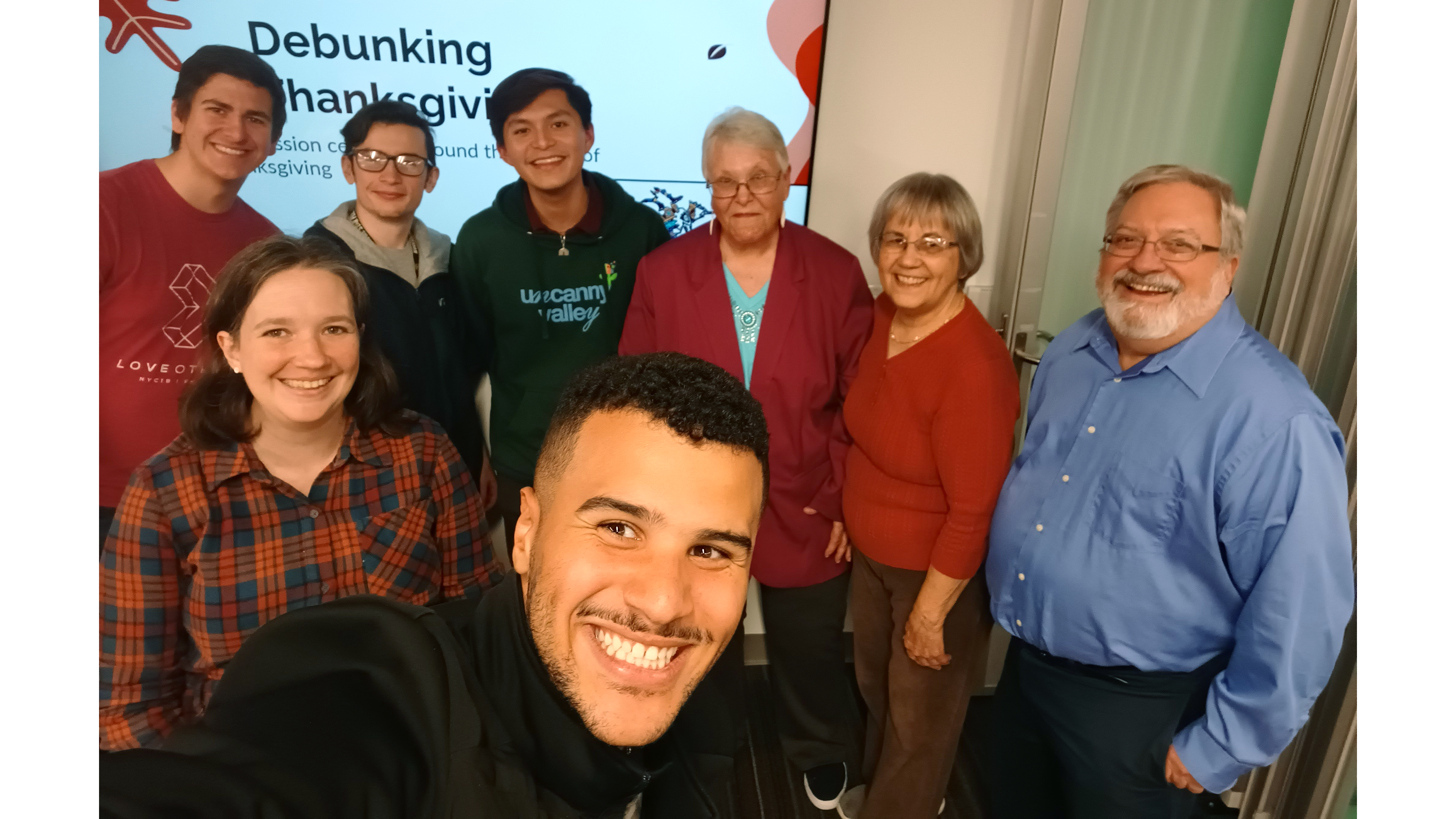 The coincidence of Native American Heritage Month and Thanksgiving Day both happening in November may be troubling to some who know the grim history of brutal oppression and exploitation of Indigenous Americans by early European invaders and settlers. EPA's Committee on Native American Ministries (CoNAM) had two opportunities to learn more of that history this month. Members were hosts of one informative lecture event, and guests at another.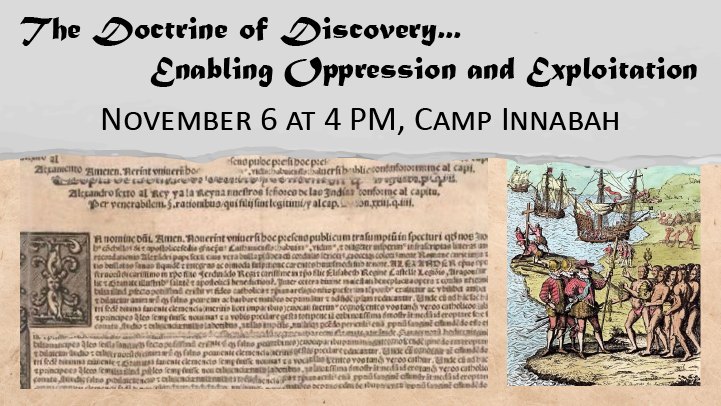 CoNAM members first hosted a lecture titled "The Doctrine of Discovery: Enabling Oppression and Exploitation," given by Ron Williams (Southern Ute and Apache) on Sunday, Nov. 6, at Innabah Camp & Retreat Center in Spring City. A CoNAM member, Williams is on the board of the Circle Legacy Center, which supports Native Americans cultural events, community projects and entrepreneurship. And he heads Reflections of Turtle Island, a human relief and cultural preservation organization for Native/Indigenous people.
He spoke to members and guests about the 15th century Catholic Church's Doctrine of Discovery that was used to support European claims to indigenous land and resources in the Americas, as well as the United States' western expansion. It provided spiritual, political and legal rationalization for colonization and seizure of land not inhabited by Christians, an egregious rationalization that has echoed in unjust policies and practices throughout U.S. history.
Three CoNAM members then became guests and contributors to a "Dine & Discuss" gathering Nov. 9 at Drexel University that served dinner—featuring corn, beans and squash, the "three sisters" of Indigenous food—but also disturbing revelations in a lecture titled "Debunking Thanksgiving." They were hosted by the Open Door Christian Community, a UM campus ministry of the Wesley Student Foundation of Philadelphia, partnering with another campus organization, Drexel Indigenous Students of the Americas (DISA).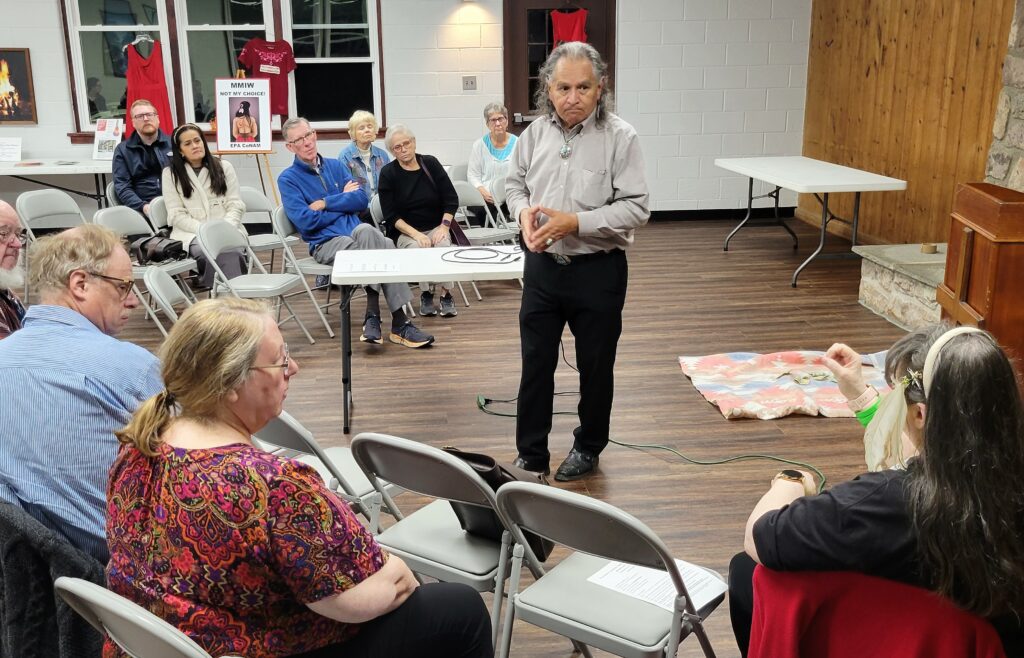 The multiracial gathering explored the actual, sordid history behind the Thanksgiving holiday tradition. It began in the 1600s when European settlers and Native people gathered for a meal quite unlike the sumptuous feasts spread on tables of American families today. But what eventually ensued were brutal wars, treachery, ethnic cleansing, exploitation, disease epidemics, land theft and other horrors that still cause harm to Indigenous people today.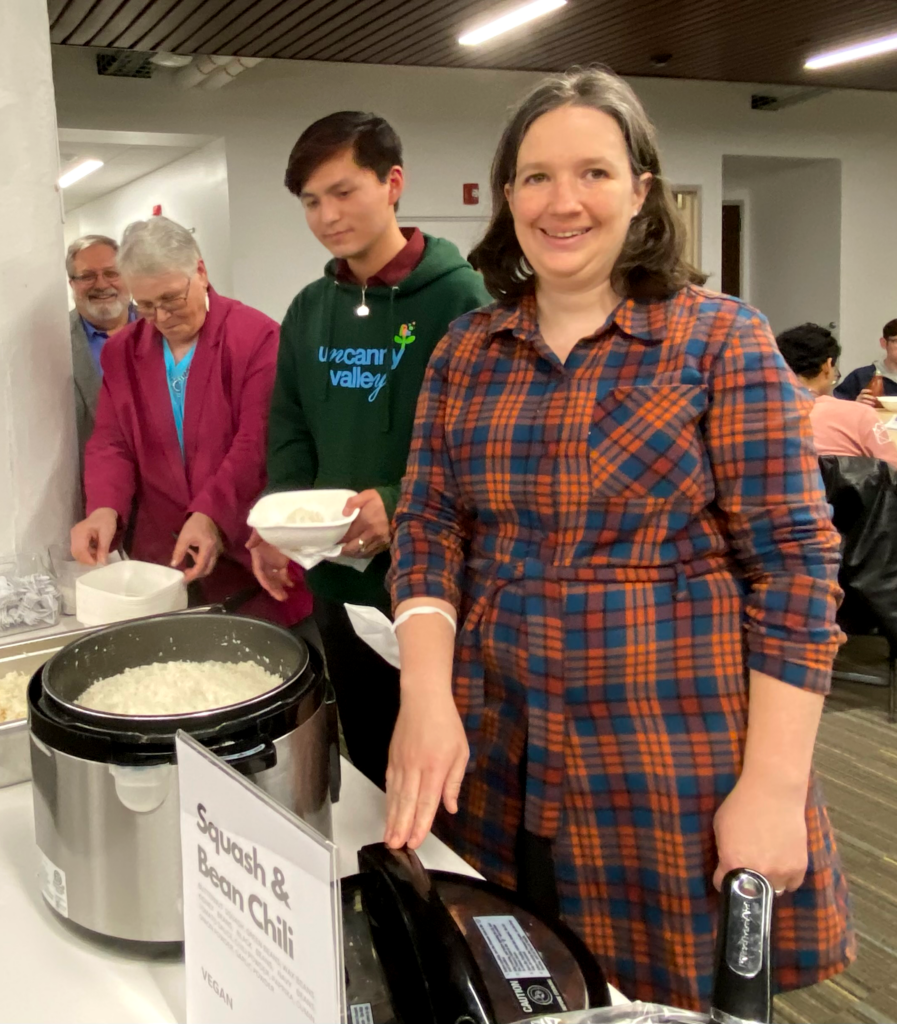 The Rev. Diana Esposito, UM campus minister, directs the Open Door, which provides free meals to 50 to 100 students weekly with support from churches and community organizations. She and Open Door student leaders joined Sky Harper (Diné), student leader of DISA, in leading the event, which took place at Drexel's James E. Marks Intercultural Center. About 50 students came for the dinner, and about half of them stayed for the discussion.
Their discourse also covered issues facing Indigenous peoples today, including the Indian Child Welfare Act, a federal law that seeks to keep Indian children with Indian families. Enacted in 1978 because of the high number of Indian children being removed from their families by public and private agencies and placed in non-Indian families, the law's constitutionality is now being reconsidered by the U. S. Supreme Court.
While stressing the need for more people to be made aware of such concerns, Harper also focused on signs of progress, like U. S. Secretary of the Interior Deb Haaland (Laguna Pueblo) being the first Native American Native American to serve as a White House cabinet secretary. Esposito highlighted the Rev. David Wilson (Choctaw) elected this month as the UMC's first Native American bishop, who will preside as leader of the Great Plains Conference.
CoNAM accepted the invitation to participate and provide financial support for the first-time collective gathering, in its desire to develop a relationship with the Indigenous campus group. CoNAM's mission is "to foster awareness and appreciation of the history and gifts of the Indigenous people of the Americas."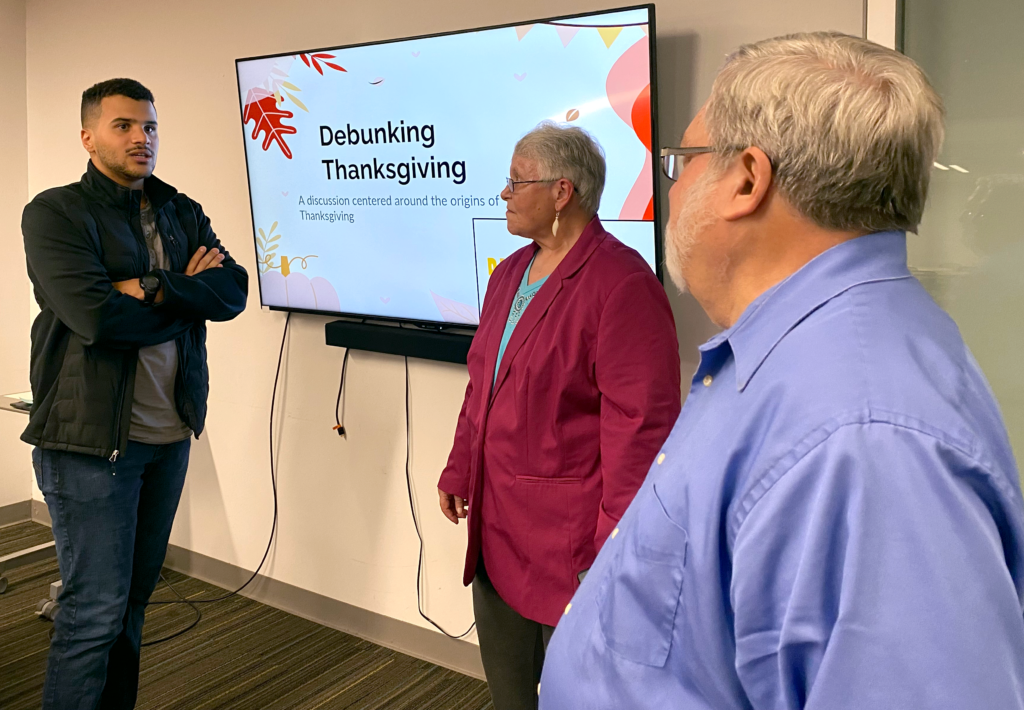 CoNAM co-chair Barbara Revere, secretary Verna Colliver and the Rev. Bob Coombe, a new member and retired pastor, found the event "inspiring and enlightening," as they chatted with Open Door and DISA students. They learned about the students' progress in achieving their career goals, especially through Drexel's highly regarded co-op program.
Sky Harper, who attended Native American schools in Arizona, won prizes for his science projects and a full scholarship to Drexel. He hopes to do his co-op education in clinical research and eventually complete a MD-Ph.D program, leading to a career in public health care in an Indigenous community. He has led DISA to host several notable events this fall, including Drexel's first Indigenous Peoples Day celebration Oct. 10.
"I am grateful for students of DISA and the Open Door Christian Community, who have collaborated on events that not only feed bellies, but minds and souls as well," said Esposito. She hopes to partner again with DISA and other campus organizations. "Many students face food insecurity on college campuses. But without this sharing of our stories that were left out of our history books, these students would also be facing deficits in understanding the experience of those who have faced cultural erasure."
"It truly was a hospitable 'open door' experience," said Coombe. "Thanks to the Drexel ministry for providing this opportunity for learning and sharing."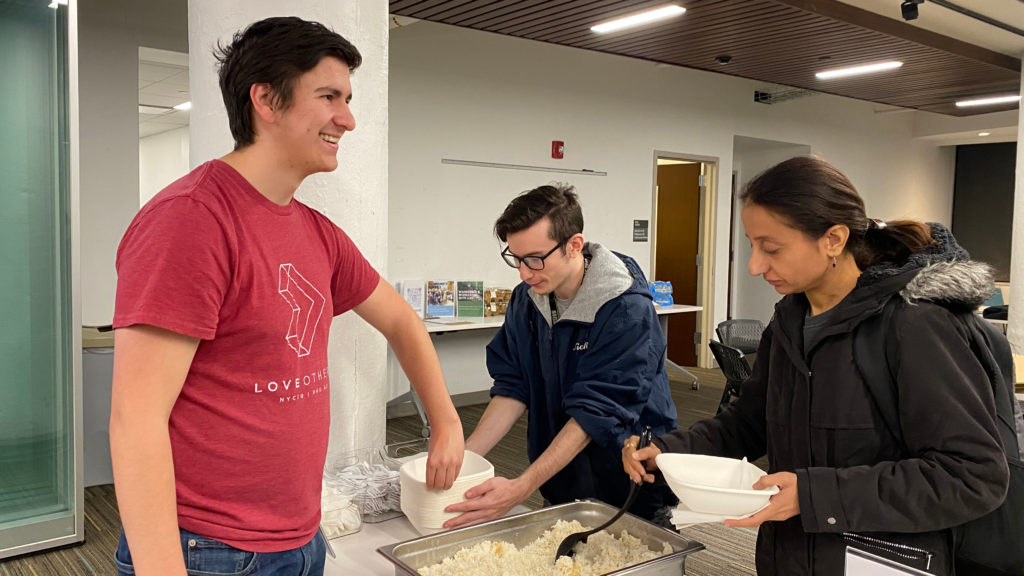 "The torch has been passed to a new generation of Americans," said Revere, who described with enthusiasm the evening's impact on her. "To be an Elder, to be in a Spirit-filled room with young people and food and brilliant minds, I am so inspired that I am lifting my legs higher, and my footsteps are steadier. I used to worry about the next generation of Americans; but I don't worry any longer."
CoNAM hopes to partner again with the Open Door, with DISA and other Indigenous groups as it grows in its awareness and outreach, said Colliver. "Such relationships and connections are important today when Indigenous communities continue to deal with historical and intergenerational trauma and isolation."

NOTE: We thank Verna Colliver for providing much of the content for this article. Learn more about Native American Ministries and CONAM on our website.