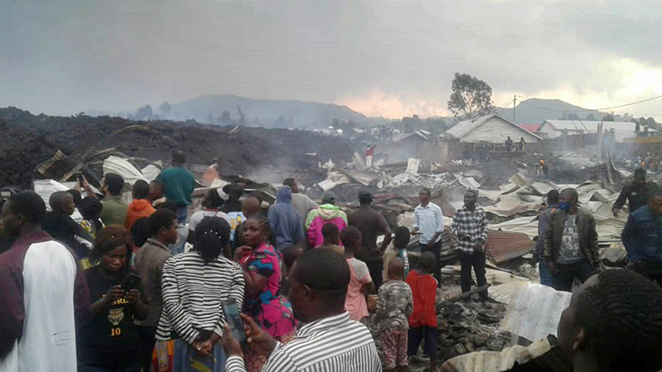 The eruption of the Mount Nyiragongo volcano May 22 resulted in the deaths of at least 15 people and left many homes and a United Methodist church buried under lava.
Of the people who were killed in the May 22 eruption, nine died in a traffic accident, four died trying to escape from Munzenze central prison, and two others were charred by lava, according to a report by Patrick Muyaya, the minister of Communication and Media for the Democratic Republic of Congo. Many people are missing, possibly including 170 children, the BBC reported, citing UNICEF.
Majengo United Methodist Church and the eight blocks around it were damaged, along with more than 100 houses of United Methodist members, according to the Rev. Henry Jean Robert Kasongo Numbize, Goma District superintendent. There were also several cases of theft of United Methodist property in Goma, as local authorities ordered people to evacuate, he said.
Pastor Valentin Amsini said Majengo Church had been swept away. The United Methodist congregation had more than 800 members, but with COVID-19, its worship attendance was averaging 350.
He said he was convinced that one day the congregation would have another building where the people could pray to God.
After sending an alert through United Methodist Communications, Bishop Gabriel Yemba Unda said he thanks everyone for the prayer support and the calls of encouragement that he has received. Bishop Unda oversees the Kivu Annual Conference, which includes Goma.
The bishop said he is asking all faithful United Methodists and the population of Goma to be vigilant and to follow the official communications and directions of the response plan set by the authorities. Read More