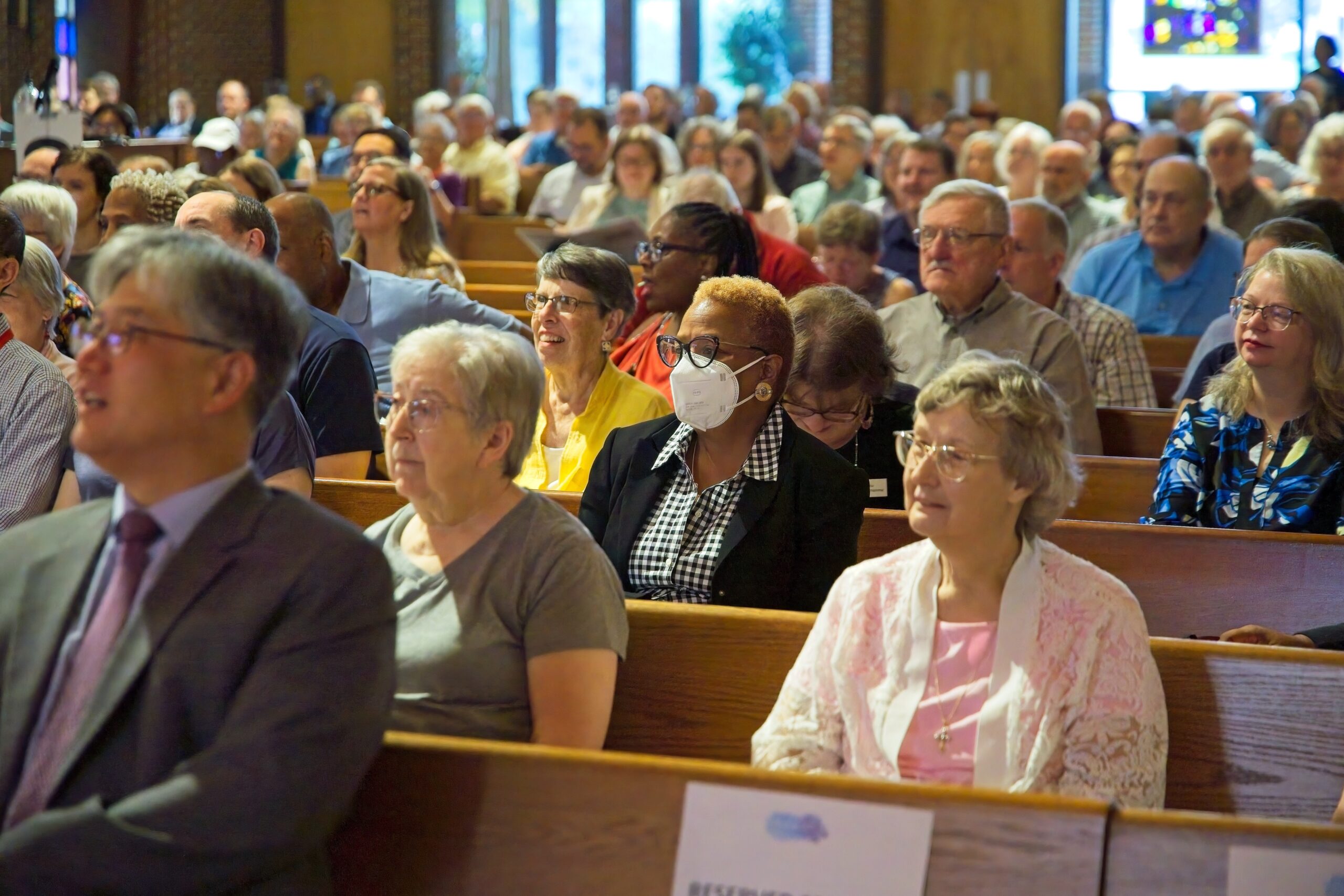 Like the blind man at Bethsaida whose eyes Jesus opened in Mark 8:22-25, the Eastern Pennsylvania Annual Conference got a second, clearer look at the proposed 2024 budget resolution during its Special Session on September 9, and that second look led to a nearly unanimous vote of approval.
Just under 400 members attended the Saturday morning session at Lititz United Methodist Church to act on several resolutions—including the 2024 budget—not voted on at the regular conference session in May.
A highlight of the session was the diverse worship, bringing together an array of talents: Lititz UMC's Contemporary Band, New Life UMC's Praise Dance Team, worship leaders from El Buen Samaritano/Cristo Rey, and the Rev. Joong Hyuck Kim's family of Fritz Memorial & St. Paul UMC.
The new budget, presented by the Committee on Finance and Administration (CFA), offers more information, arranged in an easy-to-read format, and newly updated figures. It gives a comprehensive look at conference income and expenses for clergy support, ministry programs and benevolences, and administration and property expenses.
The budget legislation also includes new policies for responsibly managing and growing designated and restricted funds to protect EPA's capital and maximize support for its mission to help churches make disciples and develop leaders. The new policies are in keeping with the Discipline and best practices for nonprofit organizations.
Steven Cherry, CFA member, shared, "The goal of the comprehensive budget is financial support for the future of the annual conference's people and churches. These are most difficult times in which to be the church of Jesus…. We have to change to remain viable."
Following the affirmative vote, CFO/Treasurer Jo Fielding stated, "Welcome to Ground Zero. From this point forward, we are taking a step in a new direction. We are working towards making a better future for you." Highlighting the dedication and skills of the Council of Finance and Administration, she urged for continued feedback and prayers from the EPA members. The conference also took a moment to honor Jo Fielding's remarkable 25 years of service to Eastern Pennsylvania.
Among the four other business items, three resolutions were ruled out of order, with consent by the body. Conference members approved a resolution that endorses efforts to restructure the denomination into regions, including a U.S. Regional Conference.
With echoes of Bishop John Schol's sermonette on the need for vision adjustments and divine guidance, EPAC's Special Session stands testament to the commitment and resilience of a connectional body navigating change while retaining a faith-driven vision for the future.
Read more details about the Special Session on our website later this week.