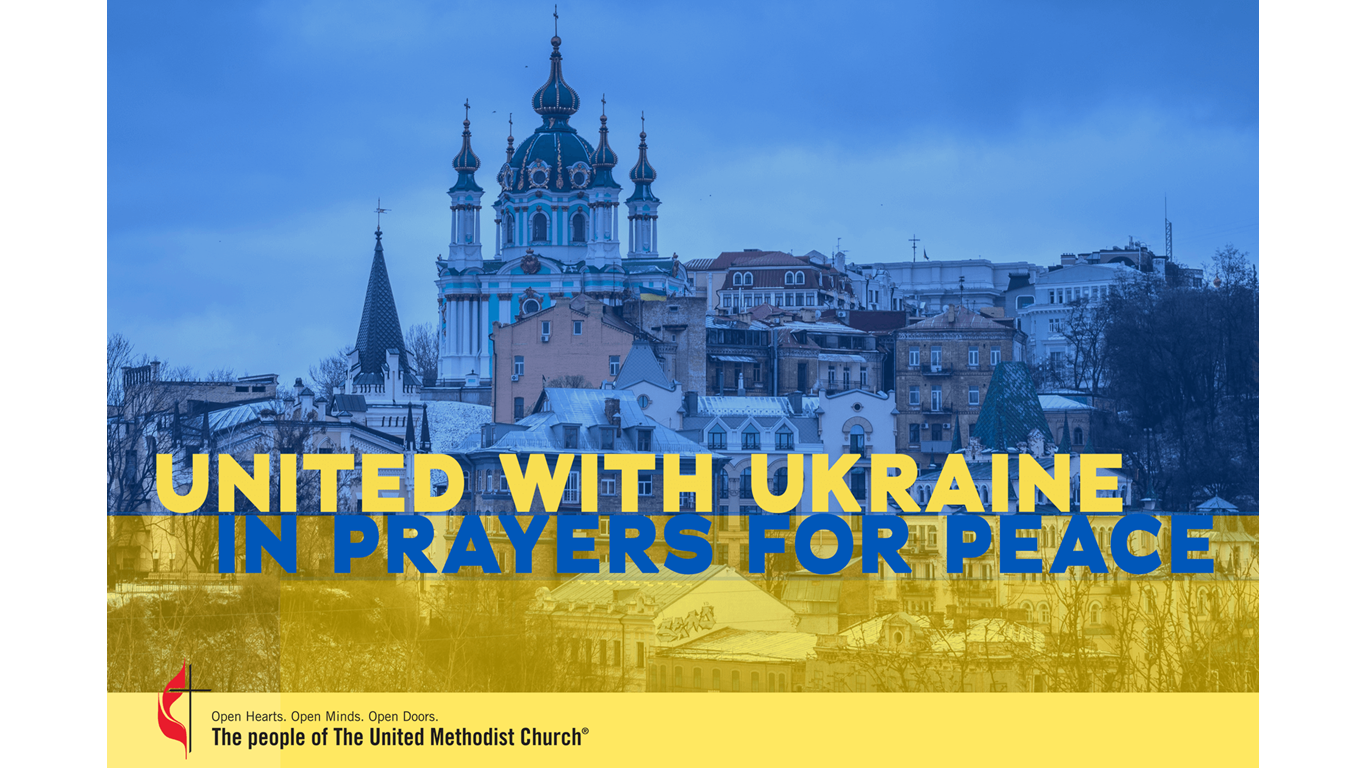 THIS ARTICLE IS UPDATED WITH NEW INFORMATION
PRAYERS
PRESENCE

Attend a peaceful public demonstration for peace in Ukraine and against the deadly, destructive war being waged by Russia. Check news and social media information sources to learn of planned events.
Eastern PA churches continue to sponsor special gatherings to pray for an end to the brutal attacks and for the peace and wellbeing of the Ukrainian people. St. Andrew's UMC, 999 York Rd. in Warminster, will host a prayer service on Thursday, March 24 at 7:30 PM. The service will be held onsite and also video-livestreamed on the church's Facebook page. The church will also reach out to a local Ukrainian-American church to offer support.
GIFTS
The UMC's Board of Global Ministries offers a way for United Methodists and others to help provide humanitarian assistance to the Ukrainian people suffering from Russia's invasion of their country. You can contribute through the Advance for Christ and the Church. Give to Advance #982450, UMCOR International Disaster Response and Recovery. This fund will provide direct assistance to those in Ukraine, as well as Ukrainian refugees fleeing to neighboring countries.
Give online at umcmission.org/advance-project/982450. Or give by using the toll-free telephone number: 888-252-6174. Or mail a check with "Advance #982450-Ukraine" written on the memo line, to Global Ministries/UMCOR, GPO, P.O. Box 9068, New York, NY, 10087-9068. Or give to UMCOR/The Advance through any United Methodist church. One hundred percent of all Advance contributions go to the designated cause.
Meanwhile, the North District will make a second donation to a Ukrainian-American church, the Assumption of the Blessed Virgin Mary Ukrainian Catholic Church in Centralia, Pa., during a prayer service there on Sunday, April 3, at 6 PM. The District donated $5,000 March 8 to the Rev. Mikola Ivanov, pastor of Transfiguration Ukrainian Catholic Church in Shamokin. The church is sending protective helmets and vests to vulnerable family and friends in Ukraine.
And Huntingdon Valley UMC is helping a grateful Ukrainian church that rents space in its building. "We would like to thank all of your congregants dearly for the donations they brought in with clothing and care items," wrote Nadia Panochko, a member. "It is a great help to those in need, and we thank you for serving alongside us in this way!
Additionally, Ukrainian Evangelical Pentecostal Church has started a Go-Fund-Me page in efforts to help with the crisis going on in Ukraine, reports Huntingdon Valley UMC's pastor, the Rev. Dave Carey. All donations are welcome: non-perishable food (no liquids), powdered milk, paper goods, good used clothing, children's books and toys, diapers, band aids, bar soap, toothbrushes and toothpaste, etc.
You can donate requested supplies to other Ukrainian American churches and support organizations in our area that are shipping direly needed survival items to Ukraine. The United Ukrainian American Relief Committee, Inc., (UUARC@uuarc.org) has been busy collecting specific items to ship to medical facilities and families in need. The local organization is located at 1206 Cottman Avenue, Philadelphia, PA 19111 (Phone: 215-728-1630).
WITNESS
UMCOR has published "FAQ: The crisis in Ukraine" an eight-question guide to the history of Methodism in Ukraine, how UMCOR is responding and the best ways for you to help now. Learn more
Learn and teach others about Ukraine's history of struggle for sovereignty and independence. Also, explore the historic role of Christianity in that part of the world, including the Eastern Orthodox Church and United Methodist mission and congregational development in that region. Also, learn about the desperate plight of over a million Ukrainian refugees streaming across the borders of welcoming countries. Then share your knowledge with others in your church and community, and urge them to get involved.
According to "How are United Methodists present in Ukraine?" 60 UM congregations are found across Ukraine, Russia, and the Baltic nations of Latvia, Lithuania, and Estonia. The Ukrainian and Russian churches share the leadership of Bishop Eduard Khegay, who is based in Moscow. This puts him, along with other leaders, in a precarious position, as the church at large has clearly condemned the invasion.
We pray with the people of Ukraine and all those affected by this war against its sovereignty within its own borders. Bishop Khegay published this prayer for peace in Russian on his episcopal area website:
Lord we know that it shouldn't be.
People should not bear death.
People should not be killed.
People should not lose their loved ones on the battlefields.
Cities and villages should not be turned into a war zone,
children should not be victims,
and war should not be a means to achieve peace.

Lord, we need a new heaven and a new earth.
We remember the world that You gave us,
and mourn that we have lost it.

We all want to be safe.
But our security is not in force.
Spare us the ravages of war.
Teach us the ways of peace.
In addition, Magrey deVega shares this "Prayer for Ukraine," written by Oleksander Konysky and often sung at the conclusion of worship services in the Ukrainian Greek Catholic Church and the Orthodox Church of Ukraine.
PRAYER FOR UKRAINE
Lord, oh the Great and Almighty,
Protect our beloved Ukraine,
Bless her with freedom and the light
Of your holy rays.

With learning and knowledge enlighten
Us, your children small,
In love pure and everlasting
Let us, oh Lord, grow.

We pray, oh Lord Almighty,
Protect our beloved Ukraine,
Grant our people and country
All your kindness and grace.

Bless us with freedom, bless us with wisdom,
Guide us into a kind world,
Bless us, oh Lord, with good fortune
Forever and ever more.
The church around the world lifts up prayers for the people of Ukraine. To help give voice to those prayers and unity in the praying, the UMC's Discipleship Ministries agency gathered words that have been written by others to present on its website. They begin with words from UMC Bishop of the Nordic Baltic Area, Bishop Christian Alsted. "Use these words in your private prayer closets or in gathered communities of faith."
Please let us know if your church hosts or participates in events related to the crisis in Ukraine. Write to us: communications@epaumc.church