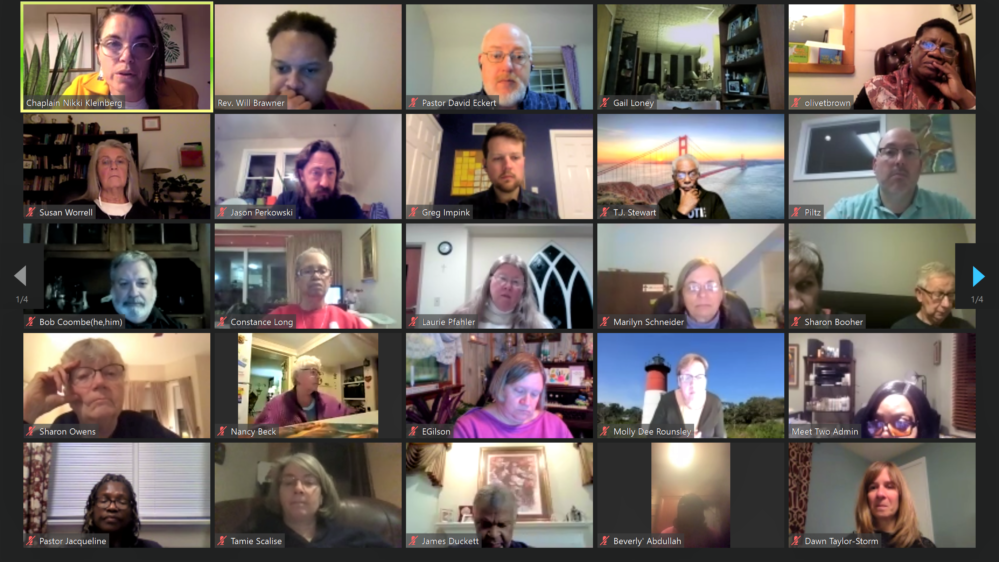 2nd meeting reveals progress but much work to be done
By John W. Coleman
In Round 2 of the Eastern PA Conference's Fight for Floyd campaign, at a Oct. 29 follow-up to the initial June 1 meeting, three action committees reported on their efforts to seek justice and reconciliation for racial-ethnic communities suffering from police violence.
The Urban Commission quickly organized that first meeting on Zoom and drew nearly 300 concerned participants, one week after George Floyd was brutally slain by police in Minneapolis, Minn. Over a hundred people attended the Oct. 29, two-hour follow-up meeting, also on Zoom, to find out what the now-renamed "Fight for Floyd and Beyond" campaign is doing and planning for the future.
The three action committees—labeled Policy, Community Development and Education—are hoping to gain some much-needed new members, inspired by their work. That hope may also be fueled by the tragic continuation of fatal police shootings of Black and Hispanic victims both locally and around the nation.
Two recent police killings that happened in Philadelphia and Lancaster prompted dramatic reports from several meeting participants who were involved in protests and police encounters that resulted.
Walter Wallace Jr. was fatally shot by Philadelphia police Oct. 26 when he refused to put down a knife as he approached them. And Ricardo Muñoz, was fatally shot by Lancaster police Sept. 13 when he too approached them brandishing an apparent knife. Both men were 27 and experiencing mental illness crises. And both shootings sparked protests and public outcries for more intervention in crisis situations by mental health professionals and more de-escalation training for police.
Against that backdrop, the three Fight for Floyd and Beyond committees updated attendees on their work.
"These committees are on the front lines of this fight, dealing with issues in Philadelphia and beyond," said the Rev. William Brawner, Conference Urban Ministries Coordinator, who organized and facilitated the meeting. "We need to get more people engaged and involved in their work."
Policy Committee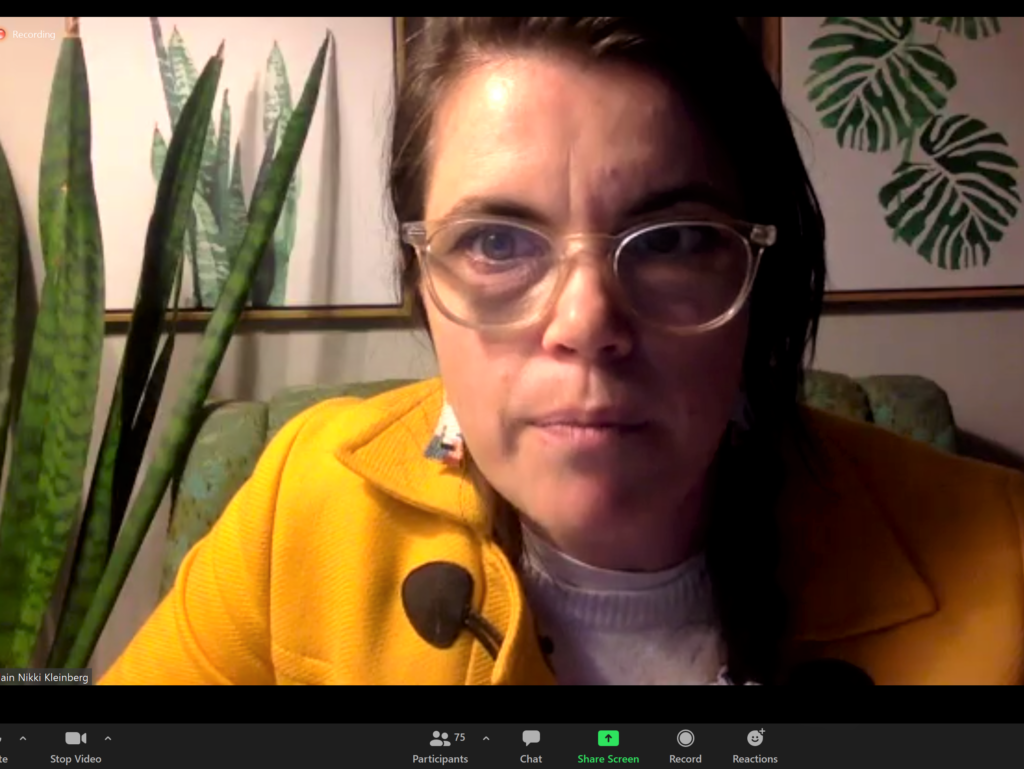 The Rev. Nikki Kleinberg, a deacon and chaplain, presented the Policy Committee's carefully crafted police reform advocacy letter* that endorsers can adapt and send to public policy officials and police unions. The committee, which researched relevant issues before drafting the letter, hopes to spur policy conversations with such leaders.
"Racial inequity in police culture, leadership and practice is measurable, damaging, and destroying many aspects of public and private life," the letter begins, "while the daily environment of police work leaves officers at greater risk of long- and short-term adverse health risks." The one-page letter reflects concern for the wellbeing of both police and the communities they serve; and it calls for progressive changes in policies and practices that law enforcement in other states and cities have adopted.
"With the diversity of United Methodists in mind, we tried to draft something that people of different political affiliations can sign and share with policymakers," said Kleinberg. "We tried to keep the letter moderate and also to include a focus on police unions because they have a lot of power and don't seem to be hearing the message of police reform."
Kleinberg addressed Philadelphia's City Council Nov. 18 in a public hearing about its new contract with the Fraternal Order of Police and desired changes in policing. "This is the first time ever that Philadelphians have the opportunity to give their thoughts about the contract ahead of it being renewed," said an organizer with RECLAIM, a local justice advocacy group.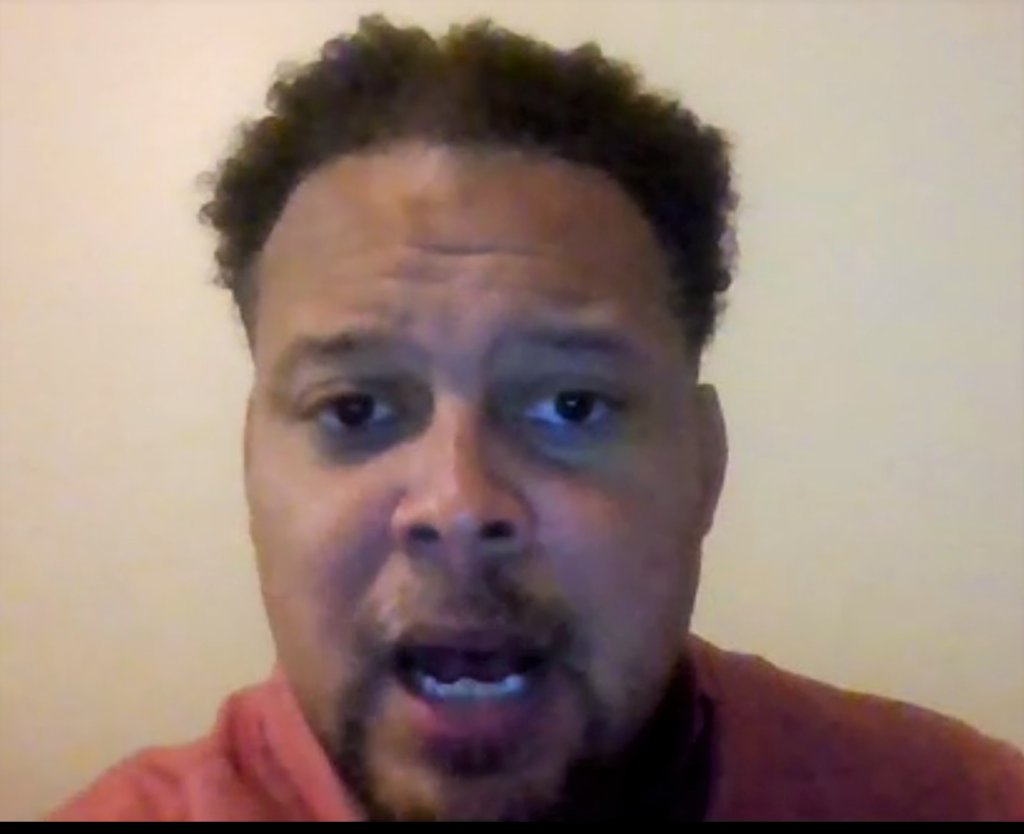 "We may not all agree on tactics and that's fine," said Brawner, who thanked the committee for its work. "But we want to share different ideas and just be able to hear one another."
Kleinberg also highlighted three critical, police-related ballot measures that Philadelphians would vote on come Election Day. On the ballots were: an Office for Victims' Advocacy; a new, more accountable Citizens Police Oversight Committee; and a mandatory end to unconstitutional stop-and-frisk practices. All three measures were approved by voters Nov. 3. (See "Philadelphia voters approve police reform ballot questions")
Community Development Committee
The Community Development Committee "was charged with creating community interventions that support healthy relationships with police and community members." The Rev. David Eckert, committee co-chair acknowledged "the tensions of conflict between caring for the police and caring for the community." But he affirmed the goal to "reduce negative, painful and fatal interactions."
The committee plans to hold an online forum and workshop in early 2021, where persons on both sides can share their testimonies and begin to foster trust and better relations.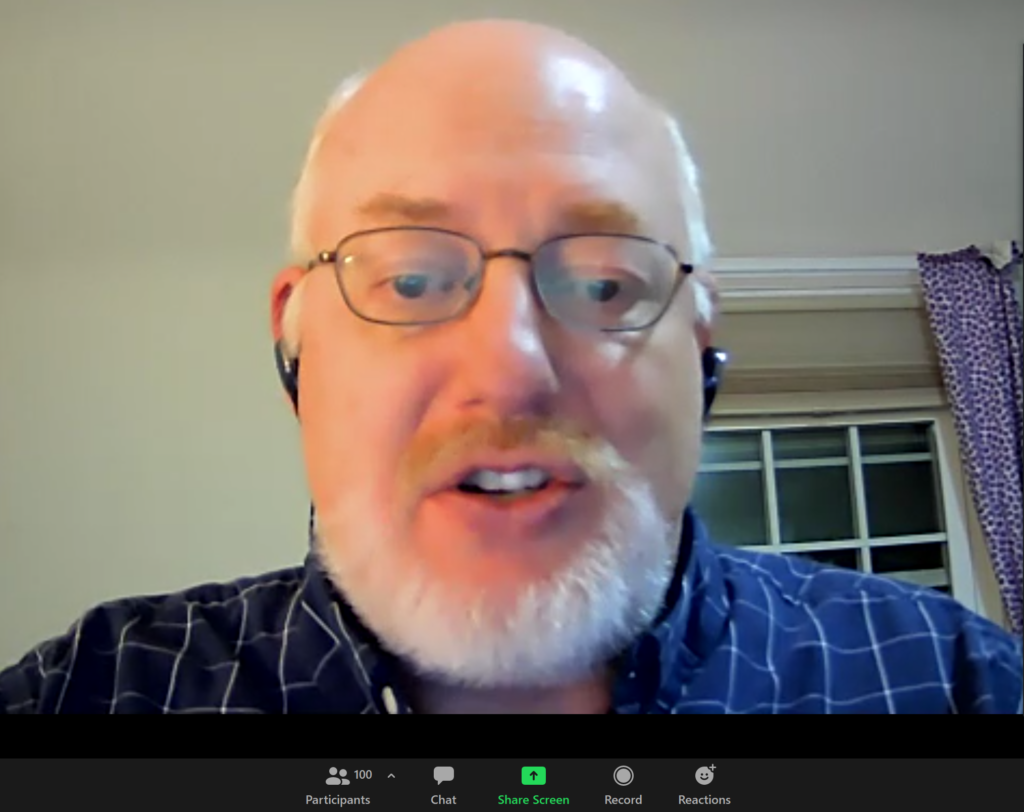 "We recognize that there is a lack of trust, fear and hesitation, and intimidation regarding getting involved, but we know that police and community members–especially now–are looking for opportunities to build community," said Eckert, who also co-chairs the sponsoring Urban Commission. "The church is partnering to be a support and catalyst for all who wish to be involved in changing our current state with the police and community."
The Education Committee
The Education Committee is focused on developing a database of multimedia resources, housed on the Conference website, to build public anti-racism awareness and response. Committee members have shared their own perspectives and experiences with one another in monthly meetings, which may lead to video-recorded testimonies and discussions, or maybe even a podcast, said the Rev. David Piltz, co-chair.
North Central Philadelphia resident and community activist Gail Loney, who also co-chairs the committee, shared her wisdom and experiences in seeking justice and respect from law enforcement. "In my neighborhood, we have police who work for the City of Philadelphia, SEPTA, the Philadelphia Housing Authority and Temple University," she reported, citing evidence of "over-policing" in her community.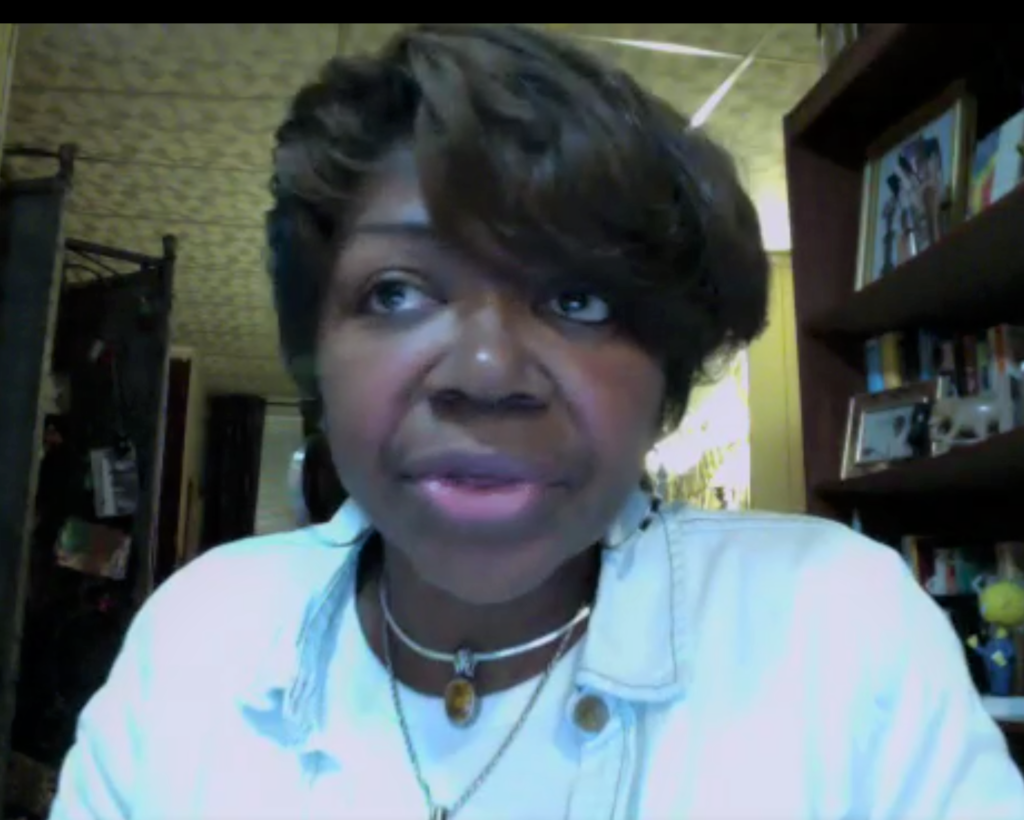 Loney, who helped defeat Temple University's proposal to build a new stadium in North Philadelphia, sees "over-policing" as a tool of urban neighborhood gentrification. With 1.5 million people and 6,300 police, Philadelphia has the fourth largest force in the U.S. But despite a policing research study, a hefty $727 million budget and recommended improvements, there has been "almost no progress on implementing needed changes," said Loney. "Police need training badly. We need police who can de-escalate situations, and we need mental health and social workers to help them in those situations."
She also interpreted protest groups' demands to "defund the police" as calls for reinvesting significant funds from that budget to address long-neglected community needs.
The impassioned activist also called on the church to do its part. "We need everyone involved to solve these problems," she pleaded. "It's everybody's issue. If we don't do something now the explosive volatility we see in Philly, Lancaster and other cities around the country will keep happening.
The church has to go outside into the community," she continued. "You have to be present in these neighborhoods where you have churches. They need you."
Clergy participate in Lancaster anti-racism advocacy
At least two UM pastors have been present in Lancaster, marching along with other clergy and community leaders to protest police killings of George Floyd, Ricardo Muñoz and other victims of color. The Revs. Greg Impink and Jason Perkowski, members of the community organizing group POWER Interfaith, both reported on their efforts to address racism in policing and also in state education funding in a city that is about 60 percent nonwhite.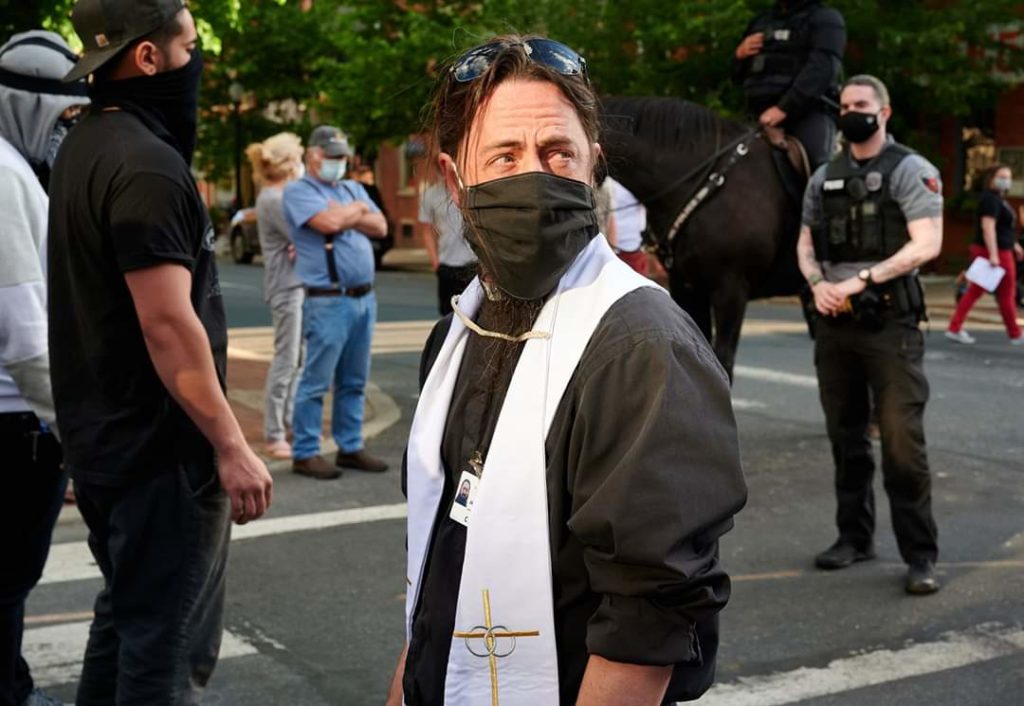 "We've been meeting with the press and young people, holding protests downtown and going before the mayor and city council, the police department and sheriff's office to push for as much change as possible," reported Perkowski. "There are major groups doing racial justice work in Lancaster; but we need to be more coordinated in our message to the public. Also, we have an advantage as faith leaders, and we get attention with our protests. But until we get new, proposed policies written and into the hands of elected officials and powerbrokers, we're not going to get the changes we want to see."
Perkowski recalled meetings with top business leaders, who acknowledged systemic racial bias and a willingness to "work with us on it." He identified several key needs, including a review board to monitor use-of-force policies and practices, and a crisis team of clergy, social workers and psychologists to respond with police to appropriate crisis situations.
"As clergy, we need to be able to stand in the gap and be a peaceful boundary between police, community members and militia groups" said Perkowski. He was attacked with mace last spring when he tried to defuse a policeman's encounter with a young protester.
Brawner introduced to the gathering Gabriel Palmer, 18, who works for the Community Healing Project for All, a diverse youth assistance and development program in Philadelphia. He said a lot of young people now are grieving "multiple deaths from the coronavirus and violence."
Palmer, who speaks at prayer rallies and other community events along with religious leaders, said his family, church and other influences saved him from the violent streets. "Otherwise, I would be dead right now."
His late grandfather was a Philadelphia icon who saved many young people from gang violence. Melvin Floyd was revered as a police officer and urban minister on the streets from the 1960s through the 1980s. He died in April 2020.
Palmer and Brawner recalled a prayer rally and march led by the Black Clergy of Philadelphia and Vicinity Oct. 27, the day after Walter Wallace Jr.'s death. Brawner, an activist-pastor newly appointed to Mother African Zoar UMC, recalled how the clergy and their supporters were met at a police precinct by officers in full riot gear.
But he also lamented the community violence that has led to over 400 murders in Philadelphia this year, along with students kept out of school, the ongoing drug crisis and the presence of National Guard patrolling the city's streets in response to violence and destructive looting.
"Philly has been suffering for a long time," Brawner said in his poignant closing reflections, following comments and questions from meeting participants. "Everyone, please get involved with us. We need to see you on the front lines."
In her benediction, the Rev. Dawn Taylor-Storm, Director of Connectional Ministries, asked God to "remind us of what's needed in this Fight for Floyd, for Breona (Taylor), for Walter (Wallace Jr.) for Ricardo (Muñoz) and for others we don't know…. What's needed are our hands, our voices, our bodies, our pocketbooks. Wake us up, God, and move us."
Email Contact List For Fight for Floyd & Beyond Action Committees:
Education Committee Co-Chairs:
Community Development Committee Co-Chairs:
Policy Committee Co-Chairs
* See An Invitation to Justice: Fight for Floyd & Beyond Policy Committee's Draft Advocacy Letter