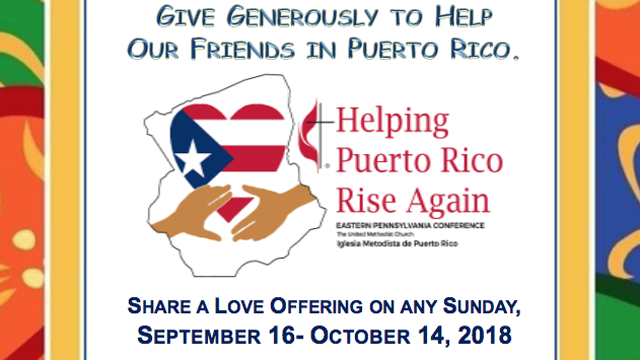 Our conference's Helping Puerto Rico Rise Again month-long love offering ends this Sunday, Oct. 14, along with National Hispanic/Latino Heritage Month (Sept. 15 to October 15)  As we continue to offer prayers and assistance to Puerto Rico's recovery from the devastation caused by Hurricane Maria (September 2017), we can give generously to help our fellow U.S. citizens and fellow Methodists there through this love offering.  All funds are being shared with the Methodist Church of Puerto Rico to support its church and community recovery and restoration ministries.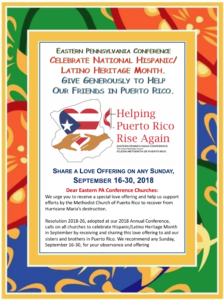 Please download, print, use and share the Helping Puerto Rico Rise Again love offering flyer and the   bulletin insert leaflet. Also, visit our new  Helping Puerto Rise Again web page,  and be sure to read and share Bishop Peggy Johnson's tender essay,   Loving others in our family of faith.
We will publish a story next week about the first conference volunteer work team headed to Puerto Rico November 3-10 to help with recovery and restoration. Ten lay and clergy members will go this time, and another work team is being formed to go next March.