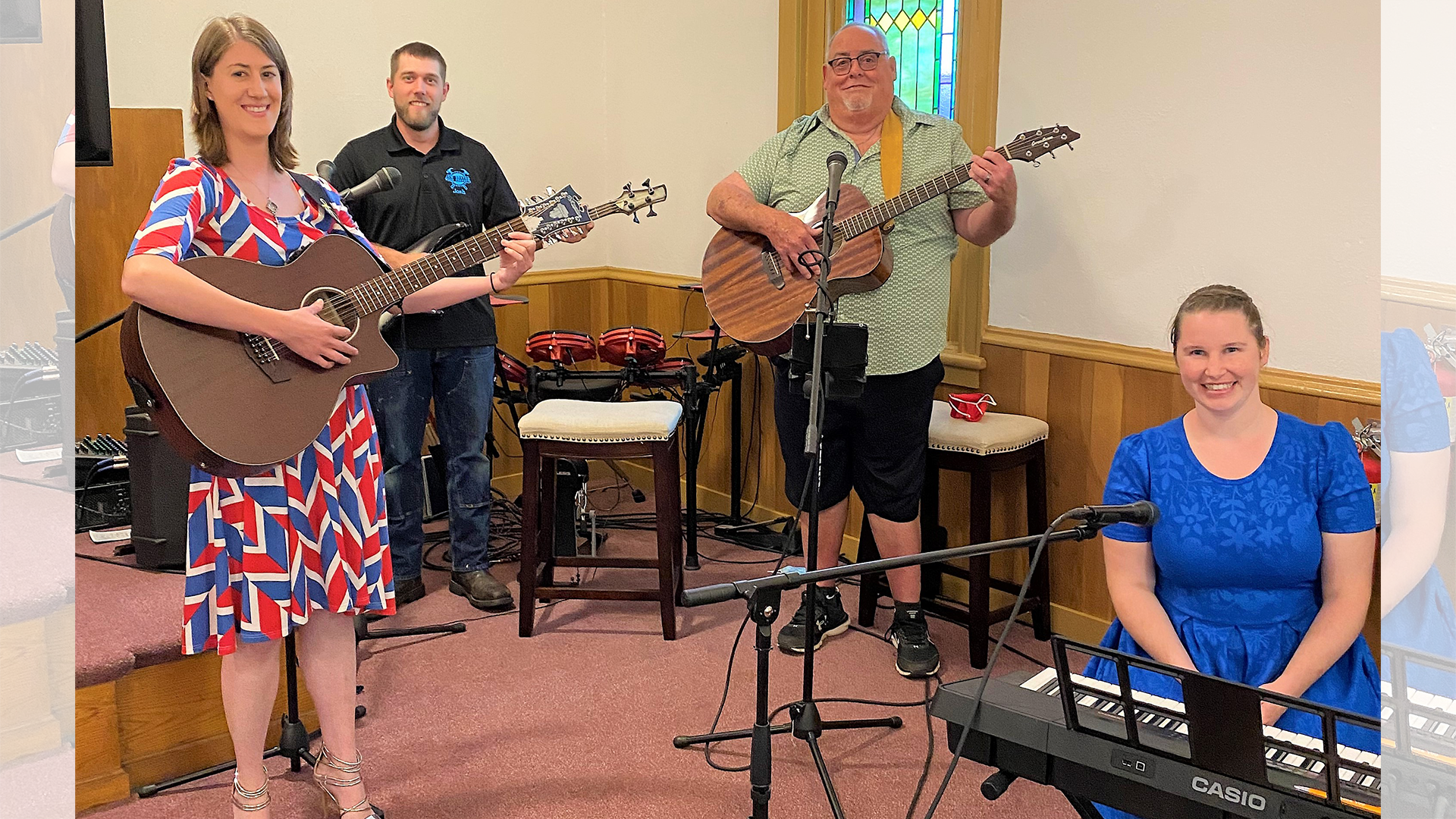 "Right before the beginning of Covid shutdowns a small group of young adults who love music were nudged to begin a praise band." That's how the Rev. Jean Howe, former pastor of Grace UMC in Reading, began her email message to NEWSpirit Communications in June. She continued:
"The bass guitarist used to play in a praise band. A young lady played the guitar, but she was in the midst of the disruptions to her senior year of college and not available regularly to help. Yet, a few singers who loved the Lord and loved worship, took a leap." And that's how the new Leap of Faith Praise Band at Grace UMC in Reading was born…from a nudge.
Tracy Lynn Wenrich began learning to play a keyboard. Amanda Wenrich, who felt "a little intimidated by the guitar," learned to play a simple four-string ukulele, just so she could join Josh Wenrich and Scott Long on their guitars. And the group bought a beat box for percussion.
The quartet began "stewarding their desire to please God with their special brand of worship music," wrote Howe, who recently relocated to Colorado. Mike Reinert is Grace UMC's new pastor.
Now, nearly two years later, Amanda, who just became a licensed occupational therapist, plays six- and twelve-string guitars and sings. Tracy Lynn, a nurse, plays song melodies on the keyboard. Josh, a contractor, is Amanda's twin brother and Tracy Lynn's husband.
Scott Long, a retired insurance underwriter and the only non-young adult in the group, is also related to the Wenriches. He recalls Howe asking, "What's the name of your band?" just before they took the stage for their first worship service.
'A crazy leap of faith'
"I don't know," Josh answered. "This whole thing is just a crazy leap of faith!" And thus, the band's name emerged: Leap of Faith.
The group uses CCLI Song Select to transpose chords of popular traditional and contemporary praise music. They play at Grace several Sundays a month, alternating with the church pianist who plays traditional hymns. And they have performed at special events there and elsewhere, including a "Light the Night" Halloween event, an Advent/Christmas celebration, and a Saturday night performance for the local Hope Rescue Mission titled Beautiful News.
"They are confident that the Lord has brought them this far," wrote Howe. "God has created within them a deeper, richer desire for worship. These young adults have responded humbly to use their 'little coin' to create a ripple effect of hope throughout the congregation. Loving the Lord with all their heart, they took a leap of faith!"
NEWSpirit interviewed the quartet on Zoom recently.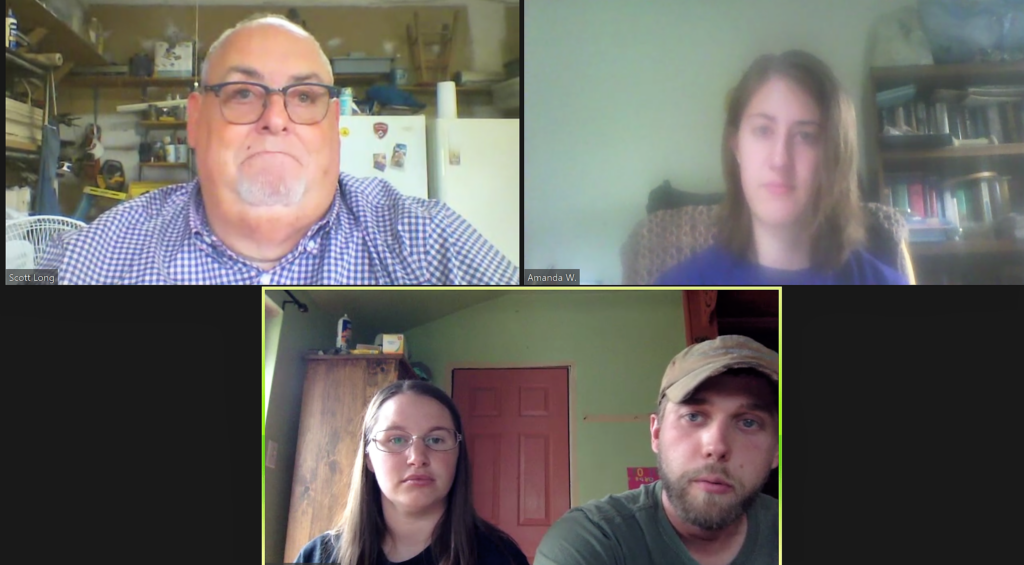 Scott and Josh both played in the praise band at West Lawn UMC, Howe's home church, before coming to Grace. They played for over 400 people in worship there. Now they play for 20-25 people a Sunday, maybe 40 on holidays.
But the congregation enjoys their sound, which is primarily praise songs they hear on the radio. Josh plays bass guitar and the Cajon, a Peruvian percussion instrument, and he operates the audio soundboard. And Scott is beginning slowly to introduce electronic drums into the music. "There are people dancing in the back of the church sometimes. They'll come up and ask us for certain songs."
They're beginning to incorporate some Hispanic music into their sound, hoping to attract the neighborhood's fast-growing Latino population. "If you don't reach out to do that, you'll become an island," said Scott.
Group has grown musically, spiritually and relationally
Acting as the group's unofficial chaplain, he tries to mentor them. "I'm amazed at how much they have grown spiritually and in their musical abilities. It's just awesome that we're harmonizing now. I love it, and I know these guys' hearts are in it."
"Being part of a worship team is something I've always wanted to do, said Tracy, who loves the praise songs she hears on the radio. "So, when we were given this opportunity, I really wanted to do it because music is always kind of where I felt like I could hear Jesus speaking to me.
"I've also seen our relationships grow through all this," she continued. "Speaking for Josh and me, we got married knowing we were both Christian; but I can't honestly say we really talked about our faith that much openly with each other. But I feel like we do that more now, after starting Leap of Faith. I feel like we've come to know each other, and we're more open about our faith and the things that we need."
Scott said the group always opens with prayer, a time of sharing, and maybe a scripture or devotional reading. "You know, we've become a kind of small group at church. Even though we're related, we don't see each other very often (outside of rehearsing and playing together). But we do pray for each other and try to keep everybody humble.
"We have a lot of grace with each other, just like the name of this church," he said. "God doesn't call us to be perfect. He calls us to be faithful. And in that spirit, we serve an audience of one."
Leap of Faith will play for Grace's worship the next two Sundays, the last two Sundays in August and the last three Sundays in September.