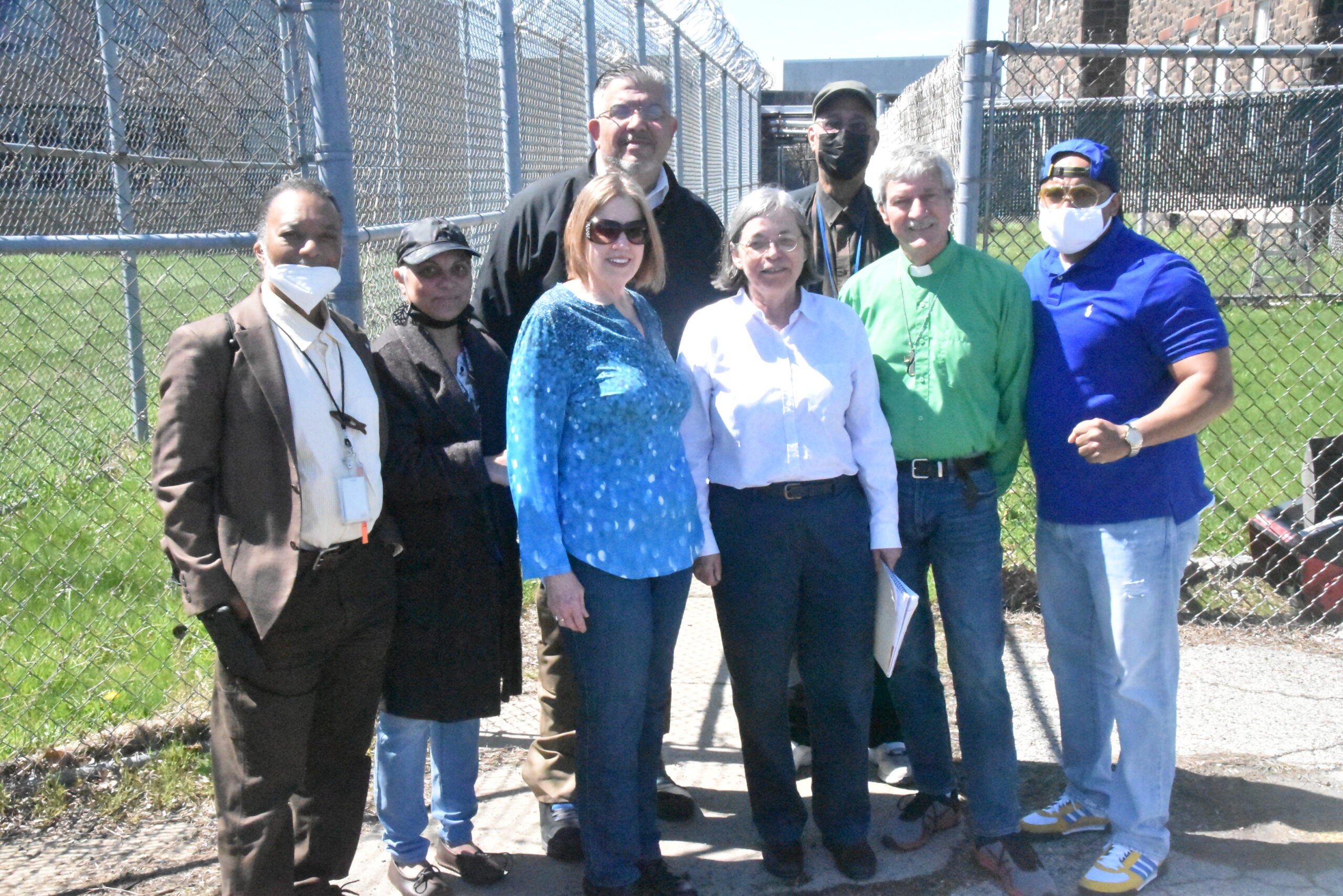 Eastern PA Conference members delivered a modest but much-appreciated Easter gift to the Philadelphia Correctional Facility complex on State Road April 12. A team delivered 2,123 men's briefs, 2,264 men's undershirts and 625 women's briefs for persons incarcerated there, bearing fruit from the conference's Undies for Easter underwear donation campaign.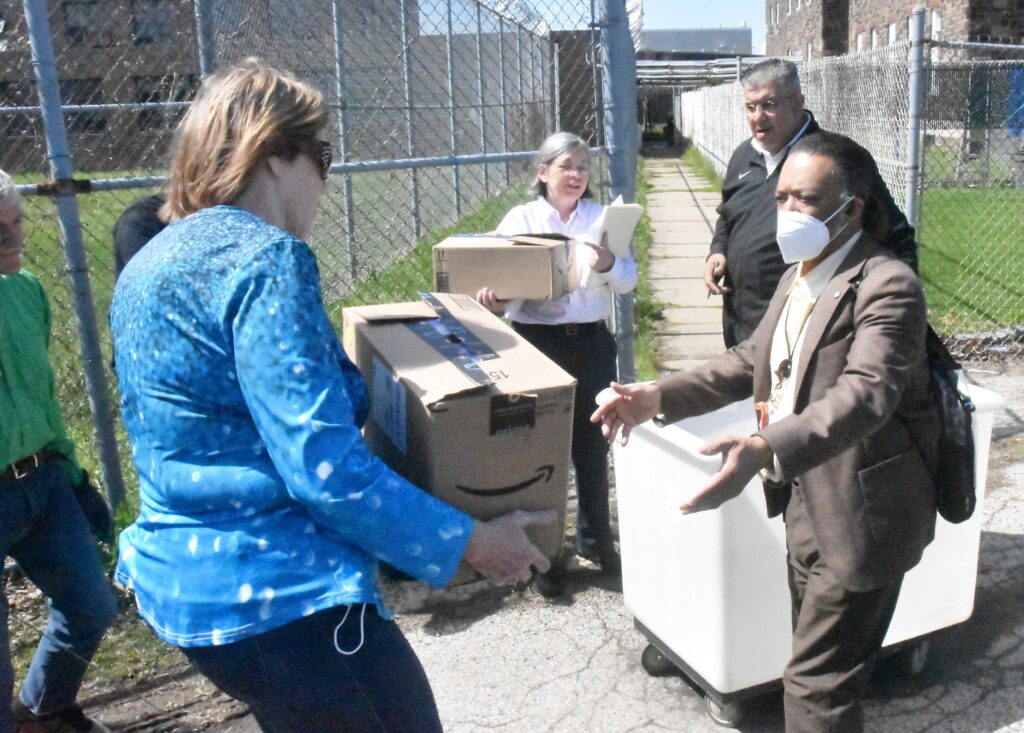 Five excited chaplains welcomed the small truckload of boxes of underwear that have nearly filled an office in the Conference Center for the past month. The briefs and shirts were purchased and donated online via Amazon.com, by 230 people, churches and districts in Pennsylvania and six other states.
Most of the items will go to inmates in the Intake unit, where they may be housed for about a month as decisions are made about where to send them next, said Head Chaplain Carmelo Urena, who serves about 6,000, mostly male prisoners.
"Some of these folks' families don't even know there here; so they don't receive some of the basic stuff they need, like toiletries and underwear," he explained. The Philadelphia Department of Prisons gives them one pair of briefs when they arrive, and Urena has long wanted to give them more.
'Your donations are really needed'
"This gift is a comfort to them right now; your donations are really needed," he assured the EPA visitors. "I've had grown men cry when they receive even a t-shirt, and I tell them about the ministries that bring these things to them." It also helps the chaplains gain the cooperation and appreciation they need for their efforts to help. "Our role means something here."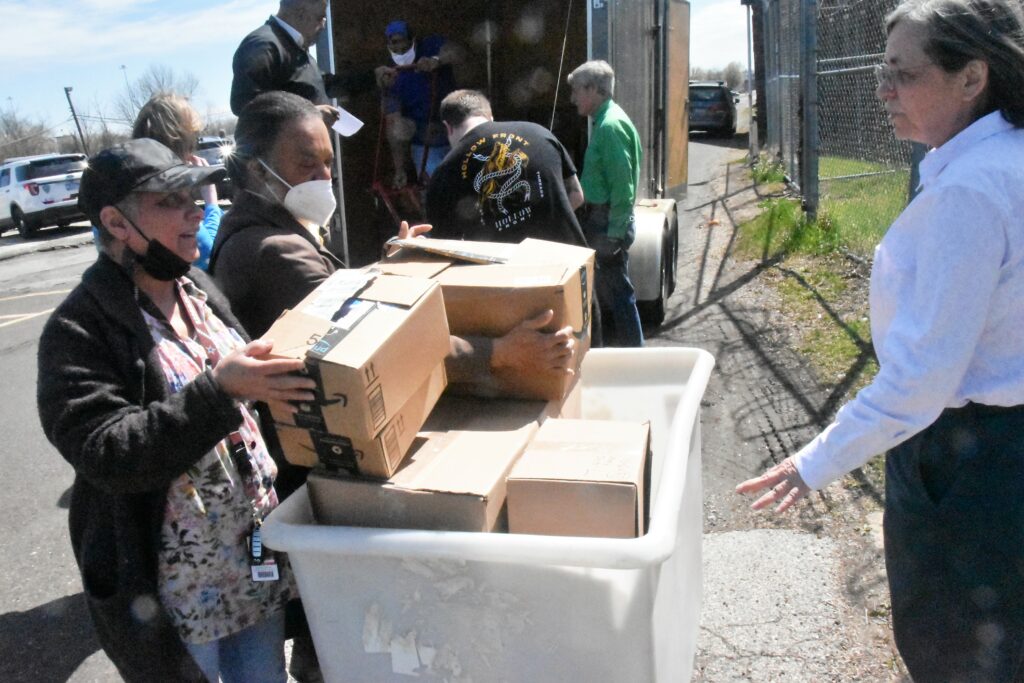 There was a lot of cooperation and teamwork happening that sunny Tuesday morning, as the Rev. Marilyn Schneider, members of the EPA Prison Ministries and Restorative Justice Team and conference staff loaded and then unloaded the small truck donated and driven by the Rev. Allen Keller. Both Schneider and Keller are deacons. Four grateful chaplains greeted them at the prison and happily took the boxes down a fenced walkway into the storage building.
In conversation afterward, Urena shared his own inspiring testimony, how he was once in prison, was released and then returned to do prison ministry. "When a chaplain's position opened up they told me I should apply," he remembered. "I said I can't do that; I have a prison record. But they saw how well I related to the inmates and encouraged me. So I applied and was hired."
'I tell people my church has 6,000 congregants'
He said his team is Protestant, Catholic and Muslim, male and female; but they work as a unit and each has their own compelling testimony that brought them there. "I tell people my church has 6,000 congregants," he joked. "We take no offerings, but the rent gets paid and everybody gets fed daily."
Urena, who told listeners in a pre-Easter sermon to remember what Christ did for them out of love, recalled how grateful inmates were in December to receive from EPA donated blank Christmas cards that they could sign and send to their loved ones. That's when he asked for the underwear. Now, he believes there may be a greater reason why God connected him with Schneider, whose team constantly reaches out to prison chaplains to offer Christmas cards and identify other needs.
While COVID put the prison on lockdown to limit infection,"we would love to have religious groups and volunteers come in again," said Urena. "But if it's going to compromise others' safety, we'll just have to keep everything as it is for now."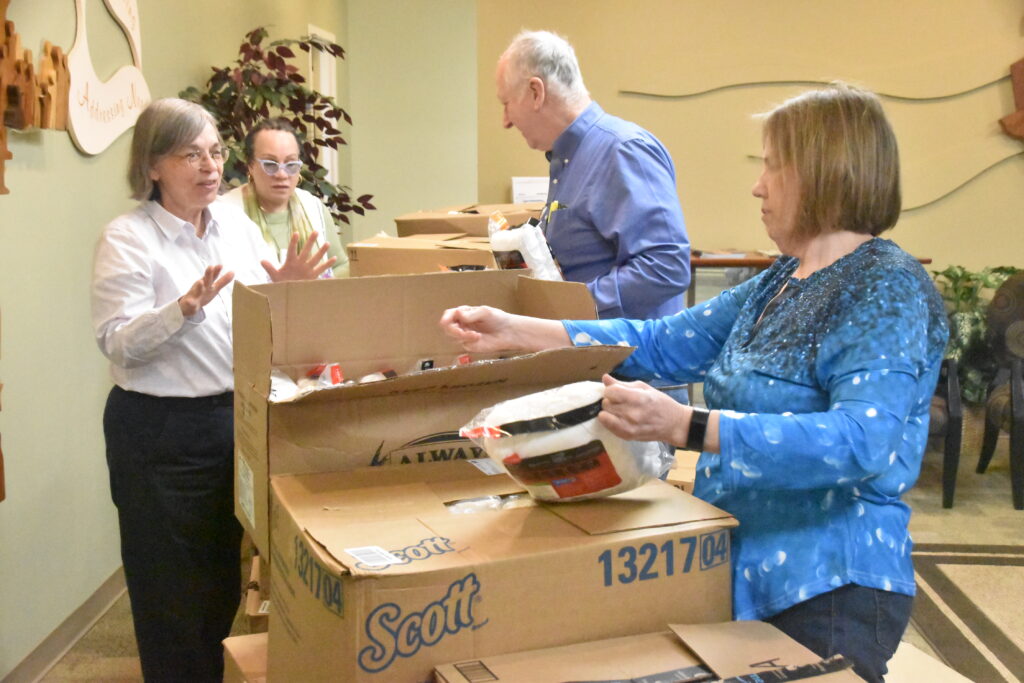 "The outpouring of support for this campaign was amazing," said Scheider. "Clearly the Holy Spirit was touching the hearts of people all over the conference and beyond. A heartfelt thank-you to all who participated and helped us exceed even our expanded goals.
"The need was great," she added, "and we rejoice in our conference's willingness to share through these donations God's love with those who are entering incarceration."