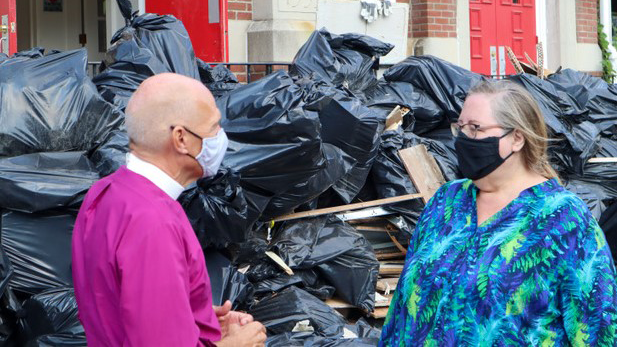 Churches and communities are still struggling to recover from the Hurricane Ida-caused storms that struck our region three weeks ago. Meanwhile, some are responding to the appeal for help by contributing to the Eastern PA Conference's Disaster Response fundraising efforts.
So far, a total of $5,138 has been given for disaster response, Conference Treasurer James Brown reported to the Extended Cabinet Sept. 20. Now the conference's four districts will try to bolster that progress, because much more help is needed to address extensive, long-term, uninsured repairs and restoration of damaged church facilities and the homes of members and neighbors.
Each district will donate up to $2,500 in grants—up to $10,000 total—to match donations from member churches to support the recovery effort, now through Oct. 15 (Click here to donate now!). Church donations to be matched include those that have already been given.
While individual districts have offered matching grants for major fundraising needs in the past—including the North District when catastrophic floods damaged homes in Gilberton in 2020 (See "More disaster response aid sought for Gilberton")—this may be the first time in recent memory that all districts are offering matching grants together. The districts will announce and promote this rare but crucial initiative in the coming weeks.
Look for a new story next week to update our coverage of churches recovering and helping their communities to recover from the recent storms.