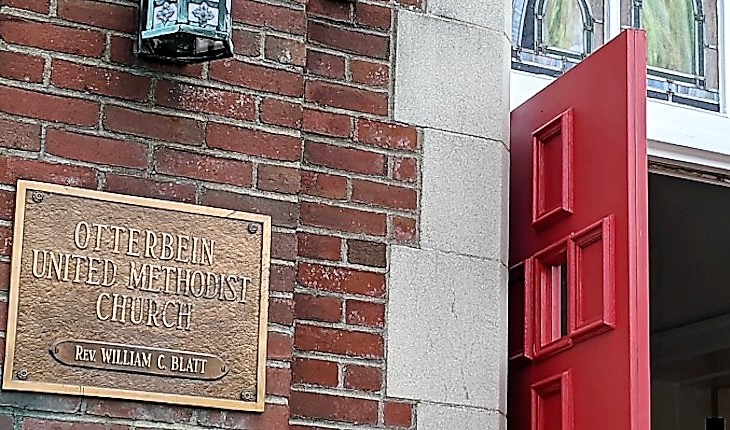 MONT CLARE PA – The willingness of members at Otterbein United Methodist Church in Mont Clare to offer aid and comfort to their neighbors after Tropical Storm Ida, despite serious damage that affected the historic church itself, is documented in an article published Wednesday (March 9, 2022) on the Global Ministries website of The United Methodist Church.
Titled "United Methodists in Eastern Pennsylvania answer call to serve," the news report written by Christie R. House in part describes how the church faithful "set up a tent outside in the parking lot" at 181 Walnut St., and "brought food, water and other necessities." Then they welcomed area residents "to come and get what they needed."
The church's sense of mission, according to House, was infectious. "Other people and organizations dropped off goods, and even those affected by the floods shared what they had."
The church property and others surrounding it all were subject to intense flooding from the Schuylkill River as Ida raged through southeastern Pennsylvania in late August and early September (2021). More than four feet of water filled the church basement, severely damaging its boiler and electrical system. Gone, too, was "its clothes closet, a major ministry and fund-raiser for the church's mission," House's story noted.
Later supply chain problems took their toll as well. Although the church retained an electrician in October for repairs, needed parts didn't arrive until January, House reported. Work to fix its damage is continuing, but as of Thursday (March 10), the building remained "closed until further notice," its website stated.
In the interim, members are worshiping with those at Evansburg United Methodist Church, 5 miles away. The Rev. Catherine Bowers is pastor at both Otterbein and Evansburg.
The article also describes how the church's General Board of Global Ministries is working in Eastern Pennsylvania by funding a grant for Project Restoration. It's described as an effort to identify people still needing assistance, months after Ida's departure, and to coordinate volunteer groups in offering reconstruction help.
2020 photo of Otterbein UMC from The Posts' archives