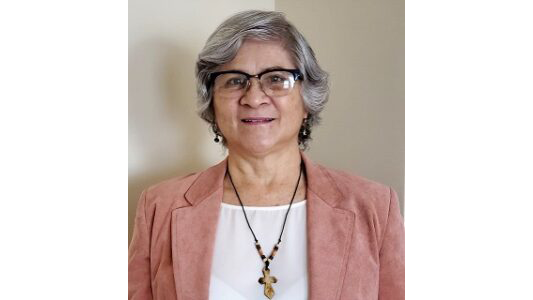 The Rev. Maria Quesada "Lisa" DePaz, Pastor of Haws Avenue UMC in Norristown since, will become Coordinator of the Eastern PA Conference Latino Ministries Commission July 1. Currently the commission's secretary, she succeeds the Rev. Lillian "Luky" Cotto, who will retire from that part-time staff position.
DePaz came to the EPAUMC from Boston in 2019 with her husband the Rev. Cesar A. DePaz, now the pastor of Holy Spirit UMC in Philadelphia. The two have been married for 46 years and have four children and five grandchildren.
DePaz moved to the U.S. from her native Costa Rica in 2001 to serve with her husband in the United Church of Christ. Together, they revitalized the UCC's Hispanic Community Church in Boston's Jamaica Plain area, growing it from two to about 150 members. She served as administrate assistant, worship leader, associate pastor and lead pastor. Their son Cesar G. DePaz is the current pastor.
DePaz has spent the past three years ministering with Haws Avenue's congregation and its growing Latino community, as she prepares to become a Licensed Local Pastor. She co-chairs EPA's regional council of Justice for Our Neighbors of the Delaware Valley's and has hosted the immigration legal assistance ministry's clinics there.