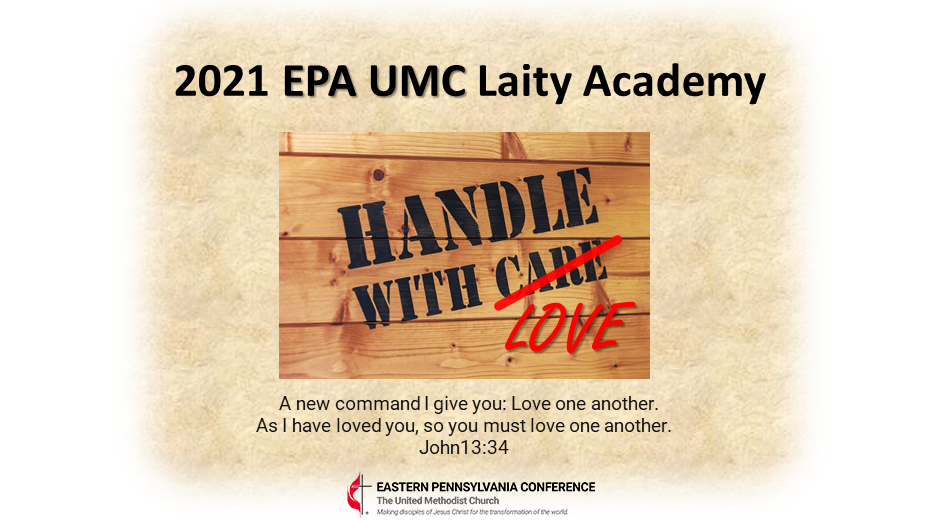 August 6-7 online; Oct. 1-2 onsite
It's been over a year of shutdowns and lockdowns; learning to live differently in our homes; attending meetings, classes and worship services on Zoom; and ordering many more consumer goods online. We depended on essential workers to serve and take care of us, while some of us learned how to take better care of each other. "Handle With Care" became not only a cautionary box label but a way of being human together.
In John 13:34, Jesus commanded us to not only care but also love one another. "As I have loved you," he said, "so you must love one another." The pandemic has reminded us that life is precious. How we live our lives is precious. And how we care for one another and Love one another is precious.
Acknowledging that we are not fully back to normal, the annual conference Laity Academy will host two learning events in 2021. The theme is "Handle with Care Love."
The first academy is August 6-7, Friday evening and all-day Saturday, using Zoom video-conferencing. The second will be on October 1-2, when in-person classes will be hosted at several churches across the conference.
There will be one Basic course for lay ministry servants; three Caring courses (one in Spanish); four Leadership courses; and three Speaking courses (two in Spanish). These courses will teach about preaching, Bible study, pastoral care, church communications, emotional intelligence and other topics. Learn more…