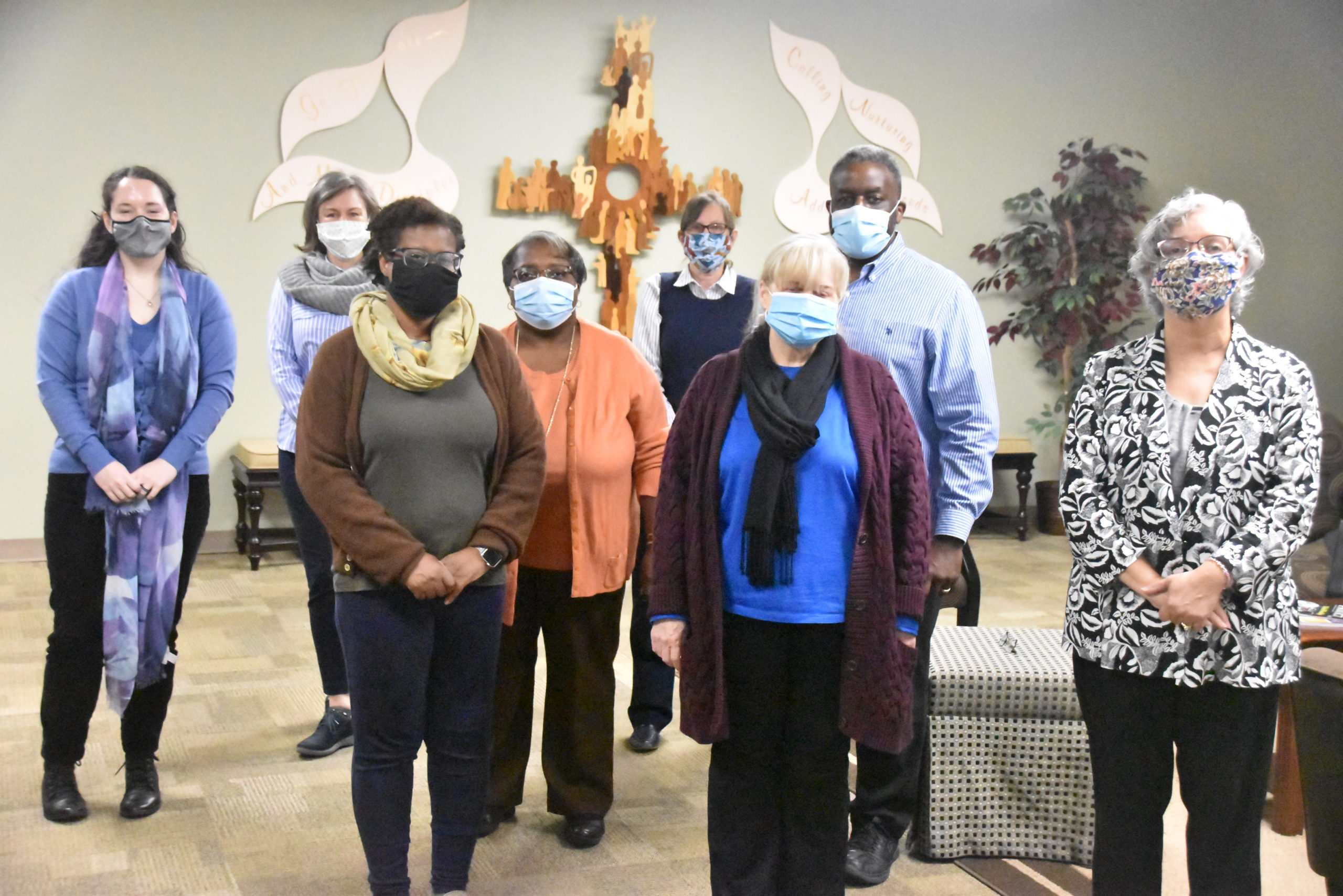 Decision follows Philadelphia's new COVID-19 safety restrictions
"We have made the decision to move again into a period of lockdown for the Conference Office," announced Jo Fielding, Eastern PA Conference Director of Administrative Services.
Administrative staff had returned to the office on partial-week schedules in July after about three months of closure and working from home, as the deadly COVID-19 pandemic raged across our region. Meetings and non-staff visits have been curtailed since that time to limit building occupancy.
But after prayer and consultation with Bishop Peggy Johnson and other colleagues, Fielding, who also is Executive Director of the Benefits Board, made the announcement Monday, Nov. 16, to resume the lockdown. Fielding told Conference Office staff to "gather the files you will need to work from home beginning on Monday, Nov. 23, and continuing through the end of the year."
"All our staff are equipped to work from home because of the last lockdown," explained Fielding. "All schools have gone back to virtual learning in Montgomery County. Cases of COVID are continuing to rise, and we want to keep our staff safe. We are probably being extra cautious; but we felt that since we can take this step without major disruption, we should do so at this time."
Accounting office staff will be in the building on Mondays, Wednesdays, Thursdays and Fridays to handle essential onsite fiscal operations. And part-time clerical staff can continue to work there also on those days. Other staff are asked to work from home and only come to the office when necessary.
Philadelphia announces new safety closures, restrictions
The decision follows an afternoon press conference in which Philadelphia city officials announced stringent new rules for a virtual lockdown beginning this Friday at 5 PM. That includes closure of indoor restaurant dining, bars, gyms, entertainment venues, schools, sports arenas, public events and activities, and many other private and public establishments.
These indoor locations where people gather are where the COVID-19 pandemic has been spreading most aggressively through close contact, especially among persons who refuse or neglect to wear masks or practice social distancing. The city's new "Safer at Home" restrictions are effective Nov. 20 through Jan. 1, 2021; but they may be extended if warranted.
Philadelphia officials strongly advised houses of worship to close and to gather only online. Religious institutions are permitted to have people indoors, but density must be capped at 5 people per 1,000 square feet or 5 percent of maximum occupancy.
Outdoor gatherings and events are limited to 10 percent of maximum capacity of the space, or 10 people per 1,000 square feetfor venues with an undefined maximum capacity—not to exceed 2,000 people in any outdoor space. In addition, all individuals at outdoor gatherings must wear masks at all times, and—to reinforce mask use—neither food nor beverages may be served. Learn more…
It is not yet known if surrounding counties—including Montgomery County, where the Conference Office is located—will broaden the lockdown by issuing similar closure rules and restrictions. The state government announced it has no such plans at this time. But the rate of infections, deaths and hospitalizations is increasing dramatically in most counties across the region and state.
"We want people to follow the guidance, telework as much as possible and isolate and quarantine if necessary," said Pennsylvania Secretary of Health Dr. Rachel Levine.