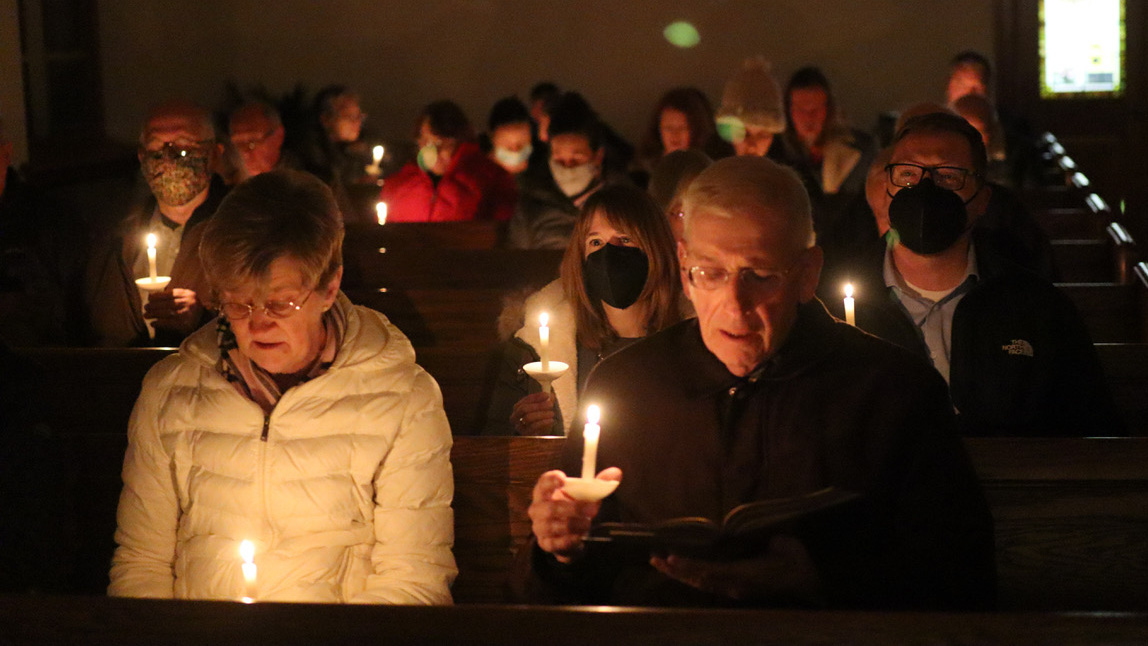 As destruction spreads and casualties mount in Ukraine under the brutal attack by Russia's military, United Methodists globally are responding to the crisis, including in the Eastern PA Conference. The Philadelphia region is home to the second-largest contingent of Ukrainians in the U.S., with nearly 7,000 in the city proper and about 60,000 overall.
Bishop John Schol called on EPAUMC members Feb. 25 to pray "for the people of Ukraine and for peace in the region." He reported that the UMC's Council of Bishops discussed in a called meeting the war being waged against the Ukrainian people by Russia.
"We heard from three of our Bishops who oversee the church in Europe and particularly parts of Eastern Europe," he wrote. "It was heartbreaking, and we as Bishops of the church condemn aggression without provocation anywhere in the world and particularly in Ukraine." He called for prayer for the refugees fleeing Ukraine seeking safety and for the UMC's ability to help them.
Read Message from Bishop Schol: Update on Ukraine and Council of Bishops. Also read "United Methodists respond to invasion of Ukraine"
Members of Otterbein UMC in Mont Clare held a solemn community prayer service by candlelight in the church's sanctuary on Saturday, Feb. 26. They were joined by neighbors, including some from Ukraine. The Rev. Ihor Royik, of the Saint Peter and Paul Ukrainian Catholic Church in nearby Phoenixville, spoke about his life there for 30 years and about his family still living there. He shared that Russia had promised to protect Ukraine's sovereignty when it agreed to get rid of its nuclear weapons.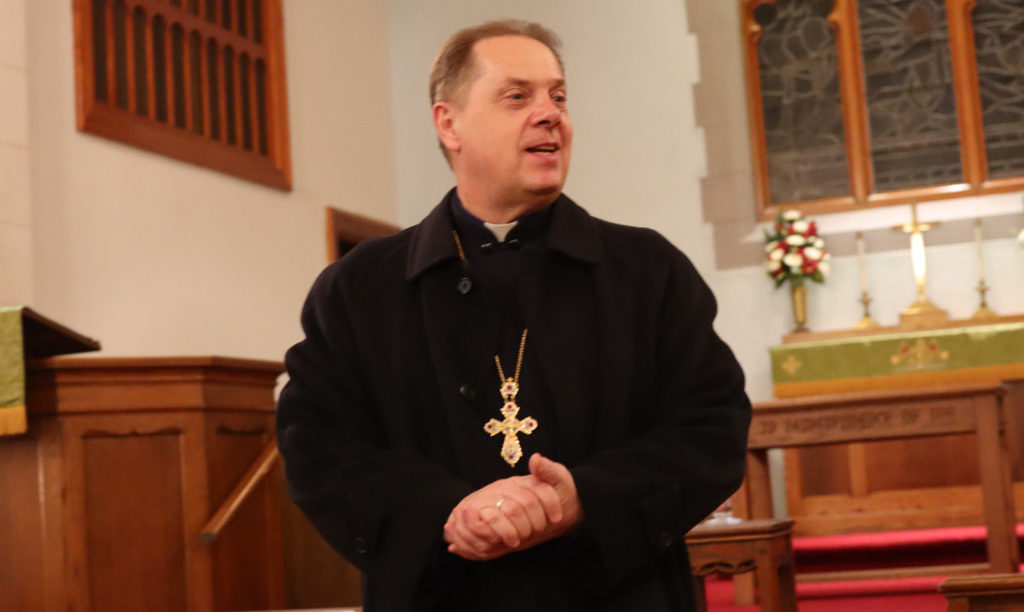 The Rev. Tom Brooks, husband of Otterbein's pastor, the Rev. Catherine Bowers, took photos and wrote about the service. See his report.
Temple UMC in Pottstown hosted a Prayers for Peace service Feb. 25, that included scriptures, a litany for peace and hymns. The Rev. Gary Nicholson, pastor, shares their event program with others who may want to use or adapt it: Prayers for Peace
Temple UMC's service begins with a meditation on Psalm 46. But you can also view a short meditative video on that same psalm, produced by United Methodist Communications. It reminds us that in times of natural and man-made disasters, God is our refuge. Watch Psalm 46: A Prayer in Times of Disaster.
Please let us know if your church hosts or participates in events related to the crisis in Ukraine. (By the way, "Ukraine" is the correct name of the country, not "The Ukraine," which was its name when it was a part of the former Soviet Union.) Write to us at communications@epaumc.org.
Meanwhile, the UMC's Board of Global Ministries offers a way for United Methodists and others to respond with their financial support through the Advance for Christ and the Church. "We have been fielding many calls from folks wanting to assist the people of Ukraine, both those in the country and those that have fled from the violence to neighboring countries," writes Mary Lou Greenwood Boice​, Director of Communications and the Advance.
"The United Methodist community in Ukraine, though quite small, is actively engaged in assisting neighbors in need, she said. "Global Ministries is in touch with the church's leadership as well as with church leaders in countries welcoming those who are fleeing from violence in Ukraine."
Here is giving information she sent to us:
How to assist the Ukrainian people
United Methodists and others wishing to provide humanitarian assistance to the Ukrainian people in the wake of the Russian invasion of their country may contribute to Advance #982450, UMCOR International Disaster Response and Recovery. This fund will provide direct assistance to those in Ukraine as well as assistance to Ukrainians fleeing to neighboring countries.
Gifts to support the people of Ukraine can be made in the following ways:
Online at https://umcmission.org/advance-project/982450
By toll free telephone: 888-252-6174
By check with "Advance #982450-Ukraine" written on the memo line, either mailed and addressed to Global Ministries/UMCOR, GPO, P.O. Box 9068, New York, NY, 10087-9068 or given at or through any United Methodist church
One hundred percent of all Advance contributions go to the designated cause.
---
Psalm 46: A Prayer in Times of Disaster
A United Methodist Communications video
A short video reflection reminds us that in times of natural and man-made disasters, God is our refuge.
---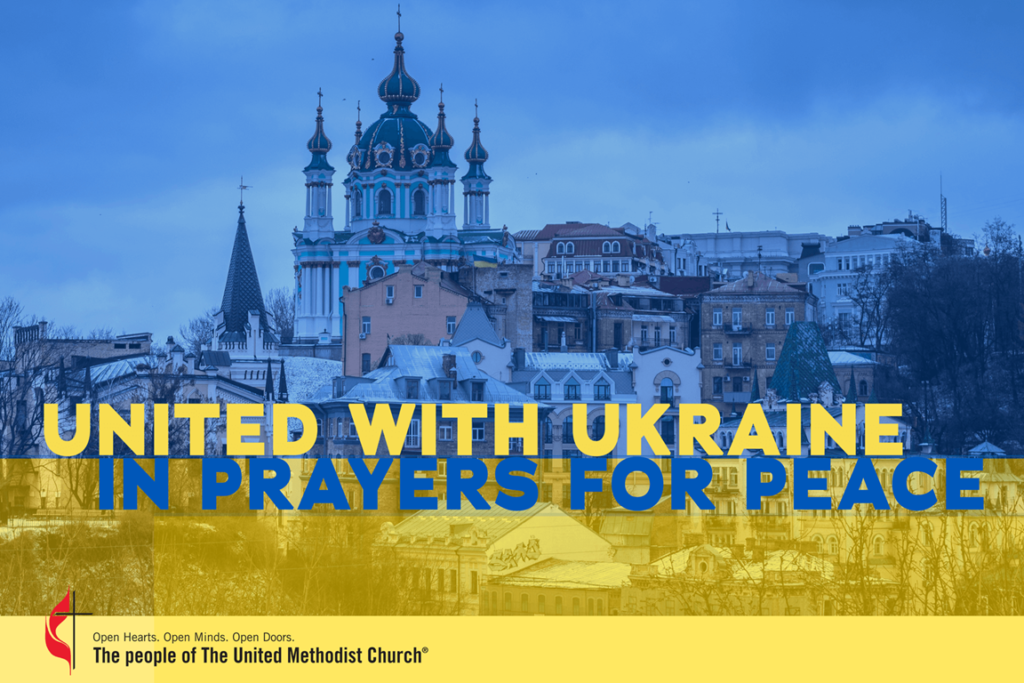 United Methodists Stand with Ukraine
United Methodists across the globe are condemning the Russian invasion of Ukraine. As Christians "we believe war is incompatible with the teachings and example of Christ. We therefore reject war as an instrument of national foreign policy." (2016 Book of Discipline, Social Principles ¶165.C). We also know our God stands with the oppressed and calls on us to support them.
See some of the ways United Methodist leaders, organizations and individuals are responding to the invasion of Ukraine through their prayer, aid and witness. Learn more…
---