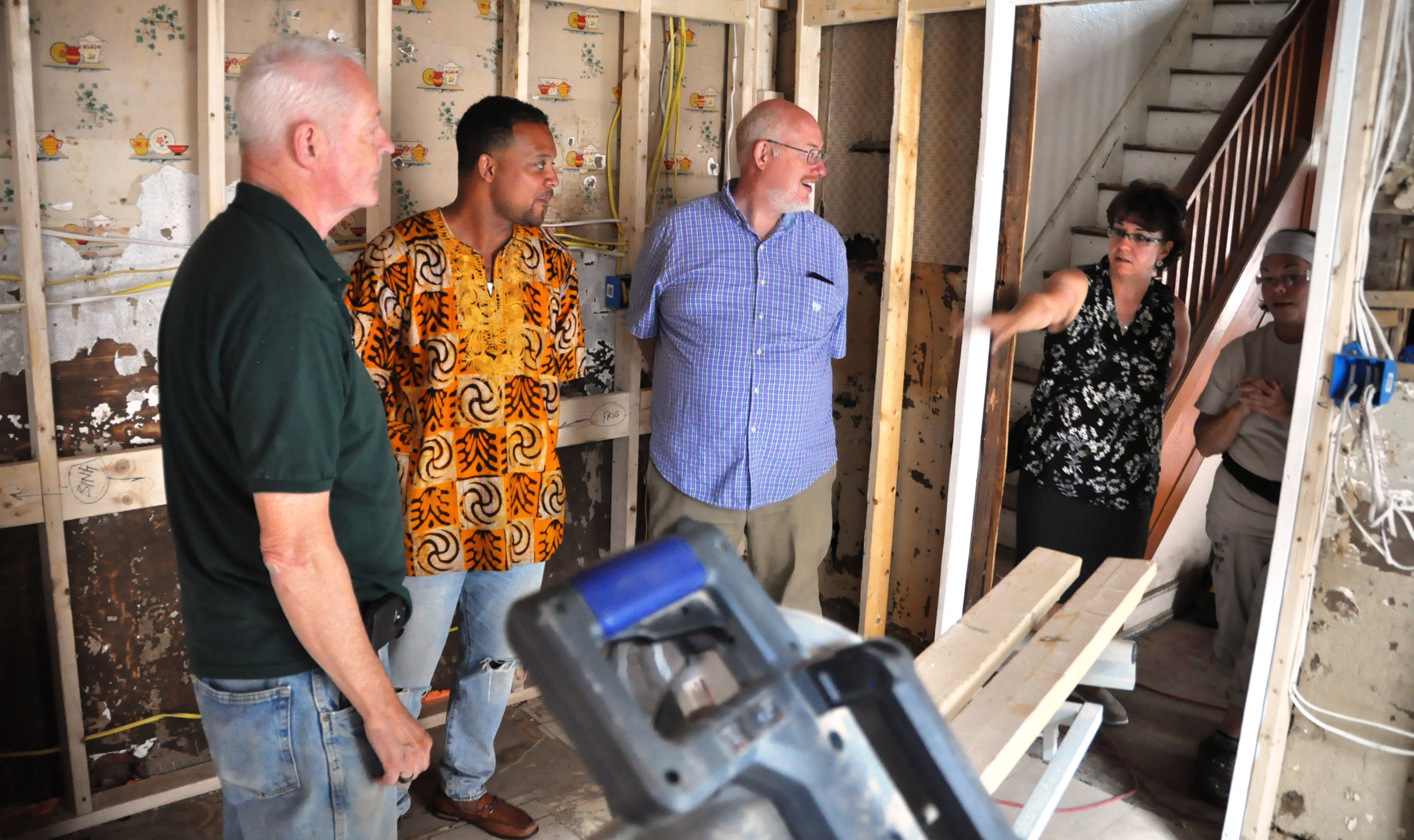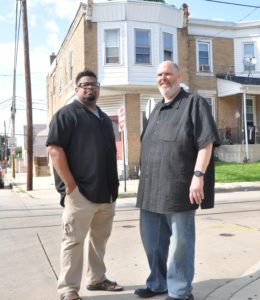 "If you want to do Kingdom-based ministry, you have to learn to love your zip code." The Rev. Kevin Babcock, pastor of Clifton Heights and Swarthmore UMCs, credits theologian Len Sweet with that axiom. No doubt it means learning to love your zip code's people, along with their wants and needs, hopes and dreams.
Together, Babcock and the Rev. Victor Gimenez, pastor of Union Memorial UMC in Darby, are showing some love to 19023, at the corner of Darby's Summit and Mulberry streets. That's where the tiny, historic church is rehabbing and dedicating to the community its next-door church annex—a once-dilapidated, underutilized, two-story corner building. It will now become a café, a "space for grace," where they envision serving up coffee and tea, as well as educational programs, community arts and dialogue events, tutoring and activities for schoolchildren, and… well, the hopes and dreams are still percolating.
What to name it? That was easy: The Annex, which they hope to open in the late fall. And as they continue to love and learn about this zip code through community input and feedback, the plans and activities there will grow, along with the church's relationships with its neighbors.
"Our church is hungry to do some innovative things," said Gimenez, a quarter-time, seminary-trained local pastor whose "day job" is helping youth at Catholic-run Covenant House in Philadelphia. "We're just trying to learn how to do ministry that's effective and impactful in this community, where we have a lot young people and single women with children."
With an OK from church leaders, Gimenez brought the trendy café vision—with no funds or knowledge of how to do it—to "Friar" Babcock, who responded with, "Let's do it!" Both men credit prayer and their close friendship, along with Babcock's expertise as a former building contractor, for the promising success of their efforts—especially as inevitable challenges and costs arose. They also credit the collaboration of their churches, a $6,000 Urban Alliance seed grant from the Eastern PA Conference Urban Commission, their "super supportive" district superintendent, the Rev. Dawn Taylor-Storm, and other friends who are praying for and aiding in the fulfillment of this worthy dream.
The Annex, located in Darby, is another work in progress benefiting from a conference Urban Alliance grant. The project required extensive rehabilitation, including a new floor, and fundraising, all overseen by the Revs. Kevin Babcock (left in 3rd photo) and Victor Gimenez. Gimenez is the pastor of Union Memorial UMC, which owns the next-door property and is dedicating it to be a community café and gathering space for learning and entertainment activities.
A new Kingdom-building ministry in Lancaster
About 80 miles west from Darby, seven Lancaster churches are also engaged in Kingdom-building ministry to show love to their zip code. They too are rehabbing a dilapidated property to benefit a community—in this case, a condemned, abandoned inner-city house that was not selling but was attracting thieves, vandals, illegal drug activity and homeless squatters.
The seven UM churches—Christ, Covenant, First, Grandview, New Creation, Otterbein and Ross Street—joined with LUMINA, a multi-faceted community services agency which the West District supports, to form the Lancaster Urban Alliance. Adopting the name MANIFEST (Methodists Aligned for Neighborhood Invigoration Faithfully Embodying the Spirit Together) they decided to focus on addressing the dire need for livable, low-income housing in Lancaster.
The city of 59,000 residents has a 30 percent poverty rate—over 50 percent in some areas. Absentee slumlords and a lack of affordable home ownership contribute to declining stability, values and morale in communities.
Together, the churches are partnering with IMPACT! Missions, a nonprofit, Christian housing ministry in Lancaster. Since 2013, the faith-based agency, led by Executive Director Matt Beakes, has been buying vacant, abandoned houses in blighted communities, in partnership with a city agency. With help from donors and volunteers, they rehab and sell the homes affordably and offer training to low-income families who are first-time homebuyers.
The MANIFEST partners are working with IMPACT! Missions to buy and help rehab 112 New Dorwart St. for sale to a family, hopefully by the end of 2018. They kicked off the effort with a celebrative block party allowed them to meet neighbors and get their support.
A $6,100 Urban Alliance seed grant from the Eastern PA Conference Urban Commission helped plant the partnership. The churches and LUMINA have since raised more funds, while recruiting and deploying volunteers to work at the supervised building site each week. IMPACT! Missions provides instruction and guidance for their labors.
"With this project," reads the MANIFEST statement of purpose, "together we will not only rebuild a house but also rebuild trust and relationships, and begin the resurrection of community."