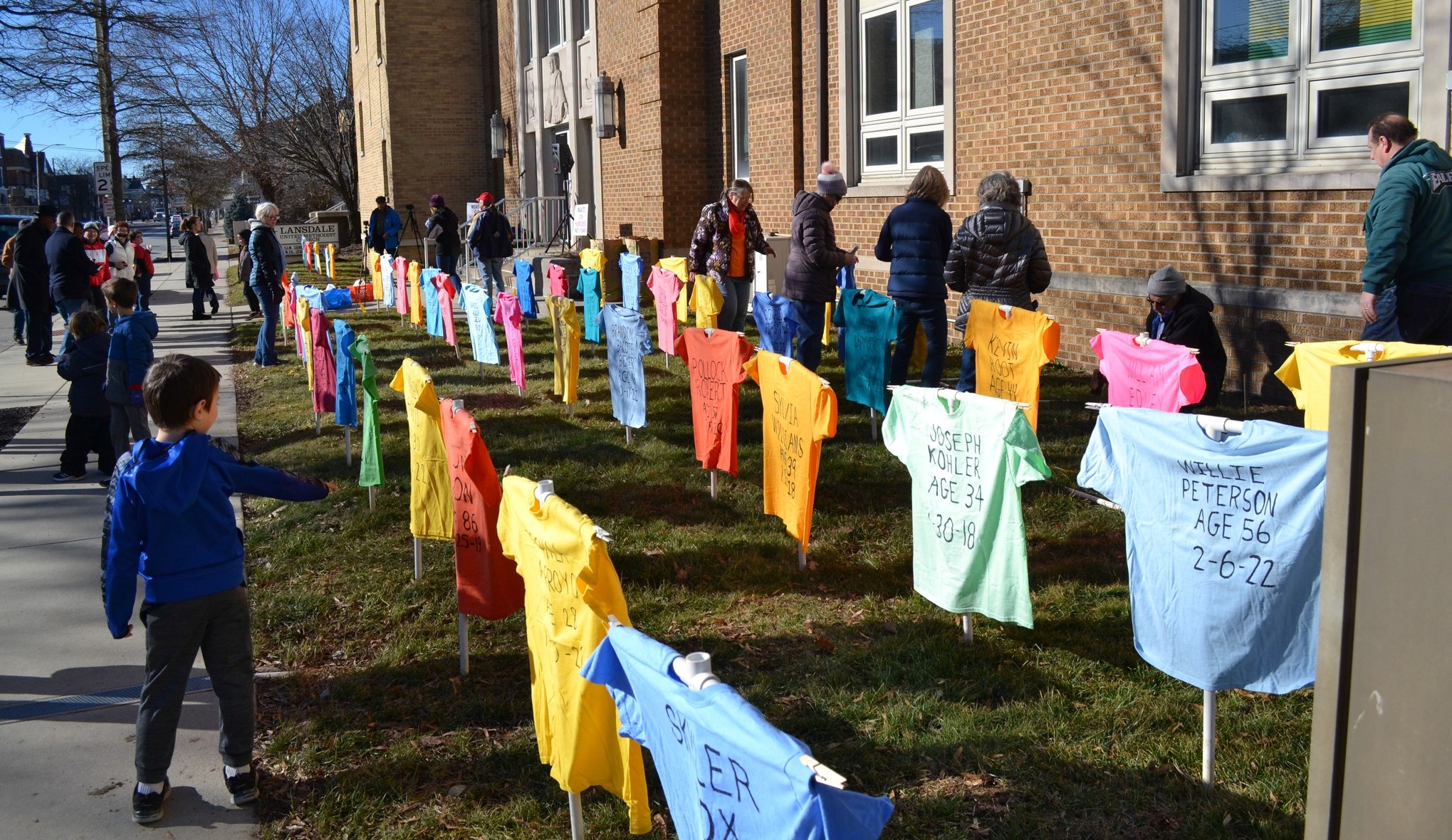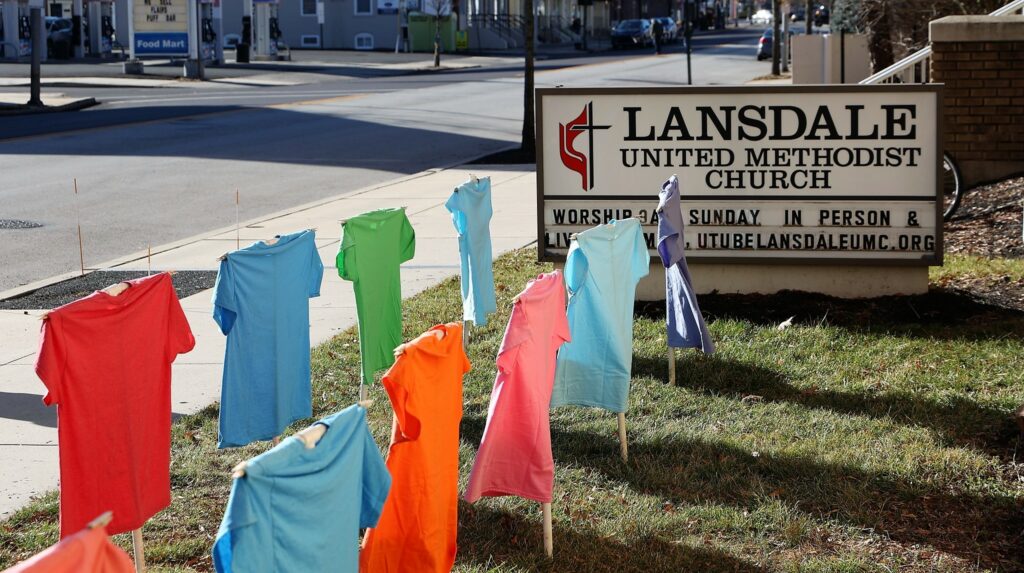 On a cold but sunny Martin Luther King Jr. Day, Jan. 16, volunteers gathered on a street in Lansdale with T-shirts, rebar, PVC frames and mallets to install a Memorial to the Lost for the 66 lives taken by gun violence in the last five years in Montgomery County.
Lansdale United Methodist Church partnered with Heeding God's Call to End Gun Violence to erect the display of T-shirts in a variety of colors, each one bearing a victim's name, age and date of death.
Members recognized the urgency to take action to stop the rising number of lives lost to gun violence. They worked on the project with Heeding God's Call, a faith-based organization dedicated to saving lives from gun violence. Headquartered in Philadelphia, Heeding God's Call is interfaith, multi-ethnic and devoted to stopping the illegal movement of handguns and keeping them off the street and out of criminals' hands.

Volunteers from nearby places of worship also joined in the activity and worked together to arrange the T-shirts in neat rows. As they worked, they noted the names and ages ranging in age from 6 to 80. Draped over the frames and placed in rows, the shirts resemble colorful tombstones in a cemetery, a stark reminder of the many lives lost to gun violence. Some volunteers expressed an emotional identity with those who died on their birthday or at the same age as them.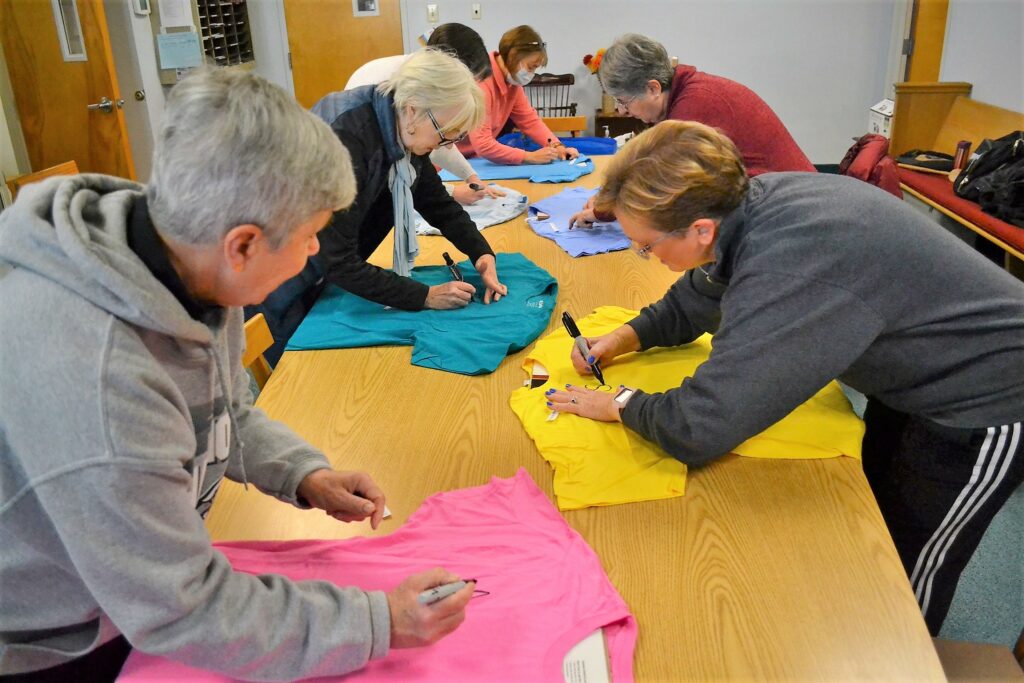 After the display was completed, the group gathered on the sidewalk for a dedication service that included prayer, scripture and a Litany of Commitment to listen to the voices of the lost and to act now. The Rev. Steward Warner, pastor, welcomed Pennsylvania State Representative Steve Malagari and EPA District Superintendent Rev. Dr. Andrew Foster III, who shared reflections. Bryan Miller, Executive Director of Heeding God's Call, emphasized in his comments the need to honor and remember the lives lost to gun violence.
Members hope the eye-catching display in front of their church will cause drivers and passersby to not only look and reflect, but also to take action to stop the horrific deaths and the trauma caused to victims' families and friends. Volunteers who helped install the display signed letters to federal and state legislators, asking them to support laws that will be effective in regulating sales, possession and use of guns.
Later in the spring, a Gun Violence Awareness Day is planned for advocacy and public education about gun violence and what can be done to end it. Gun violence prevention is increasingly an urgent issue with daily news reports of gun deaths in our cities and counties.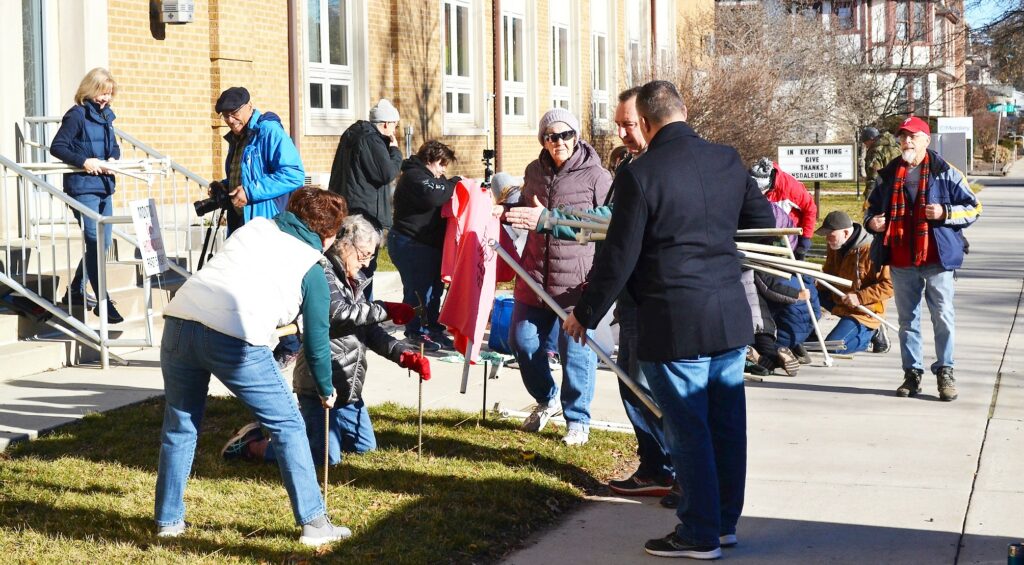 Action from faith communities is needed now more than ever to find solutions to this crisis. With the powerful witness of the t-shirts on display, Lansdale UMC and Heeding God's Call hope to bring together faith groups to plan and organize a day of public witness and policy advocacy in Lansdale, with the goal of energizing and mobilizing individuals and groups to take action to end gun violence.
Read the Memorial to the Lost dedication program.
A photo gallery and videos of the MLK Day of Action to End Gun Violence is posted on the church Facebook page and website:  www.lansdaleumc.org and LUMC Facebook page.