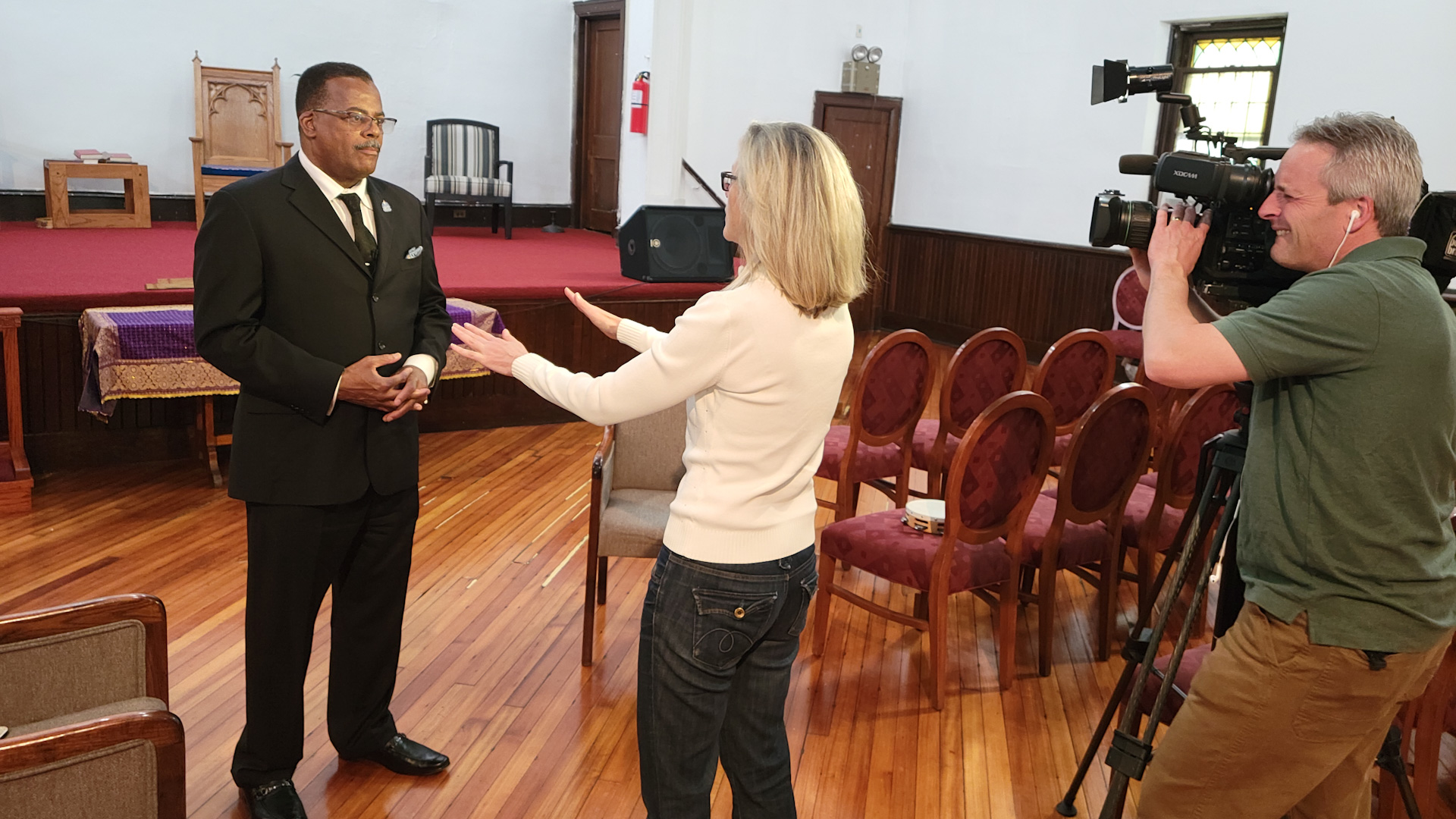 A Liberian-Ukrainian immigrant and member of Berry Long UMC in Southwest Philadelphia was featured on a local Fox 29 TV news broadcast March 7 when he shared anxious concerns about his wife and son who are hiding in Odessa, a city under siege on the Black Sea in Ukraine. They are trying to avoid the 28-year-old son's conscription into the Ukrainian army to fight against the invading Russian military, which is on a brutal, destructive campaign to overtake Ukraine by force.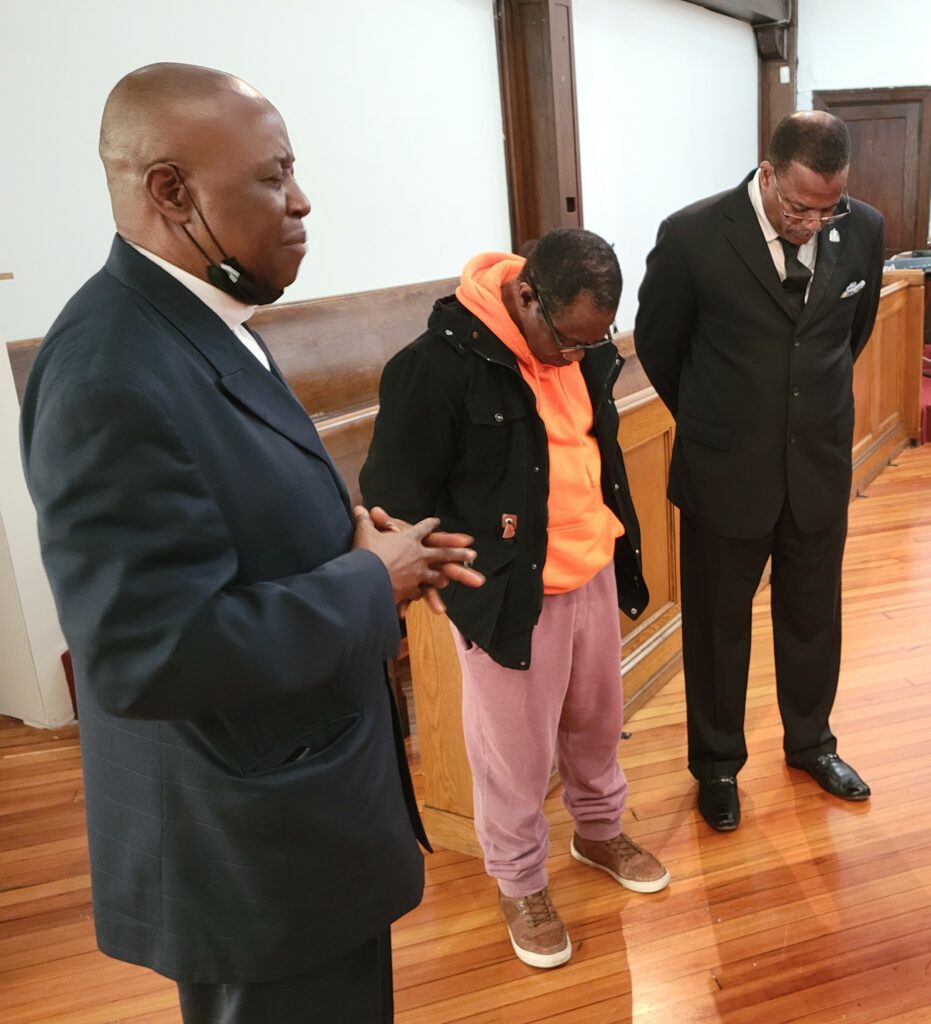 Berry Long's pastor, the Rev. Carl Everett, called a contact at the station on behalf of his member "Joseph," who wanted to share his story. His face and identity were hidden in the news report to help protect his family's safety.
Joseph and his Ukrainian wife left his native Liberia during its civil war in 1996. They reluctantly returned to Ukraine, where they had met when he was a student and then a math professor at a university there. But he left Ukraine alone in 2015 because of the intense racism they encountered as a biracial couple there; and he came to the U.S.
Now Joseph hopes his story may help him finally gain political asylum as a refugee in the U.S., so he can bring his wife and son here safely. He said he has been waiting for an interview on his asylum application for five years.
Both Joseph and Everett spoke to FOX 29 reporter Joann Pileggi on camera on Monday, March 7. See the report: "Philadelphia man fears for wife, son stuck in war-torn Ukraine."
Joseph's family has limited supplies and fear they can't get to the western border with Poland safely, he said.
"She has no way of leaving the place, even as they are bombing it." He called and spoke to his agitated wife as the reporter and cameraman watched. "Every time I call them she is very upset."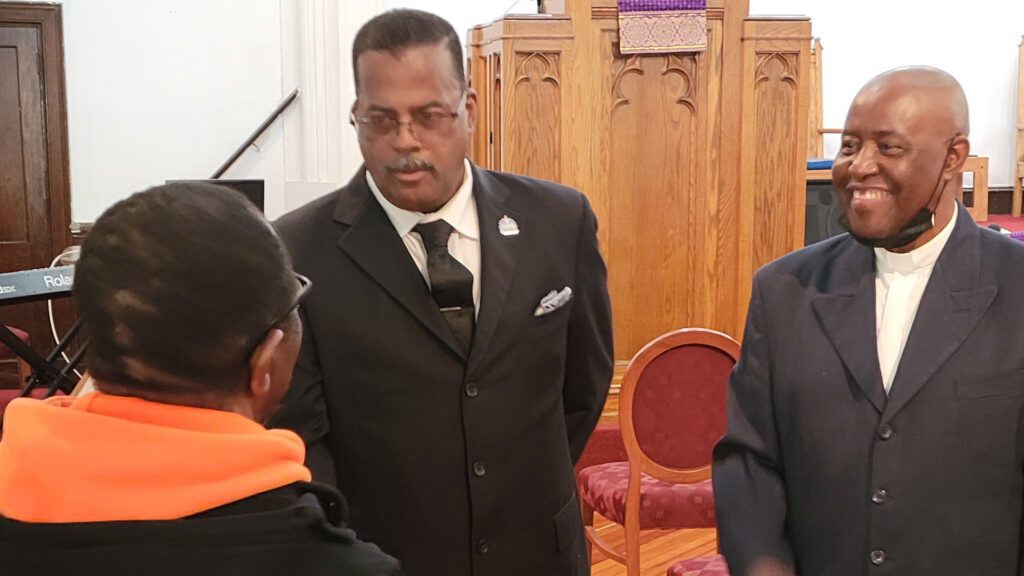 However, Joseph feels grateful for the spiritual support he receives from Everett, the Berry Long congregation and his longtime friend James Giko, who welcomed him into his home when Joseph first arrived and invited him to join the church. Both were raised United Methodist in Liberia, and Giko wants to become a Licensed Local Pastor.
"We will continue to be supportive of Joseph in whatever steps he takes to reunite his with family here in the U.S.," Everett told the TV news reporter. "That is our desire."