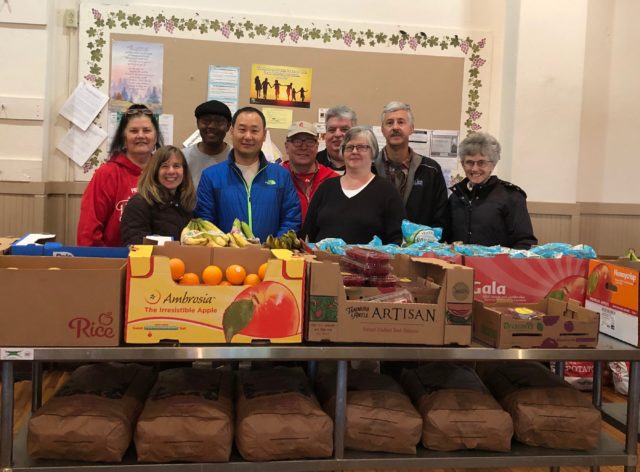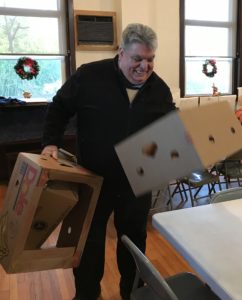 Bishop Peggy Johnson brought her Cabinet to Cornwells UMC at Cornwell Heights in Bensalem for its annual  "workday" in the mission field Nov. 29.
The workday, held during or around Advent season, engages the bishop and her district superintendents each year in hands-on helping ministry at a church or mission institution. The occasion also enables them to visit with staff, members, volunteers, clients and neighbors at each venue and to learn about the ministries that happen there.
The faithful volunteers at 130-year-old Cornwells UMC have operated a food bank and feeding program for many years, and each year the need gets greater, reported Pastor Susan Velez.
Members receive donations from local stores, which they pick up, sort and distribute to neighbors in need. They are a registered food bank with the state and are eligible for some grant money to augment their donated food supply.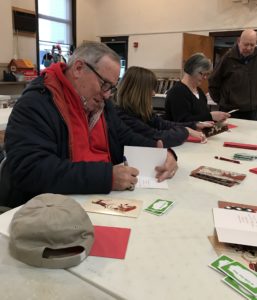 Cabinet members helped unload the delivery truck and sort food during their workday. They also signed Christmas cards, which included a $10 Giant Food Store gift card. Cabinet host the Rev. Tracy Bass, East District Superintendent,  announced that the district also donated funds to help the food bank purchase an additional hand truck.
Past Cabinet end-of-year workday venues have included the Methodist Children's Home, the Chester County Prison's Correctional Center (to visit women inmates), the Anchor Breakfast Ministry at First UMC Lancaster, and the Lehigh Valley Outreach Depot, operated by Wesley UMC Bethlehem.