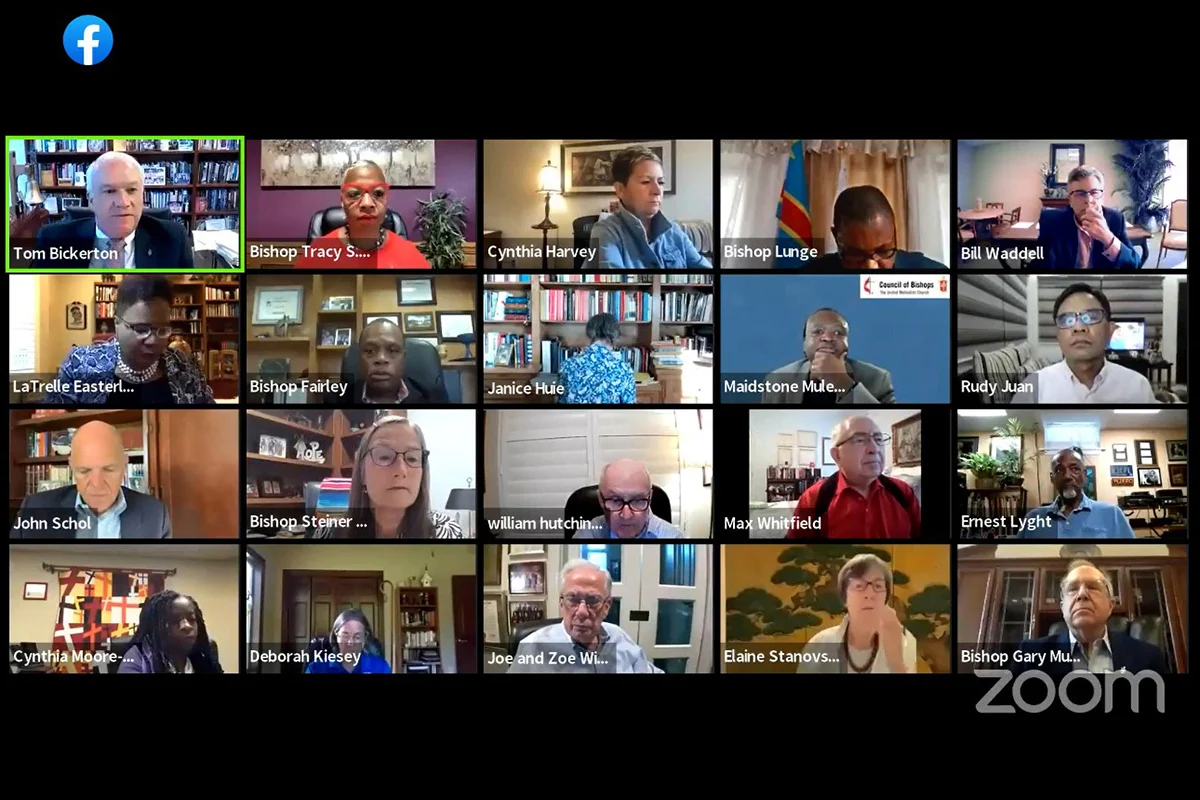 ---
Key points
United Methodist bishops are sharing a letter with the wider church that encourages prayer, Bible study and contacting elected officials to address gun violence.
The bishops also plan to send a letter to the U.S. Congress and White House to advocate for more gun regulations, including a proposed assault weapons ban.
The Council of Bishops approved the actions at its recent meeting after more than a dozen annual conferences across the United States took public stands to address gun violence.
United Methodists will need to both pray and act to end the scourge of gun violence, says a letter the Council of Bishops released Sept. 1 to the wider church. 
"As people of prayer, we followers of Jesus are called to be 'counter-cultural change makers,'" the letter says. "To that end, we must reject the idolatry of guns and the distorted attachments to our right to own guns without safeguards for the communities of the world."
United Methodist bishops unanimously adopted the letter Aug. 26 during the final day of their online summer meeting. Only active bishops vote on Council of Bishops actions. However, all United Methodist bishops signed the document.
The statement also will form the basis of a letter the bishops plan to send to the U.S. Congress and White House.
In a denomination with more than 12 million members across four continents, the bishops also stress that gun violence is not just a U.S. problem. The bishops' statement cites Amnesty International, which reports that about 2,000 people are injured and 500 people die by gunshots every day. 
United Methodists — long committed to transforming the world to be more like Christ's example — have a role to play in addressing the crisis, the bishops said.
"This is a call to prayer, beginning this September, for all who follow Jesus, the Prince of Peace," the bishops' statement said. "This is a call to action for all to weep with those who weep and demand, insist on, and push for positive change from our elected officials."
The statement goes on to urge congregations to collaborate with ecumenical and interfaith partners in their public witness. The statement also encourages the use of United Methodist resources for Bible study and advocacy in efforts to reduce gun violence.
Bishop Julius C. Trimble, who leads the Indiana Conference, proposed the letter on behalf of the bishops' Justice and Reconciliation Leadership Team.
"It is always the right time to do the right thing," he told UM News after the bishops' meeting. "We are in an emergency when it comes to gun violence in America and around the globe. I believe we have a moral obligation as bishops to offer more than 'thoughts and prayers.'"
The bishops decided to take up of the issue of firearms following deadly massacres at a grocery store in Buffalo, New York; a church in Laguna Woods, California; an elementary school in Uvalde, Texas; and a Fourth of July parade in Highland Park, Illinois.
Beyond the horror of headline-making mass shootings, the U.S. also has experienced a rise in gun deaths overall. More Americans died of gun-related injuries in 2020 than in any other year on record, reported the U.S. Centers for Disease Control. In all, 45,222 people in the U.S. died that year in homicides or suicides involving firearms.
Gun violence also has taken a personal toll on United Methodists. The bishops spent part of their August meeting mourning the death of the Rev. Autura Eason-Williams, a district superintendent and former episcopal candidate fatally shot in an apparent carjacking in Memphis, Tennessee.
Immediately after the deaths of 19 children and two teachers in Uvalde, Council of Bishops President Thomas J. Bickerton called on United Methodists to "go on the offense" to stop mass shootings.
Those words echoed throughout the U.S. annual conference season this spring and summer. More than a dozen of the denomination's regional bodies took a public stand to address gun violence when they met this year.
A number of the conference resolutions and the bishops' letter advocated for the same measures recommended in "Our Call to End Gun Violence," which the denomination's General Conference adopted in 2016.
The General Conference resolution quotes God's dream for peace in Micah 4 that "they shall beat their swords into plowshares, and their spears into pruning hooks… ."
The resolution calls for, among other steps, "banning large-capacity ammunition magazines and weapons designed to fire multiple rounds each time the trigger is pulled."
The bishops' letter also calls for an assault weapons ban. The U.S. previously banned assault weapons from 1994 to 2004, and the number of mass shootings fell during that time. Since the ban expired, the U.S. has seen a steep rise in mass shooting deaths.
The U.S. House of Representatives in July passed a bill to reinstate the assault weaponss ban. The bill is now before the U.S. Senate, where many longtime political observers expect the proposal will not be able to achieve the 60 votes required to overcome a filibuster and move forward.
But some are not so sure the bill is doomed. The public pressure from United Methodists and others has already led to some gun reforms. In late June, the U.S. Congress passed and President Biden signed into law the Bipartisan Safer Communities Act — the most significant federal gun-safety legislation in decades. 
The new law, a compromise, includes money for school safety, mental health and incentives for states to provide a more comprehensive background check of 18- to 21-year-olds who want to buy guns.
"We are seeing more and more grassroots activists demanding action from their elected leaders on gun violence prevention," said the Rev. Susan Henry-Crowe, the top executive of the United Methodist Board of Church and Society — the agency that works to promote United Methodist social teachings. Henry-Crowe worked with the bishops in developing their statement.
"The mobilization of regular people across the country was the deciding factor in getting the Safer Communities Act signed into law earlier this summer," she told UM News. "Our youth and young adults are particularly passionate about this issue and are demanding that their communities rally around them in taking a stand against a culture of violence."
Trimble said that by making a stand, the bishops are being faithful to The United Methodist Church's commitments and obedient to their own prophetic and teaching roles as episcopal leaders. The bishops are hoping their words will influence at least some U.S. senators, six of whom are United Methodist.
Trimble put it this way: "If there are evidence-based solutions that can lessen the number of deaths due to firearms, why would we not pursue them?"
What can United Methodists do?
The work of advocacy is not limited to bishops. The United Methodist Board of Church and Society offers the following steps church members can take to advocate for gun safety.
1. Contact your elected leaders via the Church and Society action alerts on our website, sign up to receive the agency's emails and use the resources from the Creating Change Together Toolkit.
2. Get in touch with Church and Society staff and other United Methodists doing the work.
3. Hold a prayer vigil. The Creating Change Together Toolkit offers resources for doing so.
4. Encourage congregational Bible study. The United Methodist Church's Kingdom Dreams, Violent Realities Bible Study provides a three-session gun violence prevention Bible study.
5. Build coalitions with other organizations in your local community interested in this issue. Church and Society organizing staff can help you with some best practices for grassroots activism.
"The question of how to live as a Christian in a violent world is not particular to our time or our context, but firearms make violence more deadly and more frequent," the Rev. Susan Henry-Crowe, the agency's top executive, said.
"We would encourage United Methodists to heed the call from the bishops, to prayerfully study Scripture and listen to stories from survivors, and then to take concrete actions that help to build the kingdom of God on earth."
Read Council of Bishops letter.
Hahn is assistant news editor for UM News. Contact her at (615) 742-5470 or newsdesk@umnews.org. To read more United Methodist news, subscribe to the free Daily or Friday Digests.