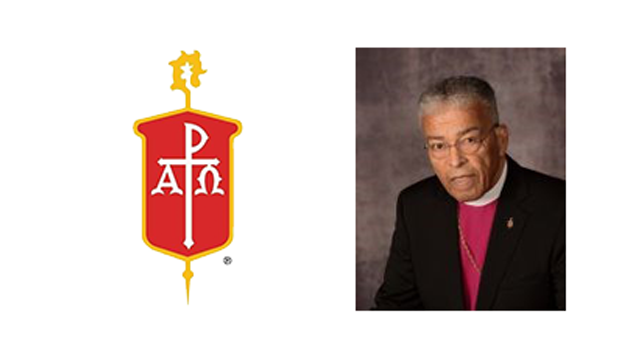 A steady, visionary leader and friend to many
Read a full obituary from the Council of Bishops
Also see: A remembrance of Bishop F. Herbert Skeete by the Rev. Dr. Alfred Maloney
Bishop F. Herbert Skeete, retired Bishop of The United Methodist Church, died February 11, 2021. Bishop Skeete, born in New York City, was elected to the episcopacy at the 1980 Northeastern Jurisdictional Conference and assigned to the Philadelphia Episcopal Area for eight years. In 1988, he was assigned to the Boston Area for eight years. He retired in 1996. He is survived by his wife, Shirley Clarissa, two sons, Mark and wife Terri, and Matthew and wife Linda, and three grandchildren, Matthew, Ajani, and Andrew.
The Council of Bishops has lost a mighty leader among us. Bishop F. Herbert "Herb" Skeete served with distinction in the Northeastern Jurisdiction since his episcopal election in 1980. His first assignment was in the Philadelphia Area, where for eight years he brought visionary leadership, especially in the areas of urban ministry and leadership development.
Bishop Skeete was especially passionate about the development of Africa University, which was born and blossomed during those years. After serving in Philadelphia for two quadrennia, he was assigned to the Boston Area for another eight years, before retiring in 1996.
Bishop Skeete was known to be a faithful mentor and guide to newly elected bishops; and he was invited to many jurisdictional annual conference sessions to preach at ordination services. He was a "people person" who brought a calm, steady presence wherever he went. A faithful servant of the church and its people, he often sent greeting cards to his pastors at the birth of new babies.
Bishop Ernest Lyght recalls how Bishop Skeete was willing to serve a nine-month interim appointment at a church in the New York Annual Conference years ago. His leadership made all the difference in that transitioning congregation. He and his wife Shirley were a gracious and hospitable couple who brought much encouragement to everyone they met.
We will miss Bishop Skeete and his phone calls into the bishop meetings while he was staying at his vacation home in the Barbados. He resides in Glory now, and we look forward to seeing him once again on that blessed day when we will all be together with the Lord.
Also see: A remembrance of Bishop F. Herbert Skeete by the Rev. Dr. Alfred Maloney