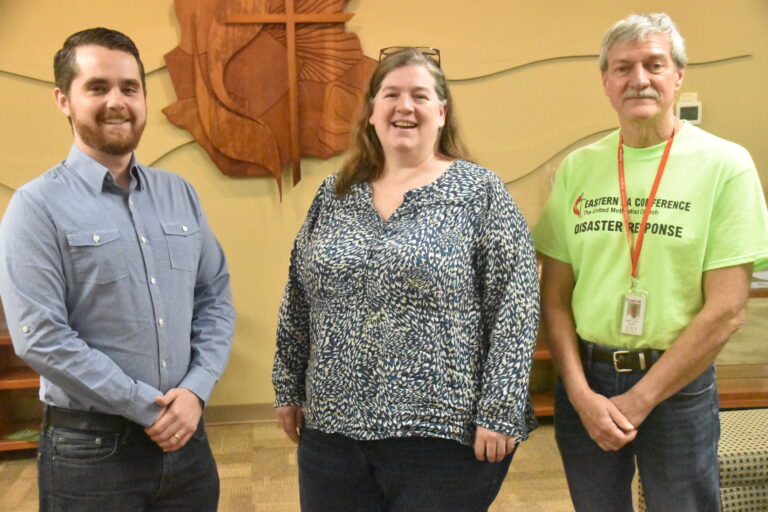 The Eastern PA Conference's Project Restoration is about to enlarge its territory of endeavor as it moves its Hurricane Ida disaster recovery work from suburban counties into Philadelphia. Doing so will require all that the project's management team has learned about teamwork, discernment, patience and other necessary virtues.
The team began its work a year ago in April 2022, funded by a $417,000 grant from UMCOR (the United Methodist Committee on Relief) and generous donations from EPA churches and individuals. UMCOR added another $255,646 in December for a total grant of $673,383 to fund another year of doing
good, important—and still underfunded—work. Their goal is to repair or renovate 55 homes with volunteer labor and also provide case management services.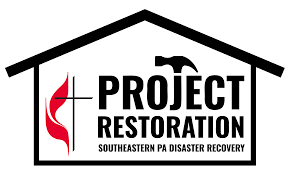 Project Director Denise Shelton has focused on managing operations, promoting and stewarding much-needed resources, including volunteers and donations, and building relationships with the public sector and faith-based partners in the Southeastern PA Voluntary Organizations Active in Disaster (VOAD).
The Rev. Allen Keller, a Deacon, has used every bit of his chaplaincy people skills in doing tireless, detailed, disaster case management work, mostly in Chester and Delaware counties.
And construction project manager Daniel Jeffers has supervised volunteer teams—while teaching more than a few neophytes—to do repairs and renovation of homes and also flood-damaged Otterbein UMC in Mont Clare, Montgomery County.
What a first year it's been for this dedicated trio. But now the real fun begins.
"When we received information with lists of survivors from FEMA, we divided up and began working heavily in Chester County, while another (VOAD) group worked in Delaware County," said Shelton. "We just kind of parceled out those areas. But we always knew we were going to go into Philadelphia together because of the numbers, the sheer volume of needs there."
She values VOAD dearly. "It's been one of the biggest blessings to be able to work with these partner organizations because you know their hearts are focused on the work, which they truly understand. They
know the many challenges we're facing, and they are going through this process with us and supporting us. We can lean on each other."
But now they move from just communicating to collaborating on Philadelphia worksites. "We've always kept each other informed of what was happening and the work we were doing," said Shelton, "but now we're doing that work together, side by side. And we're trying to figure out how the pieces all fit together."
Keller focused on clients in Chester County initially, getting lists of people to call who requested help and then following up. "But there are changes I'm dealing with as I've moved more into Delaware County. We're there not so much to repair homes, but to support residents in working with their landlords, or FEMA, or county services, or getting legal aid." Or finding alternatives when fixing problems like flood-damaged laundry machines are tenants' responsibility. "We try to get them the help they need."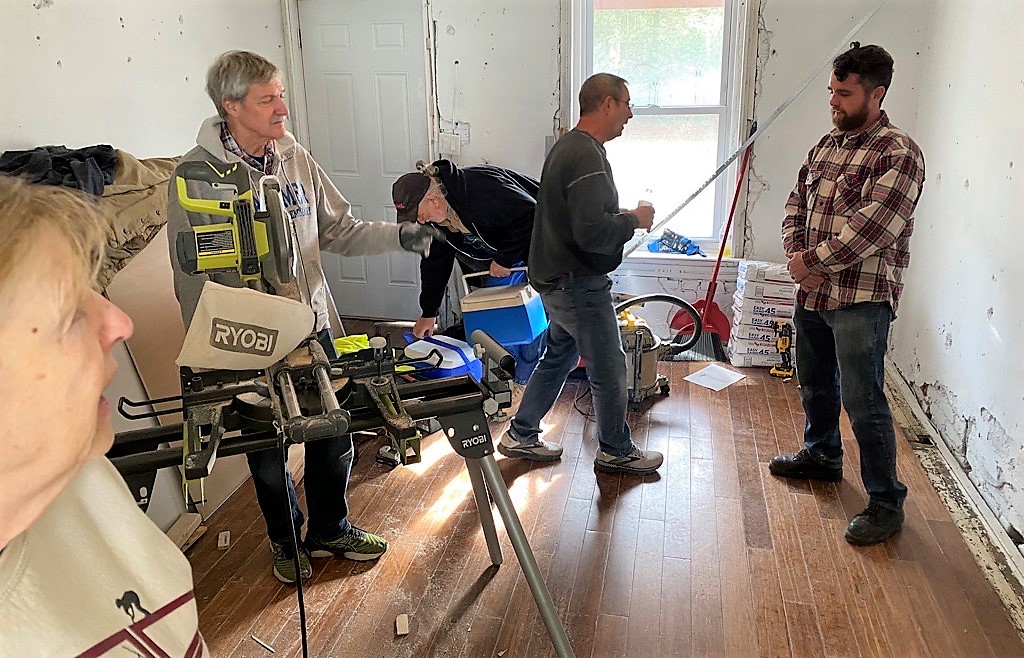 He's learned to use onsite visits less and online visits more for some of his casework, including telephone and texting, email, scanners, and SharePoint document management software when he has a capable, cooperative client.
"We've got a lot of documentation to do. How could you do this without technology? I've learned the importance of wisely using resources like time; and to be honest, I did not get that at first. But I
appreciate it now.
"We have to gather all kinds of demographic information. How many kids are living in the home? Any disabilities or military veterans that might lead to benefits?" One important, common concern is helping
people avoid receiving "duplication of benefits," which they may have to return later.
"My chaplain skills help me really listen to what people tell me and not judge or jump to conclusions." It's one way he feels he can really represent Christ in his work. Only about 20 percent of Keller's case
management work leads to the next stage of needing Project Restoration's volunteer home repair and construction services. But that percentage will rise as the bulk of their work shifts to Philadelphia.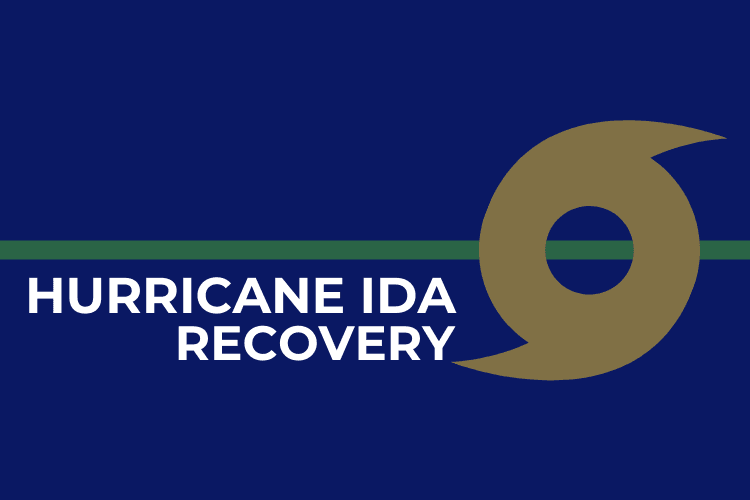 In some communities like Downingtown or Coatesville many residents were able to get repairs done early, thanks to a lot of donations from local organizations, churches and neighbors, as well as FEMA and insurance funds, said Shelton.
"Fewer of them actually needed home repairs. We worked with many individuals who just needed help in negotiating their own recovery with the monies they received.
"But as we transition into Philadelphia, because of the sheer number of survivors affected by the storm and the lack of local resources, we are targeting homeowners who still are identifying unmet needs.
Many of those cases will end up needing home repair."
The team has identified a single zip code where they will begin their efforts: 19132. "It's one of the hardest hit areas, based on the heat maps we received from FEMA, and there's a high concentration of dwellings in harm's way in that area," said Shelton. "The response so far has been overwhelming—to the point that we're identifying ways to bring in additional case managers to handle the load."
They will focus on homeowners there who seem to have the least ability to recover financially on their own. One big problem, Shelton said, is that many residents received initial funds from FEMA to obtain work estimate quotes but thought that was all they could get from the agency. They didn't realize they could request more funds to get the work done. They didn't come back to FEMA, and the window for
making appeals closed March 10.
"FEMA's process can be very difficult to navigate," she said. "And to do that on your own when you're also working and managing other life demands can be challenging."
Jeffers will need to determine if repair needs are due to Hurricane Ida or preexisting problems and deferred maintenance. "Daniel's reasonability is a heavy load to bear," said his boss. "He went to some of these properties and identified some deferred maintenance, as opposed to storm damage.
"There will be a (screening) process to get to people who really need disaster response repairs done. But it's a real challenge because we're a year and a half behind at this point."