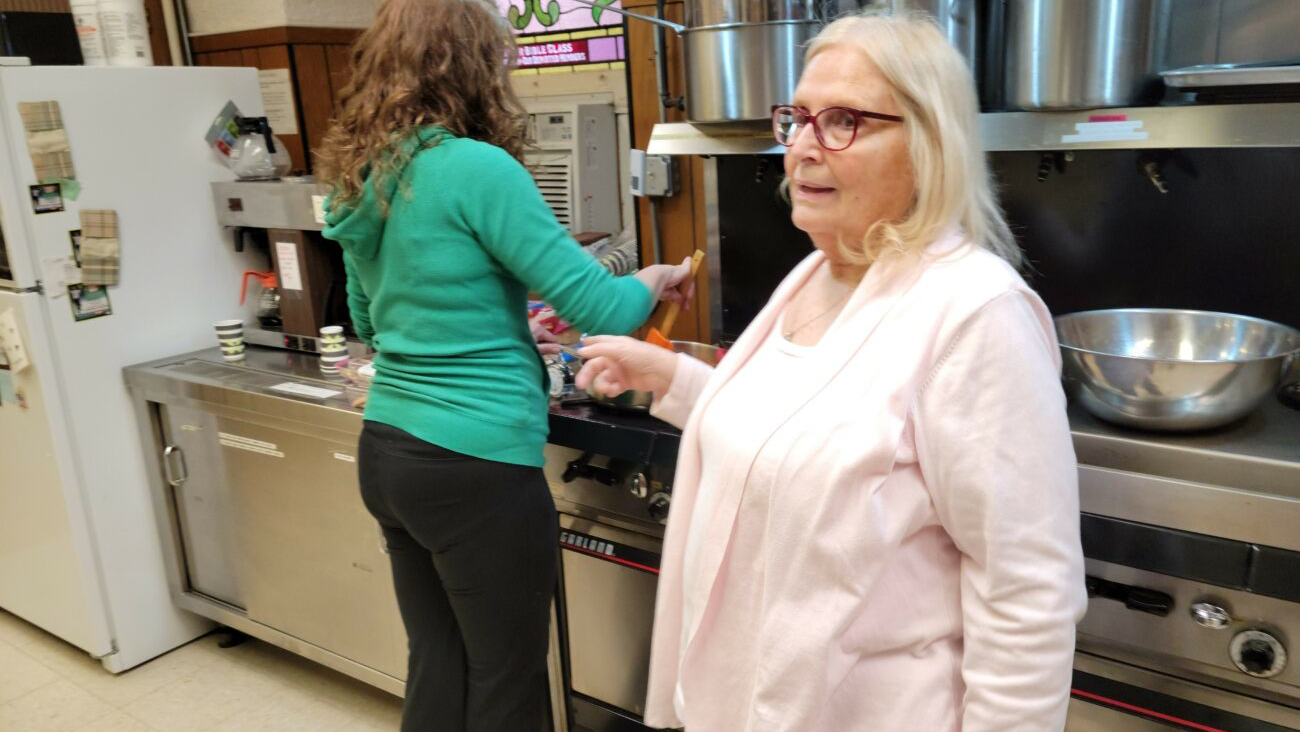 "Hope Starts Here," penned in colorful letters, is a small sign on the door of a big room where food is prepared at Mission First, a ministry located at the former First United Methodist Church in downtown Pottstown. And that sign speaks truth in the lives of the mission center, its willing workers and the community they serve.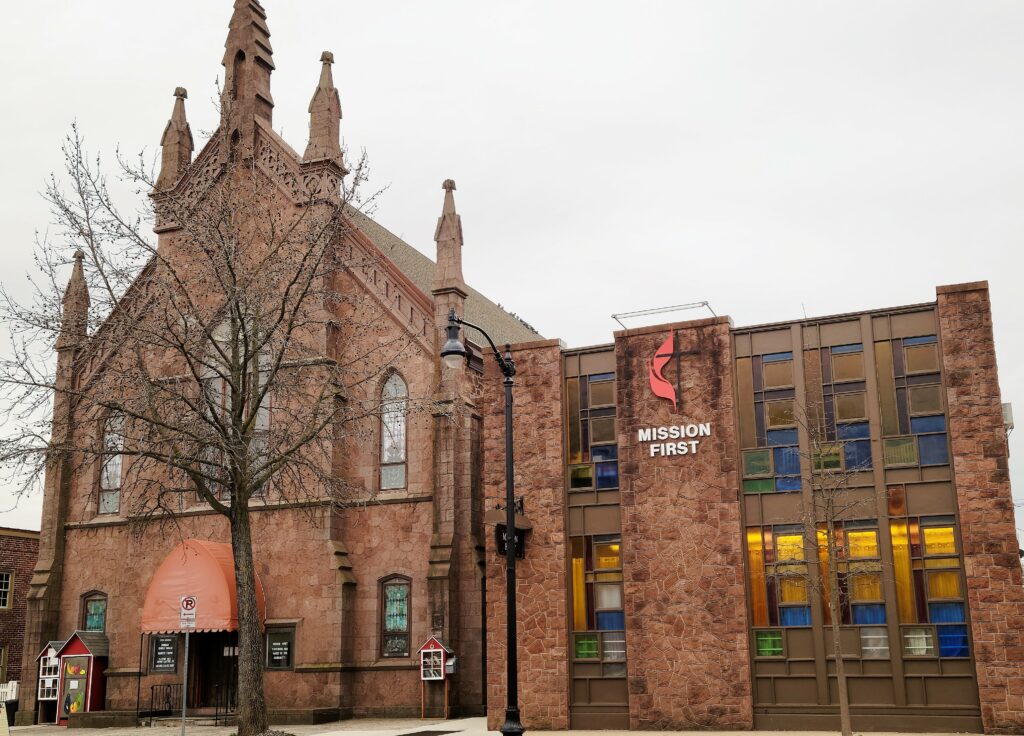 While feeding hungry and unhoused neighbors almost daily in various loving and creative ways, Mission First also provides clothing, an outdoor phone-charging station, access to onsite medical services, "Lockers of Love" for needed storage, its "Laundry Love" service at a laundromat across the street, and a "Library of Love" collection of books for the taking.
There's also rent assistance for those living temporarily in hotel rooms, household items for others transitioning to new homes, and so much more. Mission First staff find out the needs of their neighbors—who soon become friends—and then they find ways to fill those needs.
The new hope that starts here was started about four years ago, when the 180-year-old First Church had shrunk to about 30 worshiping members (plus a dozen mission volunteers) and admitted that it needed to close.
"The Lord doesn't want us to stay in this building for another decade and just be here until the money runs out," members said, according to Clare Schilling, missions chairperson and a member for about 12 years. They had plenty of meetings to get everyone on board and finally decided to look for a partner church to welcome their members and agree to adopt their large, old, brownstone, multi-room facility as a mission center.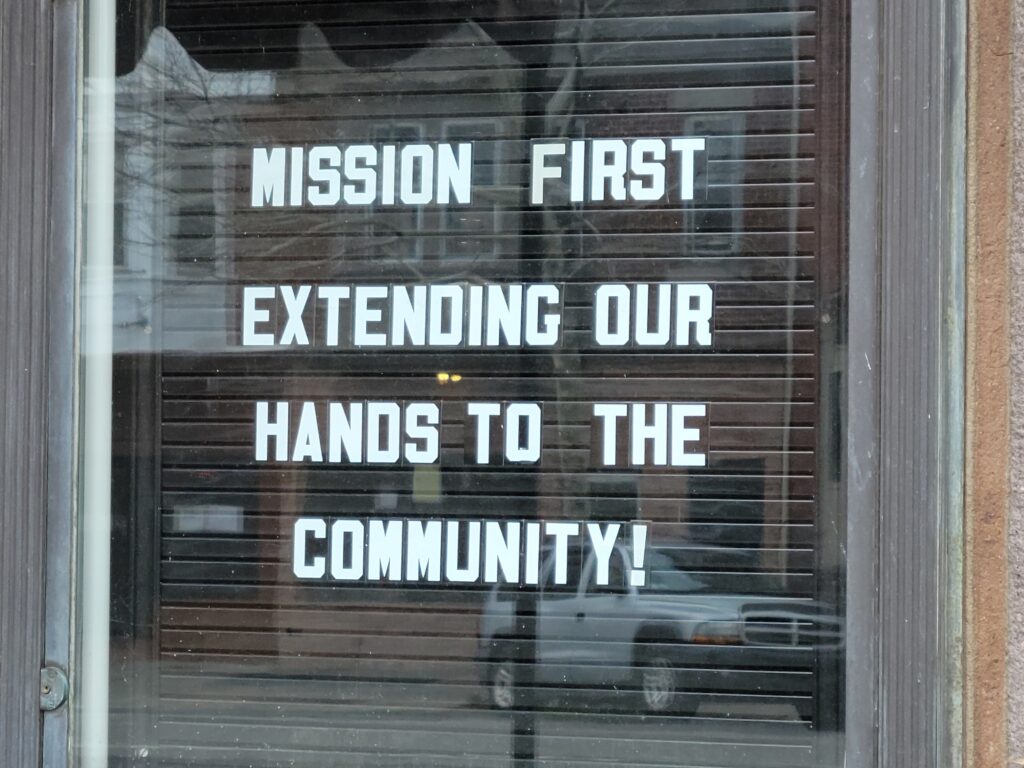 "It took us a couple of years and various proposals to find a partner; but we found Cedarville UMC, about a mile away," Schilling recalled. The two churches merged May 1, 2020. Asked to lead the new Mission First center, she said, almost in tears, "I had to do it. I love mission; it's my baby.
COVID pandemic increases needs and mission response
Before Mission First could open the COVID-19 pandemic struck in March 2020, shutting down many places where people could find help. Schilling kept coming to the center and seeing unhoused neighbors on the street suddenly without access to food, water, bathrooms and other needs—even places to charge their phones.
That's one of the first services she arranged: an outdoor phone charging station, followed by a portable toilet and an exterior water faucet installed by a local plumber. Hotels and hospitals would not welcome the unhoused, leaving them nowhere to stay during the pandemic. Her voice breaks as she recalls their plight.
Schilling and her team quietly got one neighbor set up in a tent and tried to supply other needs. Before long, others joined him in what became, and still is, an informal tent village, much to the displeasure of local police and officials.
"Our ministry just blossomed because of the great needs," she recalls. "I think it all came from God, who blessed us with this mission. His work is done outside the church and on the street; that's where we need to be."
She is grateful for the cadre of dedicated, hardworking volunteers from Cedarville UMC, other churches and the community, who come weekly to help organize donations, and prepare and deliver meals, among other tasks. Now she is devising ways to attract others to this hands-on work—like offering exercise classes and other activities.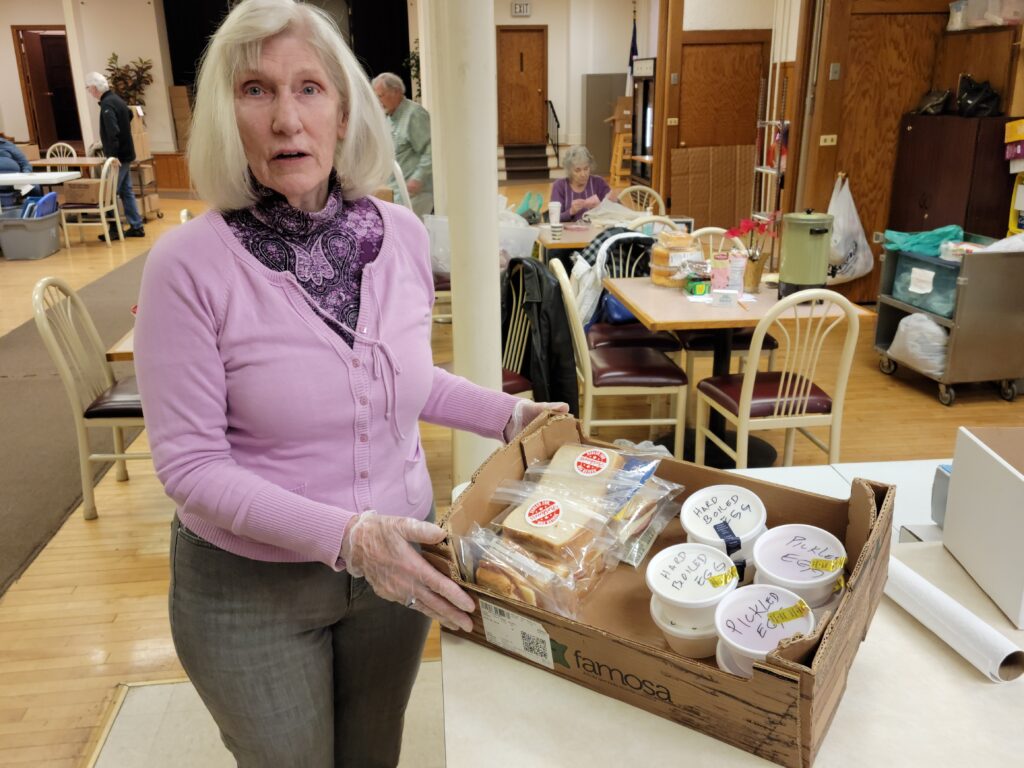 Temple, Mount Carmel, Evansburg and Coventryville UMCs are among the other churches she is thankful for in the area's EPAUMC Mission Link. "All of them come here and bring us stuff and try to help. And I try to get our name out there wherever we go."

Church and community partnerships are key
Schilling networks with many local groups—Salvation Army, Tri-county Homeless Services Network, Ministries at Main Street, and others; but she tries to dovetail with, not duplicate, their services.
She appreciates Tower Health at Pottstown Hospital especially for helping to create the community garden and buying the outside community refrigerator powered from inside the center. It's an innovation made popular in Philadelphia and other U.S. cities during pandemic-caused food shortages. Adjacent to it is a colorful, tiny house filled with free food and a sign that reads: "Give what you can, take what you need."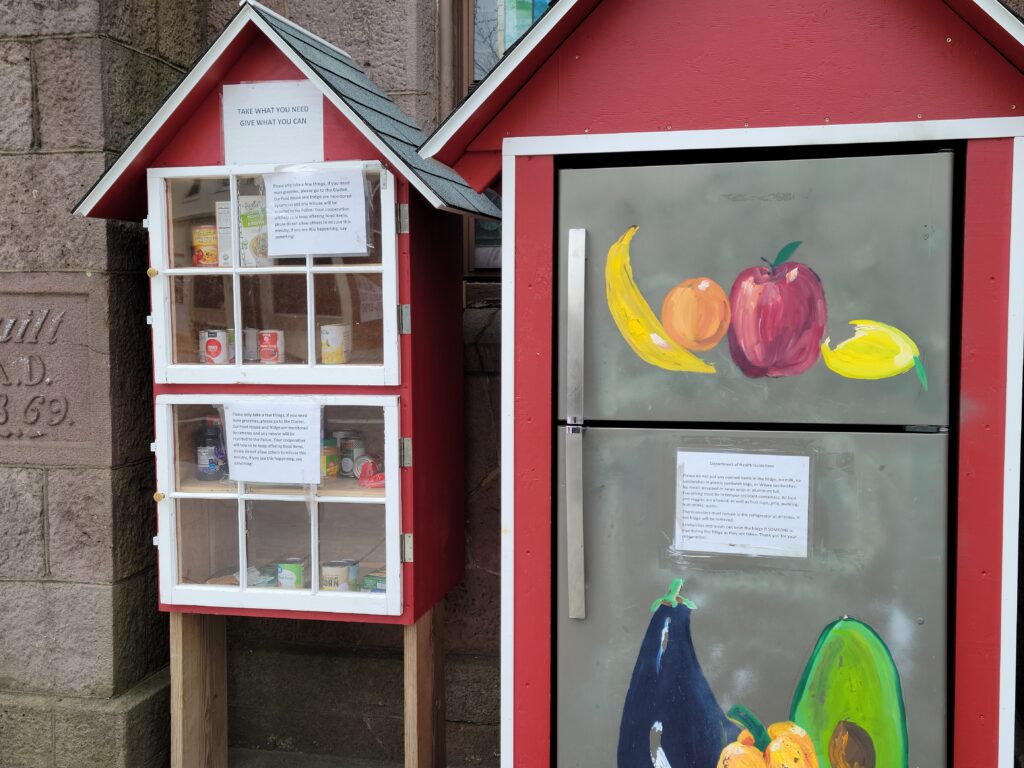 This always mission-minded director spends time on the streets to identify needs and resources and to get to know people. Next she wants to add showers for unhoused neighbors and renovate and expand use of the center's basement. And while a Hispanic/Latino congregation now worships in the sanctuary on Sunday mornings, she dreams of also offering worship again, on Sunday afternoons, for the center's friends and neighbors.
Former First UMC members are mostly happy with the choice to merge with Cedarville UMC and create Mission First, Schilling said. "They come here and see what's going on; and they say, 'Yes, this is what we had envisioned. We just needed a partner to help us.'
"Our people really sacrificed a lot to give up their church," she admits. "That was a hard thing for some to accept, even myself. But it was to do God's work here on the street."
Now that the sacrifice is a growing success, she hopes "other churches that are small and looking to close would instead merge with somebody and use their building for mission centers like ours. It could be worthwhile."

URBAN COMMISSION GRANTS–FALL 2021 and SPRING 2022
The Eastern PA Conference's Urban Commission liked the Cedarville UMC/Mission First model enough to reward it with an Urban Alliance grant in late fall 2021. Grants went to six Urban Alliances, which are recognized as collaborative endeavors:
Mission First, Pottstown
Hazelton Enlarged Alliance
Justice for Our Neighbors (JFON of the Delaware Valley)
Manifest (Home renovation ministry), Lancaster
Philly Clifton
Young Latinos
Grants were awarded also to seven Urban Initiatives, which comprise six individual urban churches and one urban campus ministry:
Arch Street UMC, Philadelphia
Epworth UMC, Bethlehem
Mt. Zion UMC, Darby
Ebenezer UMC, Lebanon
Holmesburg UMC, Philadelphia
Sayre UMC, Philadelphia, and
Open Door Community Campus Ministry at Drexel University, Philadelphia
These exemplary, conference-supported urban ministries received their grants in January 2022. Look for more stories about them on our EPAUMC website throughout 2022.
The spring Urban Commission grants application period has begun. Learn more and apply on our Urban/Metro Ministries webpage. The application deadline is May 31. Awards will be announced by July 1.