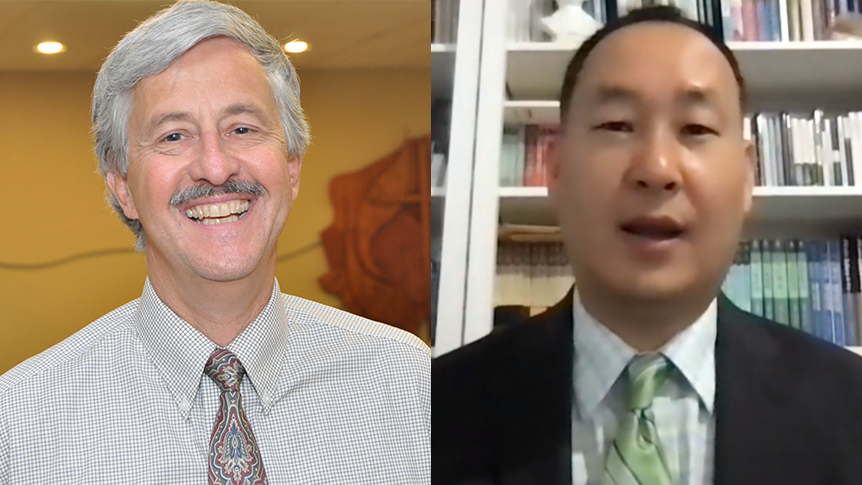 On Wednesday, June 8 West District clergy and laity will celebrate the Rev. Bumkoo "BK" Chung's (right) ministry as District Superintendent there since 2014. He leaves to become pastor of Olivet UMC in Coatesville July 1. Well-wishers will gather at Faith UMC in Lititz for an informal reception at 6 PM, followed by worship and testimonials at 7.
Donations are being sought for a shared gift to support the Rev. Dorcas Kamanda's mission serving children and families in Sierra Leone through education, health care, evangelism and discipleship. To learn more about this vital mission in Sierra Leone, Click here. Learn more about BK's farewell event.
The North District will say goodbye to its superintendent, the Rev. Steve Morton, during a worship service and fellowship June 15, at 6PM, at Grace-St. Paul UMC in Jim Thorpe. He has requested that any farewell gift donations be directed to the conference to support its new Leadership Development initiative (Check memo line: Leadership Development), which he will manage beginning July 1.
On June 18, members will gather with Morton again at their annual Clergy Family Picnic at Knoebels Amusement Park in Elysburg. The North District's superintendent since 2018 has hosted supportive, monthly chats on Zoom with his clergy members since the Covid pandemic began.