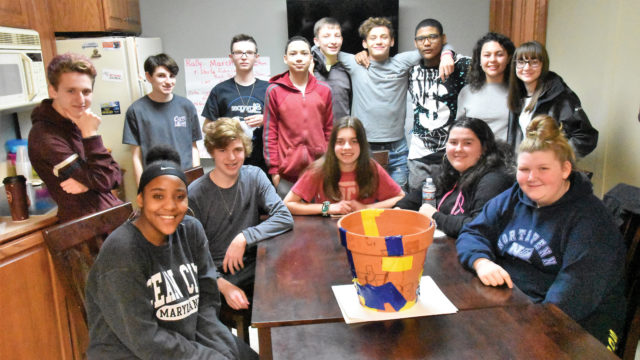 Members of the Eastern PA Conference Council on Youth Ministry, led by the Rev. David Piltz, conference Coordinator of Young People's Ministries, have had a very busy, very mobile year, with major events to attend nearly every other month. And they literally have miles to go before they're done.
With new leaders and members on board, the energetic young crew began 2019 as they do every year—by journeying southeast to the Peninsula-Delaware Conference's annual Youth Rally, Jan. 4-6, at the convention center in Ocean City, MD. They joined over 3,000 other enthusiastic youth and adult leaders there, including 232 youth and 93 adults from 20 Eastern PA churches. They enjoyed interactive worship and witnessing through creative speeches, sermons, skits and songs, along with fun, friendship-building activities.
The CCYM members then planned their own fourth annual Youth Rally for March 16, trekking north to Wesley UMC in Bethlehem. There, uplifiting songs and thought-provoking dramatic skits, written and performed by professional actors, plus contests and other activities enlivened the sprawling sanctuary, under the gaze of Jesus Christ's radiant stained-glass figure.
About a hundred attentive youth heard compelling testimonies from speakers that included former NFL star Lee Woodall and Christian rock guitarist and songwriter Barry Bennedetta. Both shared dynamic life-lessons on the rally's challenging, Scripture-based theme, "Easier Said than Done: Living as a Christian in a World that is Not Christian" (1 John 2:15).
The skits and ensuing dialogues addressed bullying, violence, trauma, peer pressure, low self-esteem and other struggles many young people deal with daily. An altar call ended the half-day rally, inviting youth to accept or affirm Jesus Christ as their Lord and Savior.
Second Youth Diversity Retreat at Gretna Glen
In May it was 'Go west, young people," as they traveled to scenic Gretna Glen Camp & Retreat Center near Lebanon, for their second annual Youth Diversity Retreat, May 3-5. Nearly 20 diverse youth, all 6th to 12th-graders, many of them already forging friendships through CCYM, drew closer as they shared candid thoughts and emotions guided by Piltz and other adult counselors.
The weekend was full of mind and heart-opening experiences like the Privilege Walk and the dynamic simulation exercise, Archie Bunker's Neighborhood. Honest dialogues, using respectful communication principles, explored various forms of diversity, including race, gender, class, physical and mental ability, family background, language, musical tastes and sexuality.
Moreover, the youth wrestled with challenges like being seen as different and inferior, seeking acceptance but fearing rejection, vulnerability, self-esteem, gossip, bullying and honesty.
Of course, there was also lots of recreation—including rambunctious rounds of Gaga–and plenty of just "hanging out." But Sunday morning's closing worship experience ignited a spiritual unburdening for some of the youth, Piltz reported, as tearful expressions poured forth, and youth connected with one another in communal fellowship.
"It was a powerful experience for the youth, said Piltz, who is also a local pastor, a marriage and family therapist, and UM campus minister for Drexel University's Open Door Christian Community.
Conference Youth Ministry relies on transportation
Many of the youth come to CCYM meetings and events from as far West as Lancaster, often driven by Associate Coordinator of Youth Ministries Jezerel Gutierrez. Others come from as far East as Levittown, where Piltz lives and provides transportation. Indeed, he says, transportation may be the biggest challenge in coordinating youth ministry, especially conference-wide. But the broadened perspectives, interactions and experiences youth gain make it worth the trouble.
"After doing 25 years of this, it is retreats like this one that keep me going in youth ministry," Piltz shared. "It is inspiring to know that youth are willing to learn and grow in their faith in God."
In July, CCYM's busy year on the road continues with another journey—this time to Youth 2019 (https://youth2019.com) in Kansas City Mo., July 10-14. Piltz and Bishop Peggy Johnson are both on the convocation schedule as guest presenters. And he and Jezerel plan to take 13 youth with them.
"We are driving and still working on logistics," he said, hoping to rent a 15-passenger van for the 18- hour, 1,142-mile road-trip. He asks for prayers not only for the journey but for the funds to cover it.
"It may be the most challenging adventure I have undertaken in 25 years of youth ministry," said Piltz. "So miracles have to happen!"
Read more of David Piltz's reflections on the Youth Diversity Retreat
The Youth Diversity Retreats were first envisioned by Camp & Retreat Ministries board member Carlen Blackstone, who helped plan and lead the ones in 2018 and 2019. They are profound learning experiences that deserve a larger attendance. Piltz urges more youth ministers to attend and bring their young people to future Diversity Retreats. He writes:
It was a powerful experience for the youth. Meaningful simulations were used to experience the effects of culture, oppression and power, and how they continue today in our daily lives, as well as behaviors each person can choose to combat injustice and embrace diversity."
Listening with deep intent was stressed and empathy was taught as a skill in holding the challenging discussions. A safe environment was created for all, and youth were empowered to share their experiences.
And then something amazing and incredible happened. Vulnerability occurred, and youth shared their deepest areas of brokenness in navigating life and the emotional chaos life can create. As youth shared and were vulnerable, other youth supported them, along with the adult leaders.
Diversity is a challenging topic to discuss; and the youth embraced the conversations and grew from the experience. Part of the experience was having a adult youth leader join the group who was interested in holding similar discussions with her church youth group. Her energy and insight were a blessing to the group, as was all the adult leaders.
I am thankful for the adults who joined us—including Carlen Blackstone, the Rev. Anita Powell and Jezerel Gutierrez—giving up a weekend to help lead this experience. They were a positive, inspiriting influence in the lives of our youth.
After 25 years, it is retreats like this one that keeps me going in youth ministry. It is inspiring to know that youth are willing to learn and grow in their faith in God.
—Rev. David Piltz