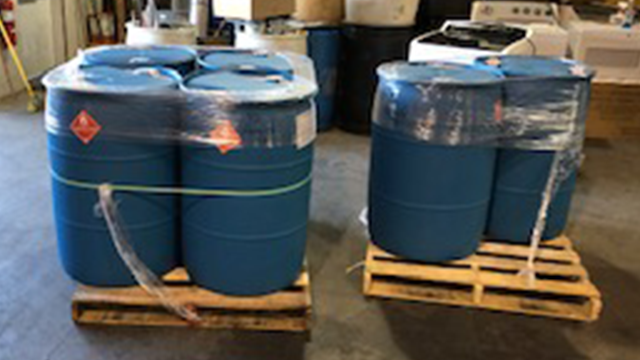 By John W. Coleman
Responding to the COVID-19 pandemic, the Eastern PA Conference Disaster Response Ministry has been sharing information about government resources with Bishop Peggy Johnson and her Cabinet since the U.S. outbreak began in March. Now the ministry will provide churches with two essential resources to help fight the spread of virus infections: hand sanitizer and protective masks.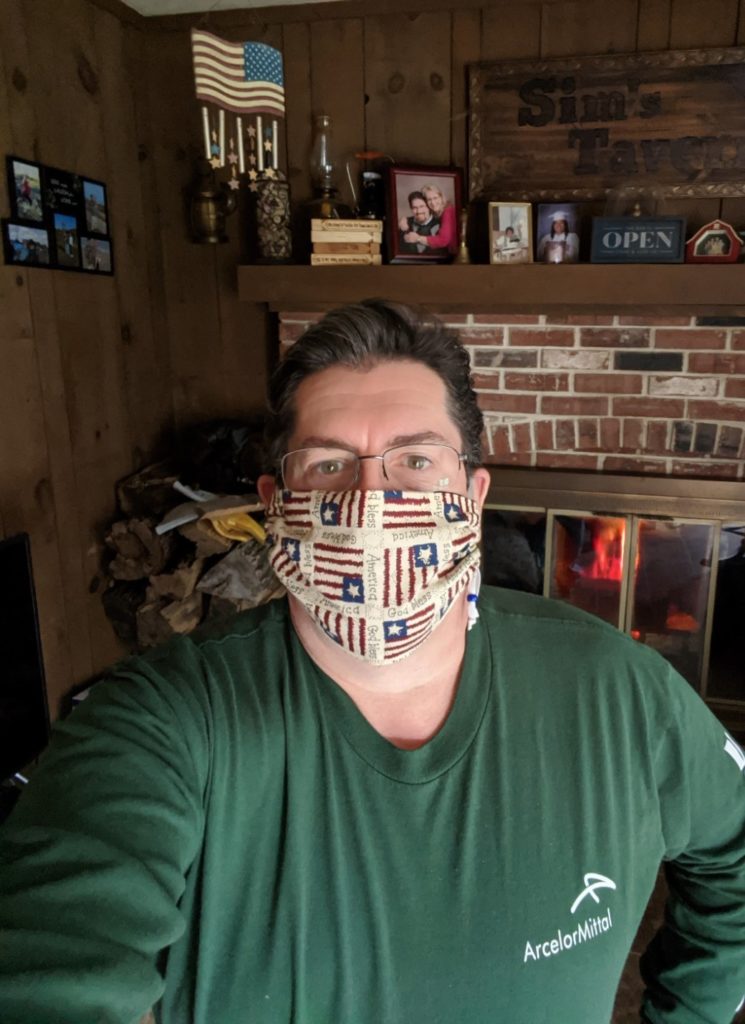 Coordinator Robert Simcox (right) and his Disaster Response Team work collaboratively with Volunteer Organizations Active in Disaster (VOAD), a national consortium of disaster response groups, and its Pennsylvania component, PA VOAD. He recently learned of a major donation of hand sanitizer gel in 55-gallon containers to be provided to nonprofit organizations. The donation was given to the Federal Emergency Management Administration (FEMA) to distribute.
Dwain Hostetter, West District Disaster Response Co-Coordinator, ordered six barrels, for a total of 300 gallons of hand sanitizer (50 gal. per barrel). The team is working to make the barrels available at locations across the conference for churches to come fill their own containers.
"We're asking churches to bring empty, reusable containers to fill with hand sanitizer that they can use to help ensure safety as they return to worship and other activities in their building," said Simcox. The gel is 80% alcohol/isopropyl, produced to FDA standards.
The barrels will be located at the conference's four Camp & Retreat Centers—Carson-Simpson Farm, Innabah, Gretna Glen and Pocono Plateau—which are not currently operating summer camps because of the pandemic. Other, convenient church locations are being considered. The barrels should be delivered and ready for sanitizer distribution next week.
The Disaster Response Ministry is also awaiting delivery of 125,000 donated, washable, cloth face coverings from FEMA to distribute to churches and affiliated service agencies to help them ensure safety during worship and other activities. The adult-sized masks are 100% cotton, and contain silver and copper to help prevent the growth of viruses and germs, said Simcox. They are to be used only by church greeters and others who serve and interface with the public. They are not to be sold or given away.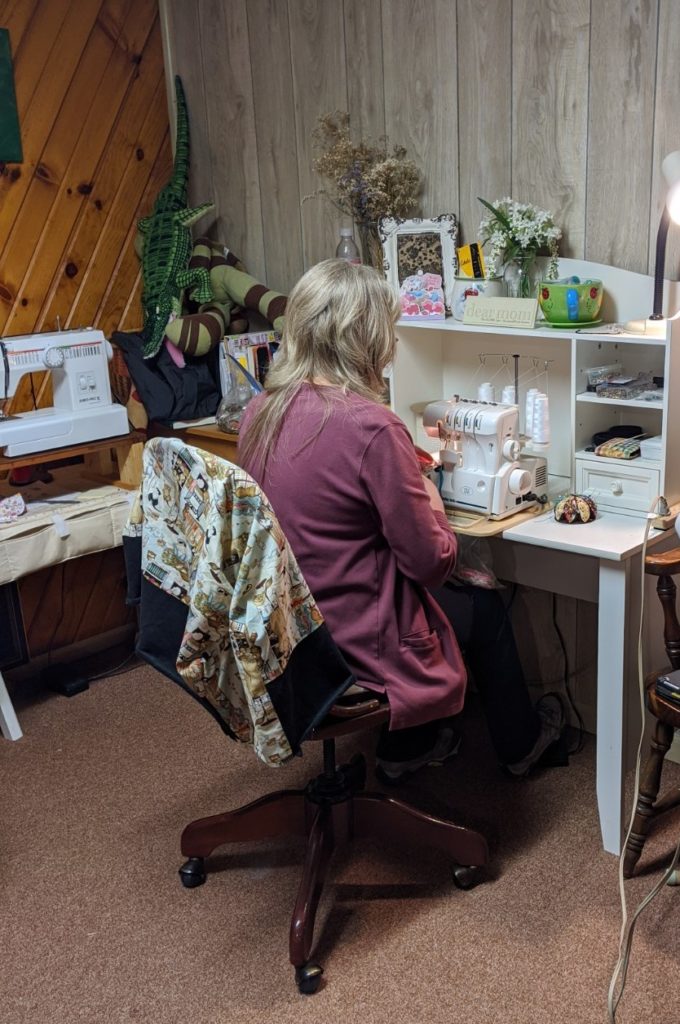 Churches wanting masks can request them using a new online form on the conference website. More information will be sent out once they are delivered.
In addition, the Rev. Myra Maxwell, East District Disaster Response Coordinator, is leading an outreach project to have masks made for adults and children. She is looking for donations of suitable cloth and volunteers who love to sew and are willing to help others by sewing suitable cloth masks. Contact her at myrajmax1@gmail.com.
"This is an opportunity to show the presence of Christ during this COVID-19 pandemic, while supporting vulnerable communities," said Simcox.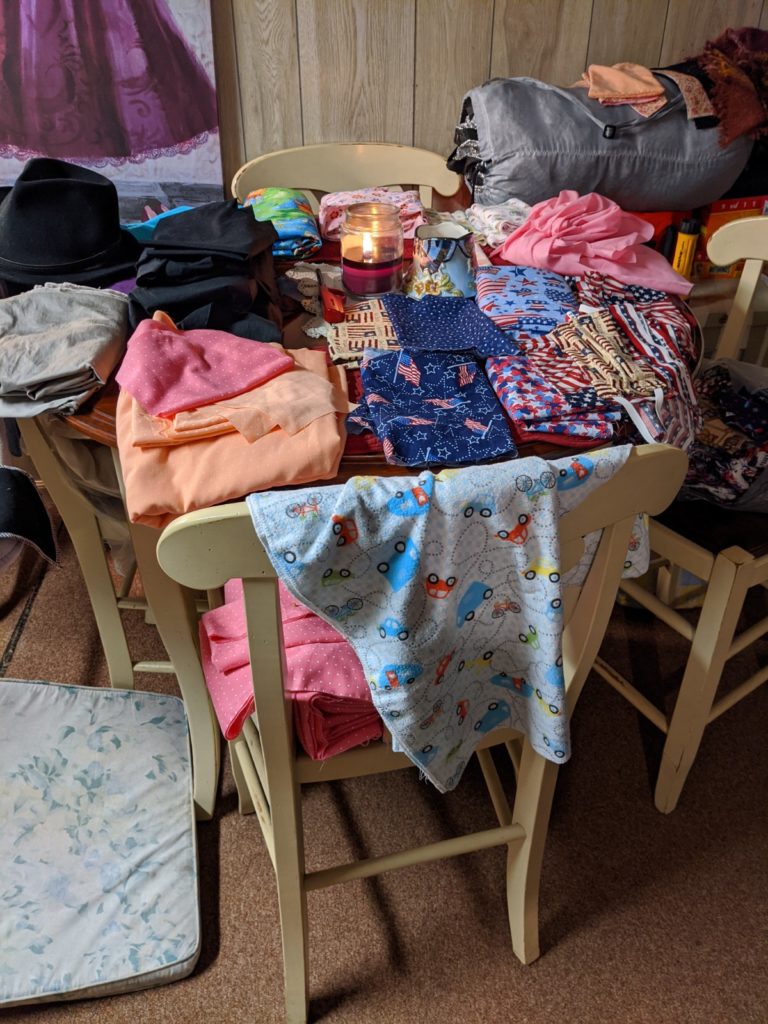 NOTE: Look for updates on this story-including the availability of hand sanitizer and protective masks—next week. If you would like to know more about Disaster Response Ministry contact Bob Simcox at DRC@EPAUMC.ORG. Thanks to Bob Simcox for providing information and photos for this story.
Eastern PA Conference Disaster Response Team members are:
The Rev. Lorraine Heckman
Mr. Dwain Hostetter
Mr. Gary L.Jaeger
Ms. Lynn Jaeger
The Rev. Myra J. Maxwell
The Rev. Richard J. Rimert
Mr. Robert Simcox
Ms. Candace Snavely
Rev. Mark Beiderman
Ms. Sandi (Saundra) Stovall