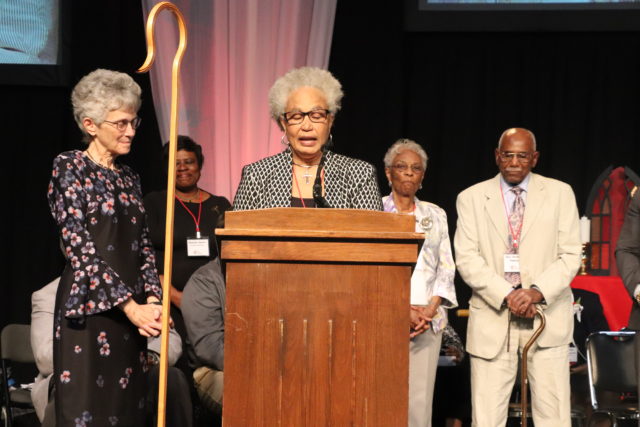 By John W. Coleman
Among the largest groups who come on stage during Annual Conference are people recognized for exemplary ministries over the past year or over a lifetime. A remarkable gathering of such "good and faithful servants" filled the stage June 14 for the 2019 session's presentations of awards.
The 2019 Eastern PA Annual Conference gave its annual Harry Denman Awards for Evangelism to three leaders and its annual One Matters Award to one remarkably fast-growing church. But it also honored both a longtime, retired clergy member and a group of urban churches by presenting them all with a new urban ministry award named in his honor.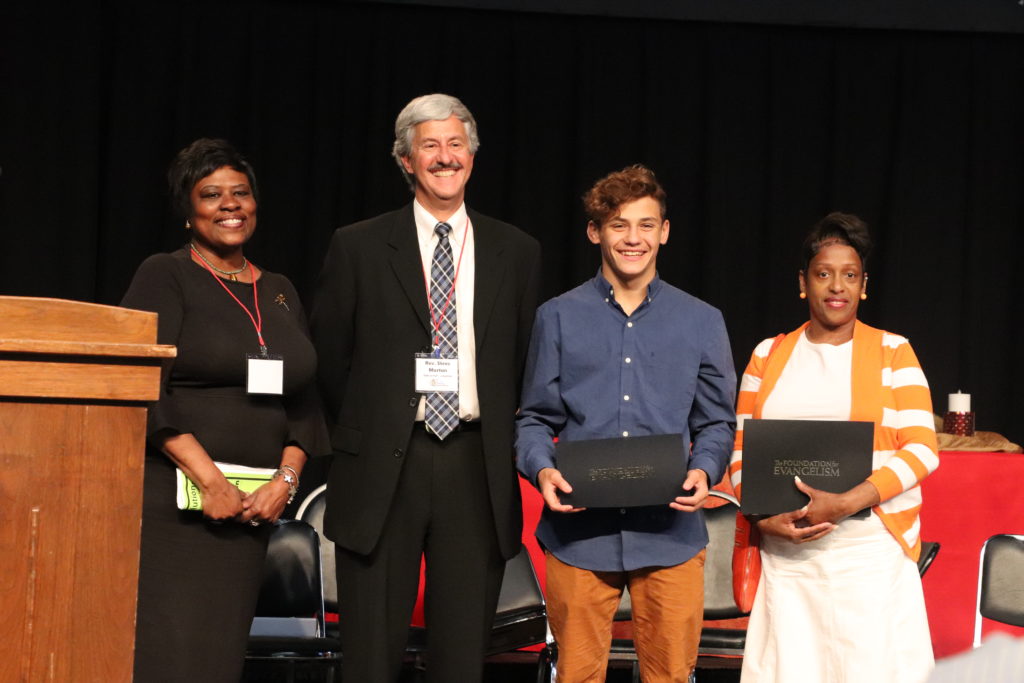 Suzette James of the conference Congregational Development Team presented The Harry Denman Awards for Evangelism to:
The Rev. Steve Morton, North District Superintendent, who received the clergy Denman Award for his 21 years of pastoral leadership at Hopewell UMC in Downington. James credited his exemplary "team-based approach to ministry, commitment to community engagement and international missions, children's and youth ministries, and Lenten Bible studies shared across the connection." Morton left Hopewell to become a district superintendent in 2018.
Carrie Argro, a Certified Lay Minister at St. Daniel's UMC in Chester, who received the laity Denman Award for leading prayer teams throughout the church's community and "meeting neighbors where they are" to address their spiritual and social needs. She is helping to lead St. Daniel's new Hope Point community development initiative at the former Trinity UMC Chester.
Jose Tirado Jr., of Cristo Rey UMC in Grove, who received the youth Denman Award for his "love and passion and radical hospitality" and for "sharing his personal testimony countless times," said James. The personable high school senior is president of the Conference Council on Youth Ministry.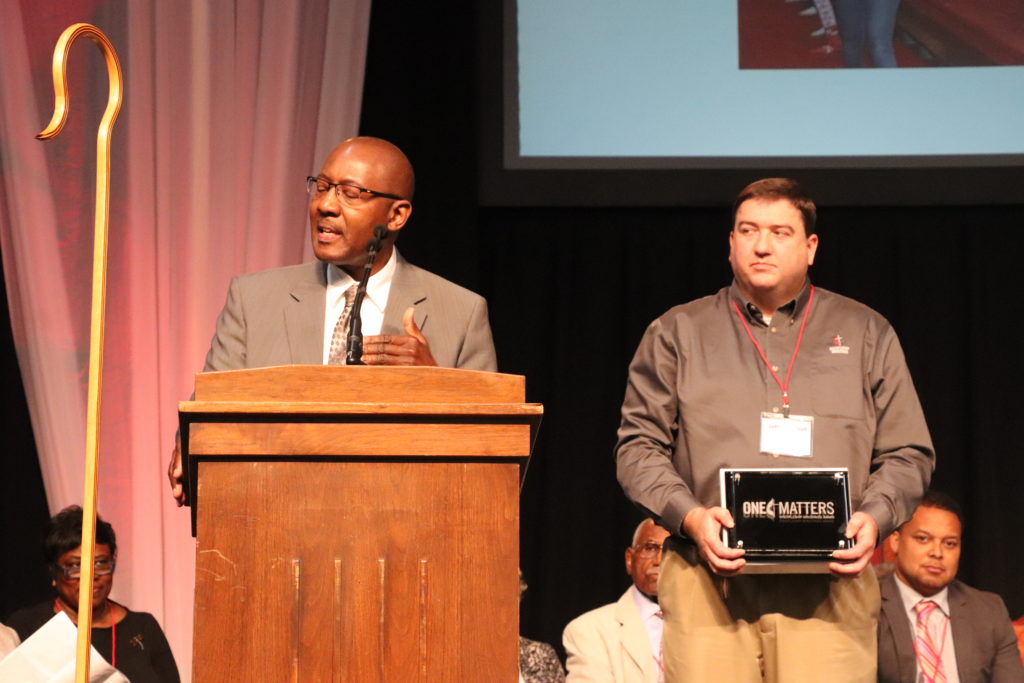 Haven-Peniel UMC in Philadelphia received the One Matters Award, delivered to the annual conference by Jeff Campbell, Associate General Secretary of UM Discipleship Ministries, which provides the plaque and a $1,000 monetary award.
"The One Matters Discipleship Award lifts up churches that move from zero baptisms and professions of faith into positive numbers, as they begin to focus on intentional discipleship" Campbell explained. "We ask what they are doing differently that is helping them to turn things around by God's grace."
The Rev. Tracy Bass, East District Superintendent, presented the award to the Rev. William Brawner, pastor, and several of his members. He cited the congregation's innovative ministries "that have reached beyond the church walls" in the past two years to attract numerous young people and address local concerns, including neighborhood gentrification and gun violence. Meanwhile, he said, "Haven-Peniel has baptized 40 people."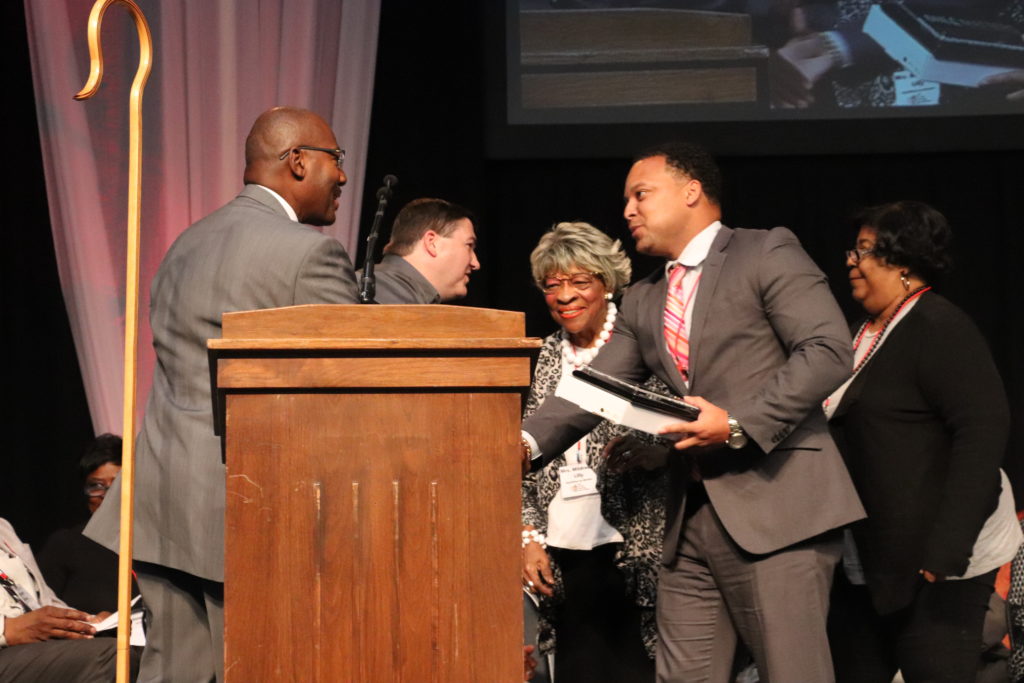 But the climax of the awards ceremony this year was the new Herbert E. Palmer Award for Urban Ministry, named for a venerable, retired former pastor, district superintendent and executive director of Metro Ministries revered by many as an elder statesman among clergy in the conference.
The Rev. Herbert E. Palmer, 94, became a pastor in 1963, was ordained in 1965 and retired in 1994. But he unretired numerous times to respond to the need for his leadership of urban churches and ministries.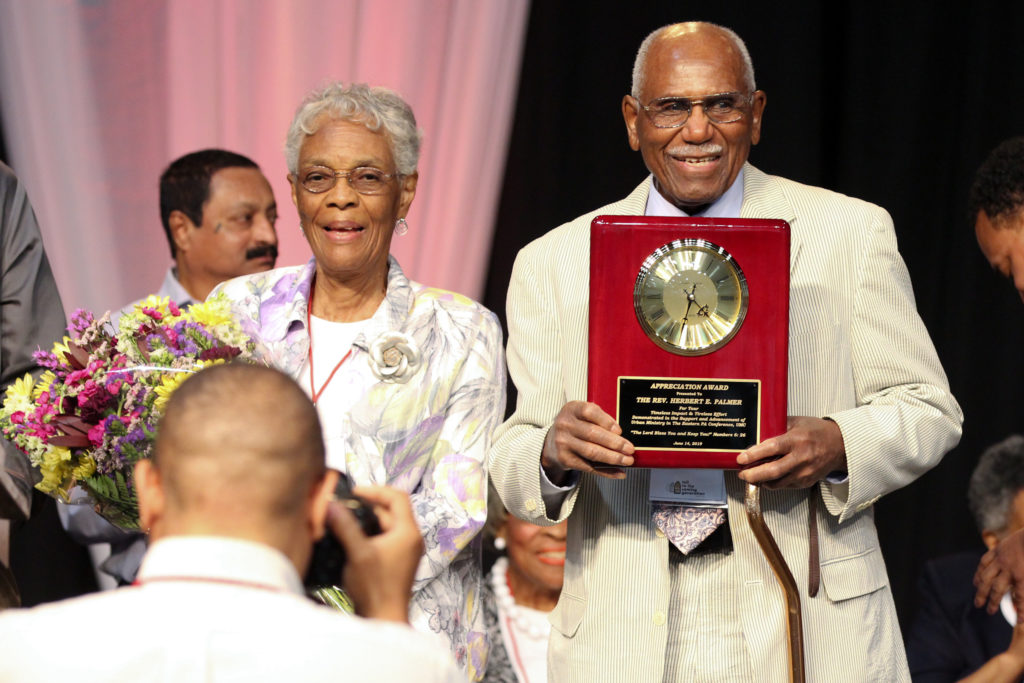 Bishop Peggy Johnson and the Rev. Anita Powell, Director of Connectional Ministries, together honored Palmer for his "tireless service, impact and influence" on the conference, especially among African American clergy and laity.
"I have enjoyed being a pastor, preacher and worker in the church for God," said the humble clergyman, who was greeted by a standing ovation. "I have been blessed to fellowship and work with a lot of people; and whatever I have accomplished has been because of so many people who held me up, taught me, guided me and made me keep on going when I felt like stopping."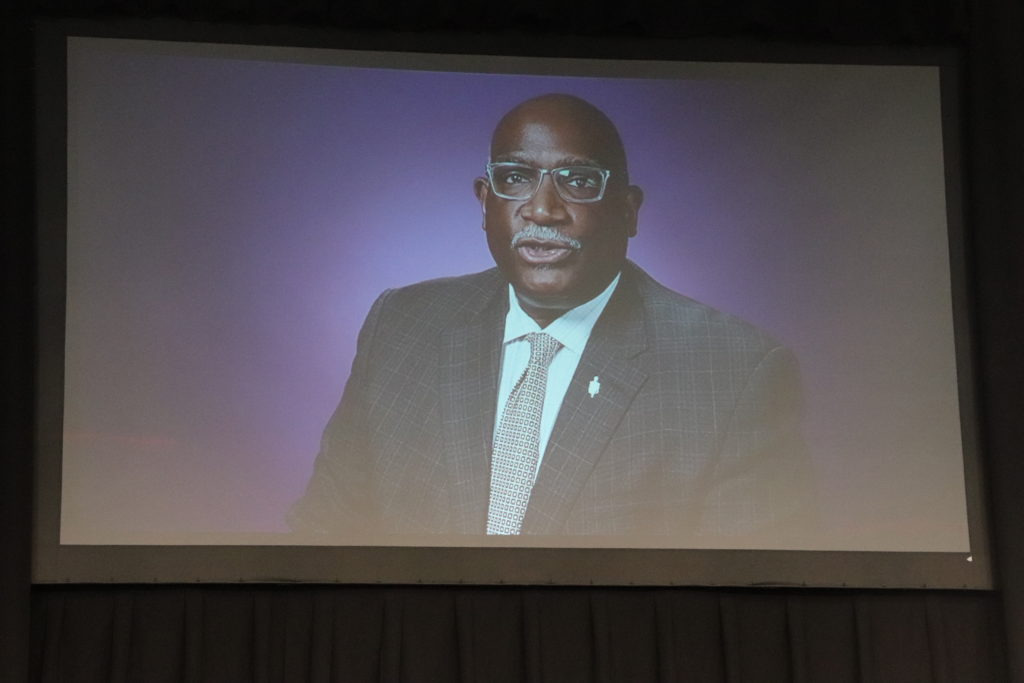 Palmer is the father of Philadelphia native and Ohio West Area Bishop Gregory V. Palmer, who offered his personal congratulations in a surprise video greeting at the close of the awards ceremony.
The first urban ministry awards in Palmer's name were presented, on behalf of the Urban Commission, by the Rev. William Brawner, conference Urban Ministries Coordinator, to three urban church partnerships, called Urban Alliances, and to one individual Urban Initiative church.
Herbert E. Palmer Urban Ministry Awards
MANIFEST Urban Alliance (Lancaster, West District) Provides access to warm, safe, dry, decent, affordable housing to economically disadvantaged Lancaster residents.
Salem and Asbury UMCs Urban Alliance (Allentown, North District) Food pantry serving 300-500 families twice a month.
Wharton-Wesley and Calvary UMCs Urban Alliance (Philadelphia, South District) Educational enrichments programs using theater and science for children in underserved areas in West Philadelphia.
Bickley's New Beginning UMC Urban Initiative (Philadelphia, East District) reach children through music ministry, operate a monthly food pantry and young women's outreach initiative reaching over a hundred impoverished women, plus a community issues awareness program.