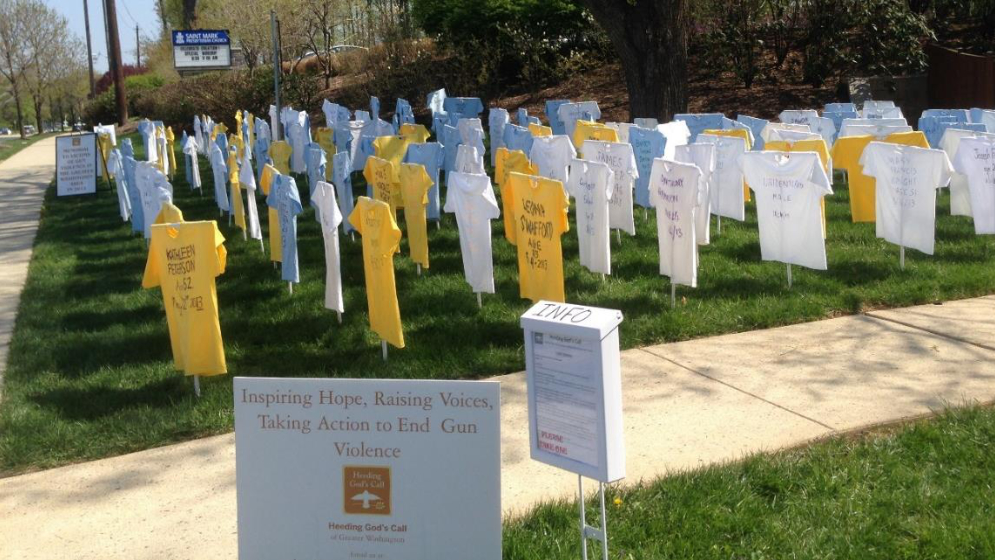 Lansdale UMC will remember gun violence victims during the Martin Luther King Jr. holiday by hosting a dedication of the Montgomery County Memorial to the Lost on Monday, Jan. 16, at 11 AM. The memorial, cosponsored by the advocacy group Heeding God's Call to End Gun Violence, is an outdoor display of colorful but empty t-shirts inscribed with the names and ages of gun death victims, along with the dates of their deaths. It is a poignant reminder of the many lives lost to gun violence.
"This is our contribution to MLK Day of Action work projects here in Lansdale," say church leaders. "Lansdale UMC is proud to host the Montgomery County Memorial to the Lost from January 16 to February 6, 2023." The church is asking for volunteers to arrive at 9:30 AM to help set up the memorial.
Many houses of worship—some of them United Methodist—periodically host the memorial in partnership with Philadelphia-based Heeding God's Call, which "seeks to energize the American faith community and actively seek an end to gun violence through public witness and policy advocacy." Presentations usually include marches, prayer vigils and speakers who address the growing scourge of gun violence in our communities.
To learn more read (and share) the Heeding God's Call – Memorial to the Lost: MLK Day of Action Flyer.