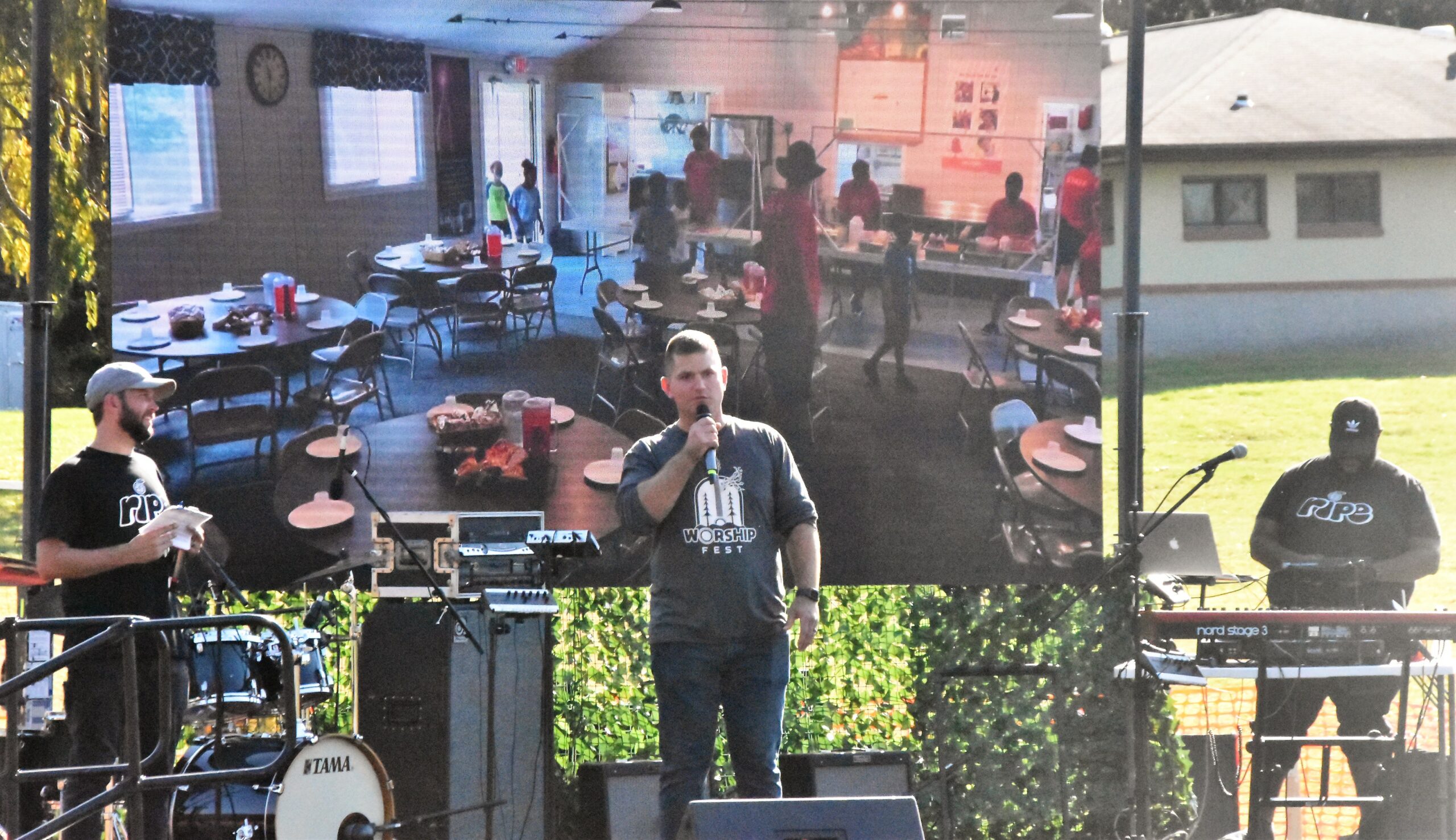 Carson-Simpson Farm's first Worship Fest on Saturday, Oct. 15, was indeed worshipful and festive, as diverse, faith-filled music and messages poured from the busy performance stage onto the camp's sprawling lawn like the warm afternoon sunshine.
The atmosphere was both relaxed and energetic. Most guests—totaling about 600 throughout the five-hour event—lounged on the lawn. But many drew near the stage, resembling an altar call, and engaged fully in several high-energy, high-emotion musical performances.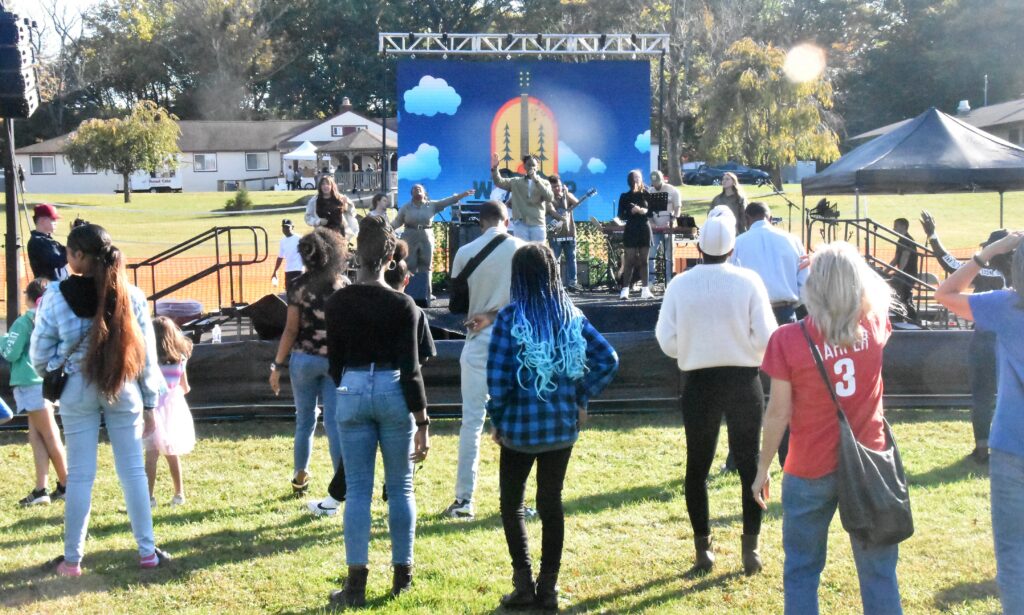 Others gathered for fun and fellowship around table displays, food trucks, the camp store and playground equipment, or in clusters for conversations, glad to be able to see one another not on Zoom but face to face. Churches, camps and service agencies hosted table displays to make connections, while sharing their information and hospitality.
To share the gospel, to bridge a gap
"What started as a cold, fog-filled morning blossomed into a picturesque fall environment where the sounds of worship echoed throughout the community," reported camp director Jonathan Curtis. He credits his wife and Carson-Simpson's program manager Jessica Curtis for the idea to invite churches and ministries to assemble there with a goal to share the gospel with the camping community and neighbors through worship and artistry.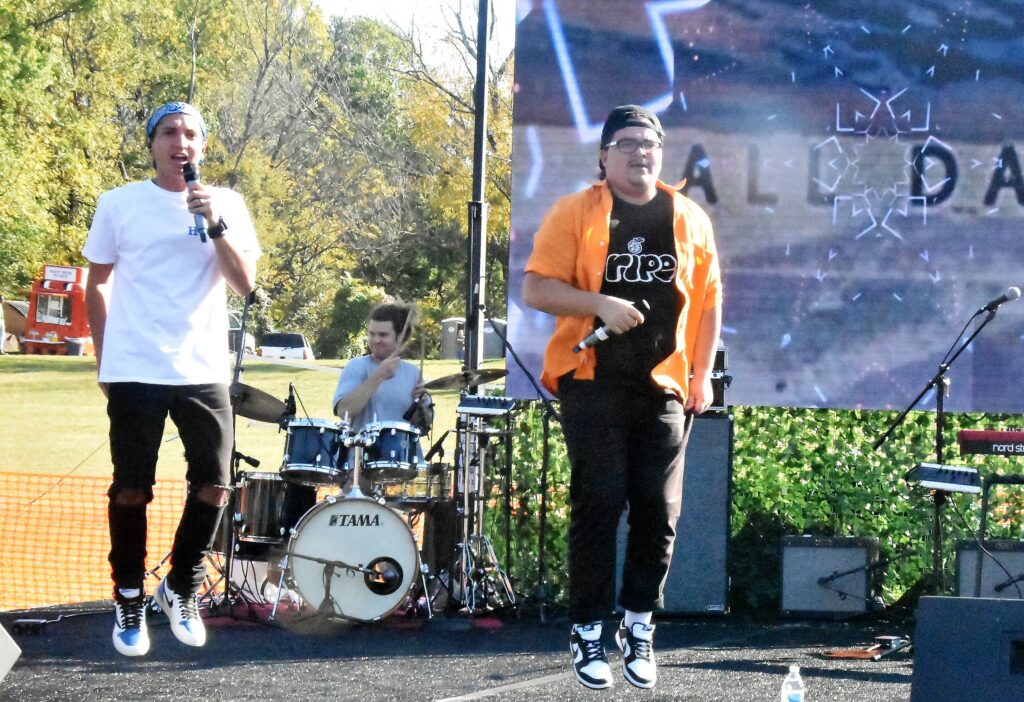 "The other goal was to bridge a gap for families seeking to find fellowship with a church family and do it in a way that felt natural and unintrusive," he explained. A generous private donation and a grant from the UM Camp and Retreat Ministry organization helped make the vision a reality. So did Marcus Jordan's event production firm and Ripe Creatives, a talented collective of eclectic artists, led by founder Scott Smith, who have performed at Carson-Simpson to the delight of summer campers this year and last.
Ripe Creatives' gifted, innovative artists—performing mostly Christian hip hop, folk music and spoken word poetry—and its inspirational worship team climaxed the musical feast, glorifying God and sharing the gospel of Jesus Christ in songs, spoken verse and even a sermon.
But an assortment of church praise-music ensembles performed in the early afternoon hours. Supportive UM churches who were present included The Crossing UMC in Washington's Crossing, East Stroudsburg UMC, Hopewell UMC in Downingtown, Midtown Parish UMC in Philadelphia and Willow Grove UMC.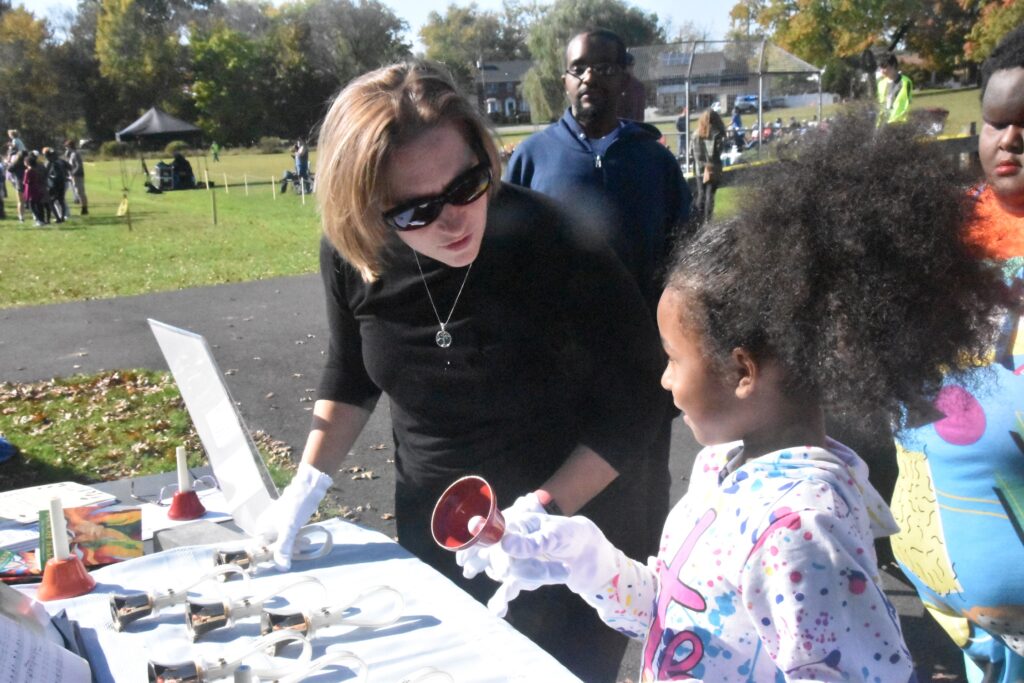 "The dominant styles and genres of this Worship Fest were praise band and hip-hop oriented; and while these styles are incredible and uplifting, we also wanted to bring something that was integral and authentic to who we are," recalled the Rev. Lorelei Toombs, pastor of Willow Grove UMC. At their display table, she and a team of members introduced guests to some of their historic handbell choir's instruments, offering lessons and allowing them to play the colorful bells.
"One of the greatest joys of the afternoon was bringing together three strangers and teaching them to play together the opening lines of the Christmas carol 'Joy to the World' in the span of less than 10 minutes," said Toombs. "What a blessing!"
A testimony of what God can do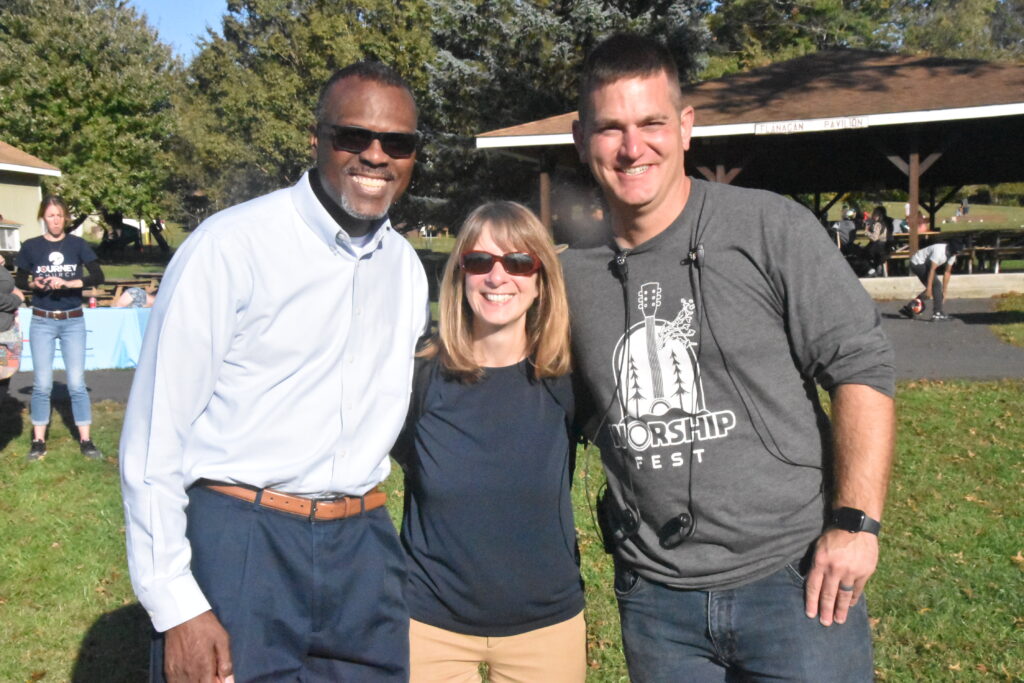 "I enjoyed Worship Fest primarily because there was only one agenda: to Worship God," said the Rev. Andrew Foster III, East District Superintendent, who blessed the gathering with an opening prayer. "It was a joy to see local churches, including non-United Methodist Churches, come together with a common purpose: to worship! Clearly, everyone enjoyed experiencing different praise bands, spoken word and authentic worship."
"The day was filled with laughter, joyful tears and thanksgiving by so many that attended," said Curtis, who hopes for an encore in 2023. "This entire festival has been a testimony of what God is capable of doing, even when we don't think it's possible."
The Rev. Dawn Taylor-Storm, EPA's Director of Connectional Ministries, celebrated "the vision that led to such a powerful, outdoor worship experience and the spirit that graciously welcomed over 600 people onto the camp's grounds." She invites anyone who wants to help make it happen again next year to email her at dtaylorstorm@epaumc.church.