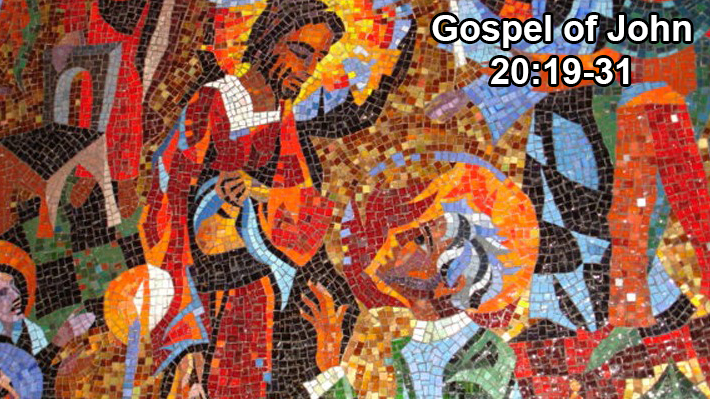 The Eastern PA Conference Cabinet has provided another pre-recorded sermon to churches so they can give their pastors a preaching respite. However, this time the sermon, preached by Bishop Peggy Johnson, comes with an entire recorded worship service for use after Easter. While April 11, the Sunday after Easter, is an ideal time to use it–certainly following what will likely be a busy Holy Week for many–the service can be used on any Sunday during Eastertide.
The six clergy Cabinet members* recorded sermons as a gift for churches to use during Christmastide and Epiphany, from late December through January. But now the three lay, Extended Cabinet members join them in this new recorded worship service—from the welcome, prayers and Scripture readings, to an offering stewardship message, to the invitation to discipleship and the benediction.
Bishop Johnson preaches on John 20:19-21, using the sermon title "Courtroom Drama: 'So that You May Believe'." The Rev. Dr. Sarah Fernsler, of Asbury UMC Allentown, offers a postlude on piano. Psalm 133 and the Gospel of John 20:19-31 are the Scripture readings chosen from the Revised Common Lectionary (Year B) for April 11.
The four-video video playlist includes:
The recordings are accessible for viewing and showing on the Conference YouTube page and for downloading from the Conference Dropbox account. NOTE: Churches that use any of the music in these videos should have appropriate streaming licenses for the streaming of copyrighted content on their web or social media pages.
Here is the full worship order of service with participants' names:
Greeting & Call to Worship: Rev. Bumkoo "BK" Chung, West District Superintendent
Prayer of Invocation: David Koch, Conference Lay Leader
Reading of Psalm 133: James Brown, Conference Treasurer
Gospel Scripture Reading (John 20:19-31): Jo Fielding, Director of Administration and Benefits
Sermon & Prayer: Bishop Peggy A. Johnson
Response to the Preached Word: Rev. Evelyn Kent-Clark, South District Superintendent
Stewardship of Giving Response: Rev. Steven Morton, North District Superintendent
Acknowledgement & Thanks: Rev. Dawn Taylor-Storm, Director of Connectional Ministries
Prayer of Benediction: Rev. Andrew Foster III, East District Superintendent
Postlude: Rev. Dr. Sarah Fernsler
*Cabinet clergy members: Bishop Peggy Johnson and four District Superintendents: the Revs. Bumkoo Chung (West), Evelyn Kent Clark (South), Steve Morton (North) and Andrew Foster III (East). Plus, the Rev. Dawn Taylor-Storm, Connectional Ministries Director (Extended Cabinet member). Lay Cabinet members are: Jo Fielding, Conference Director of Benefits and Adminisatrative Services; James Brown, Conference Treasurer; and David Koch, Conference Lay Leader.