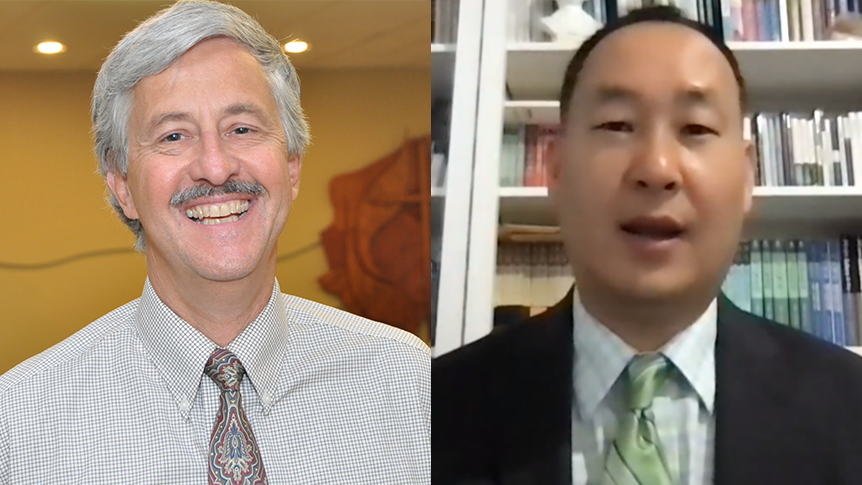 Bishop John Schol announced Dec. 16 the imminent departure of two district superintendents in June 2022, and he appealed to EPA Conference members for recommendations of who should succeed them.
"I am sad that the Rev. Bumkoo Chung (right) will finish his tenure as a superintendent on June 30, 2022," wrote the bishop in a conference-wide letter, noting Chung's passion for effective evangelism and community engagement among churches. "He has served EPA and the West District faithfully. In the short time I have known him, Rev. Chung is deeply committed to leading congregations to health and vitality, growing lay leadership and supporting clergy."
Bishop Schol also expressed sadness for the departure next June of the Rev. Steve Morton (left) as North District Superintendent. Morton requested a new part-time appointment. "I have known Steve for much of my ministry career and have found him to be an exemplary leader in growing churches, developing leaders and supporting clergy and laity in their ministry," wrote the bishop. "His leadership in the North District has led to innovative and strengthened ministry. He too will be deeply missed as a superintendent."

Bishop Schol asked for prayers for the Cabinet, "as we prayerfully discern and appoint two new superintendents." He also requested members' help in that process. "Please submit up to two names of individuals you believe will serve well as superintendents. I will only consider names submitted by clergy and laity for the superintendency."
Read the Bishop's full letter.