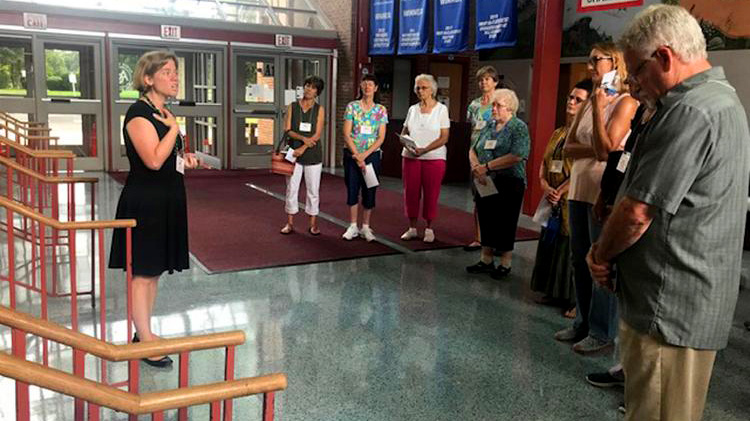 WEST GROVE—On Wednesday, Aug. 21, groups representing the diverse group of Avon Grove Ministerium churches gathered to pray through the Avon Grove Schools, including the High School, Middle School, Intermediate School, Penn London, the Avon Grove Charter School, Assumption of the Blessed Virgin Mary School, and the Nazarene Academy.
"Our community comes together in gratitude, pride, and prayer for teachers, staff, and schools," said said Pastor Monica Guepet, of West Grove United Methodist Church and Prayer Walk Organizer. "We pray for a peace-filled year with our outstanding educators and hard-working students."
The prayers ranged in age from elementary students to seniors. Students prayed for their schools and teachers. Parents and Grandparents walked with their children in prayer. Interested members of the community prayed for schools, teachers, staff, buildings, and administration.
Those gathered remembered the late Marge Pickle's influence on the Prayer Walk. Her commitment to praying for our schools inspired the Avon Grove Ministerium to continue in commitment to this event.
This year's theme, "Peace be upon you" resonated with educators. After gathering for instructions and prayer, participants depart for the schools for which they have committed to pray.
Some pray around the building. Others walked through school in prayer.
Some teachers, staff, and administrators invited those praying to pray for them, their classroom, and their upcoming year. Other staff and teachers asked prayers for more personal joys and concerns like illnesses, family members, grief and travel. Prayers respected each teacher or staff person who invited prayers in as well as each one who did not.