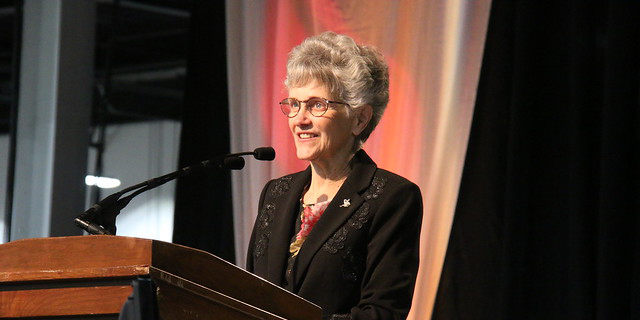 By Bishop Peggy Johnson
Soren Kierkegaard once wrote "The most painful state of being is remembering the future, particularly the one you'll never have." The people of God, however, think quite the opposite.
Legendary missionary Adoniram Judson, who served in India and Burma, proclaimed "Our future is as bright as the promises of God."
We serve the God of the ages that transcends time and space. And we, God's people, have the awesome privilege of being a part of the mighty sweep of history that continues the legacy of God's love. We do that by telling of God's goodness, might and salvation to the next generation.
It is in that witnessing spirit that the Eastern PA Annual Conference chose the 2019 theme "Tell to the Coming Generation."
We will hear and experience voices from our young adult community throughout our three-day conference. They will tell of their dreams and visions for a future church that will be in their hands in the years to come.
We will also hear from our beloved daughter of Eastern PA, retired Bishop Susan Hassinger, who will remind all at our Memorial Service of the promises of God that have been fulfilled in the church triumphant.
It is my hope that all will come away from annual conference with some new ideas for jump-starting our church's ministries with youth and young adults. They are not only the future of the church, they are the church of today as well.
A very special part of annual conference every year is our Service of Commissioning and Ordination. As we well know, this is a time of deep division and turmoil in The United Methodist Church in the wake of our recent General Conference. But nothing has been more encouraging to me during this journey than to see a class of new servant leaders dedicating their lives to the future of the church.
Neither the gates of hell nor our present state of division will prevail against the church. That is because God's Spirit is among us, working in us through it all and raising up new leaders for the task.
Be assured that the future is bright, and we will see it, no matter if we are "here, there or in the air." Let's keep our eyes on the work of drawing people to Christ—in particular, the next generation—so we will be found faithful on the last day.
As the Apostle Paul wrote "Not that I have already obtained all this or have already arrived at my goal, but I press on to take hold of that for which Christ Jesus took hold of me." (Philippians 3:12)