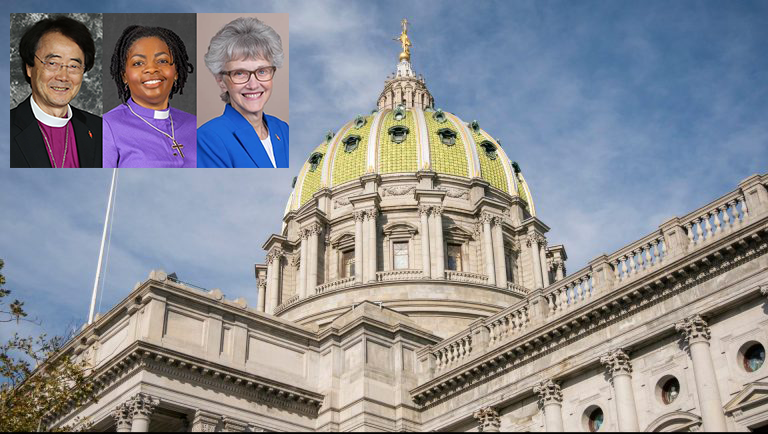 Bishop Jeremiah Park, leader of the Susquehanna Conference, joined other voices in calling for civil rights protection for LGBT persons at a news conference in the Pennsylvania State Capitol building on Monday, Feb. 3. The news conference was called to support the "Pennsylvania Values Act,"* Senate Bill 224, which would add LGBT persons to groups who are ensured legally of civil rights protection under the Pennsylvania Human Relations Act.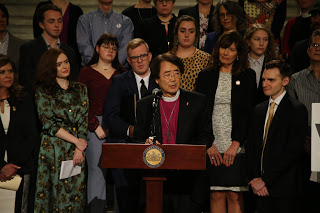 Bishop Park, who is based in Harrisburg, cosigned a general legislative letter Jan. 13 along with Bishops Peggy Johnson and Cynthia Moore-Koikoi, of the Eastern and Western PA conferences respectively. He spoke on their behalf at the event.
"We call upon our lawmakers to recognize and stop the unjust suffering experienced by our LGBT brothers and sisters, and act to protect all from harm by passing this bill," said Park, who retires this year as an active bishop. "It is long overdue and greatly needed at this time filled with polarization and violence."
The three bishops' recent letter called prohibiting discrimination based on sexual orientation and gender identity in housing, employment and public accommodations "an important moral issue of our times." It followed an earlier letter for the same appeal that they sent jointly back in 2015.
"Pennsylvania remains the only state in the Northeast without these important protections, which harms countless LGBTQIA+ citizens in the state," the new letter stated. "We believe that when all people are protected from discrimination, our entire community is strengthened with respect and mutual regard."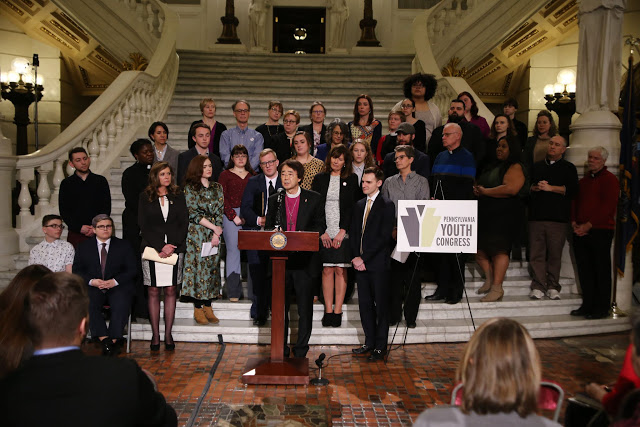 Bishop Park also said in his statement: "The Commonwealth of Pennsylvania is often known as the 'cradle of religious liberty.' William Penn is quoted as saying, 'We must give the liberty we seek.' It was here that religious freedom became a valued principle for American life as we learned to tolerate differences. Religious freedom means we have the right to our own personal beliefs about the moral issues related to sexual orientation or gender identity. It has never been the case that religious freedom has meant that we can restrict another person's liberty to live as equals in our communities."