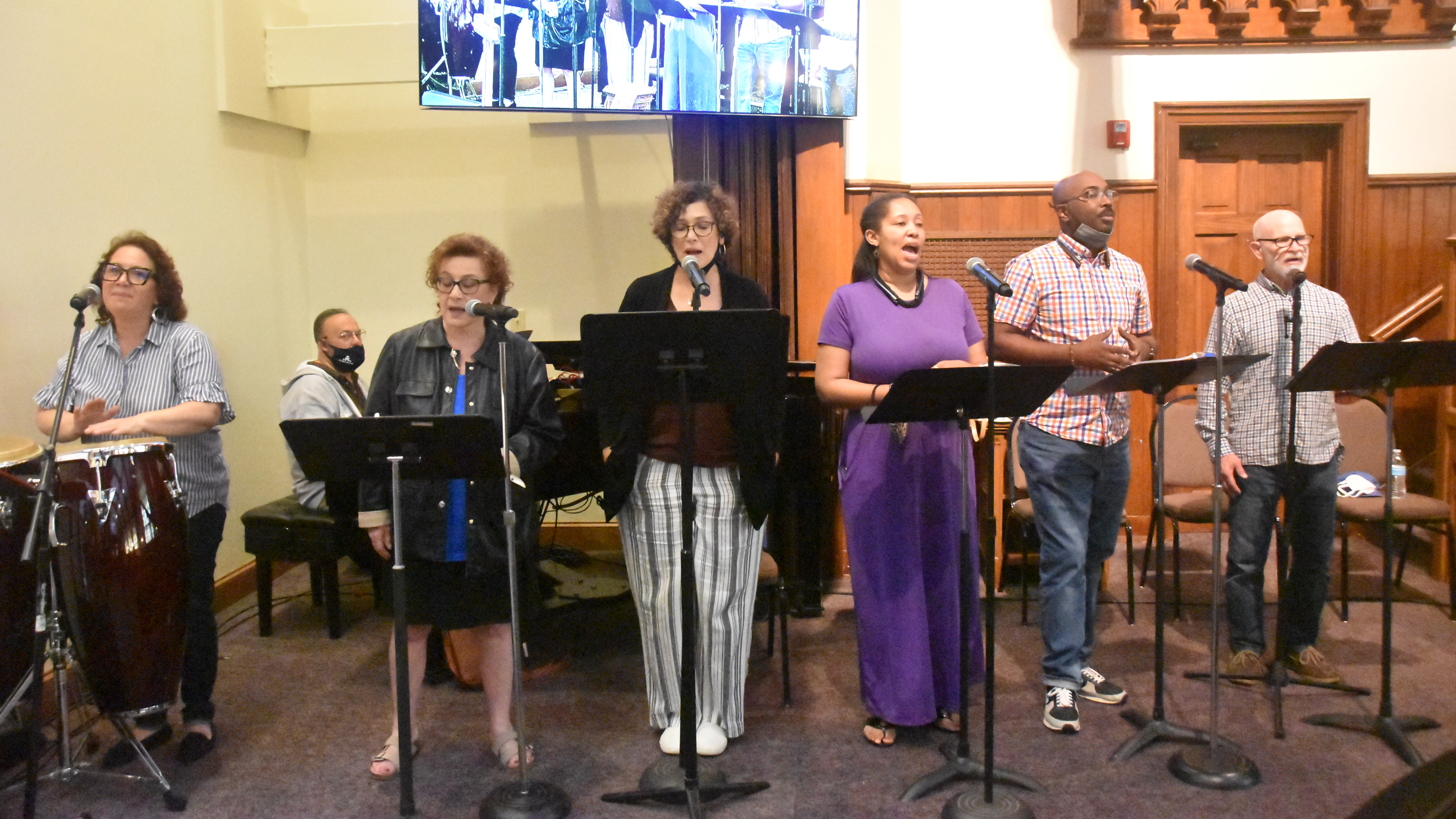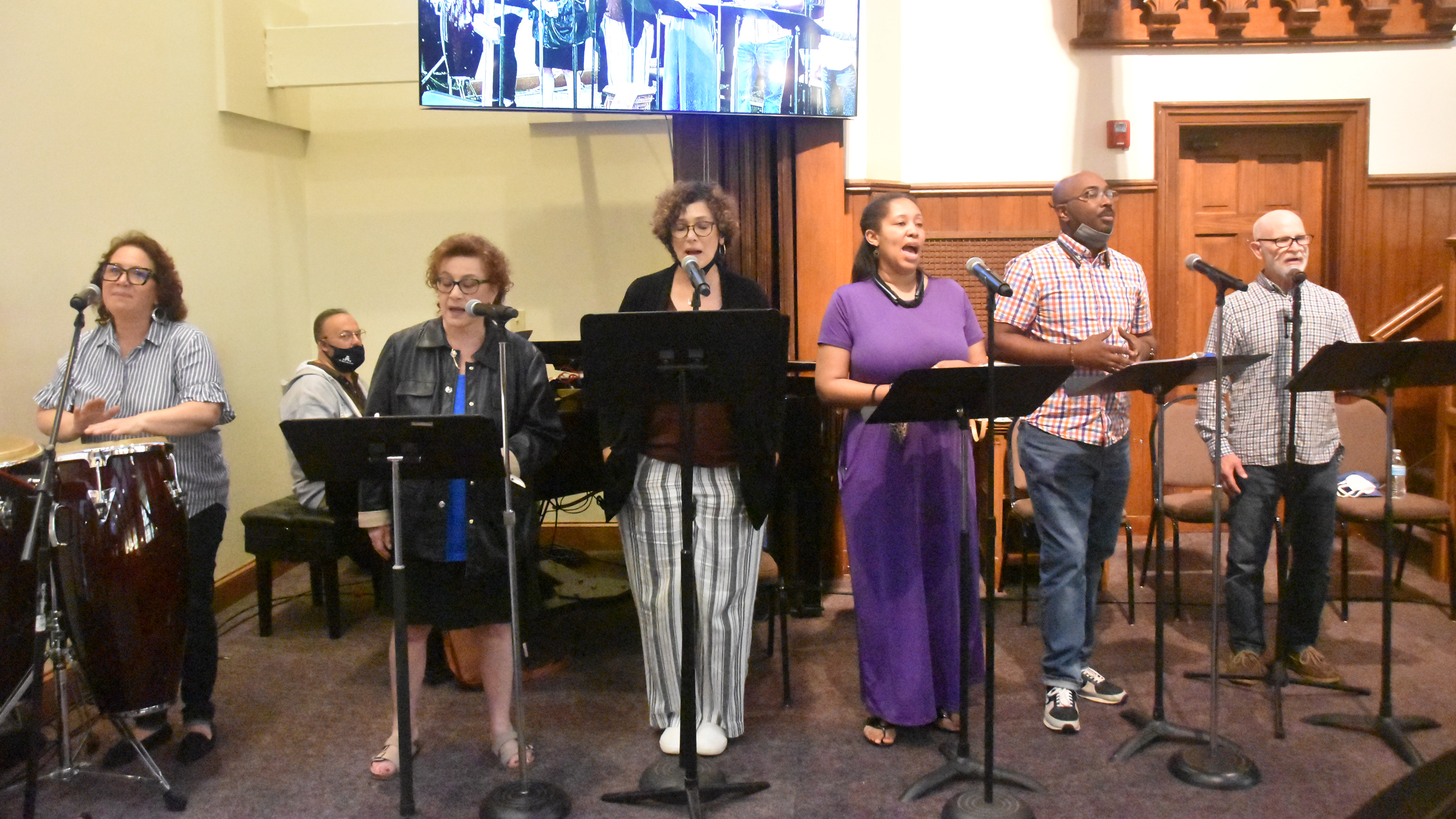 One song performed during EPA's Annual Conference in May pronounced a vision of racial justice and harmony. And those who created it hope others will continue to give it voice and make it a favorite among churches and beyond.
"Now Is the Time" is both a song and a poem recorded in "spoken word" style, a dual gift of conscience to EPA from its Commission on Religion & Race (CORR). A small, self-titled Creative Witness Team collaboratively contributed their poetic gifts to the making of the song and poem.
Initial members included the Revs. Mel Leaman, Deborah Tanksley-Brown and Diana Esposito—all CORR members—along with poet Fay Warner and teenagers Taylor Williams and Kenny Boggess.
Then the Rev. Lydia Muñoz, music director for the Annual Conference, adapted their lines, added upbeat music and led a diverse musical ensemble in performing it, May 22, at West Chester UMC. The ensemble included Leaman and Muñoz, along with the Revs. Eric Carr and Shayla Johnson. On instruments were the Revs. Irving Cotto and Mark Salvaçion, along with Andres Cotto.
Their performance was shown and recorded via the conference's video livestream. View the recording here. (Song is at 13:52).
Now is the time
Now is the moment
Joy will find hope upon each face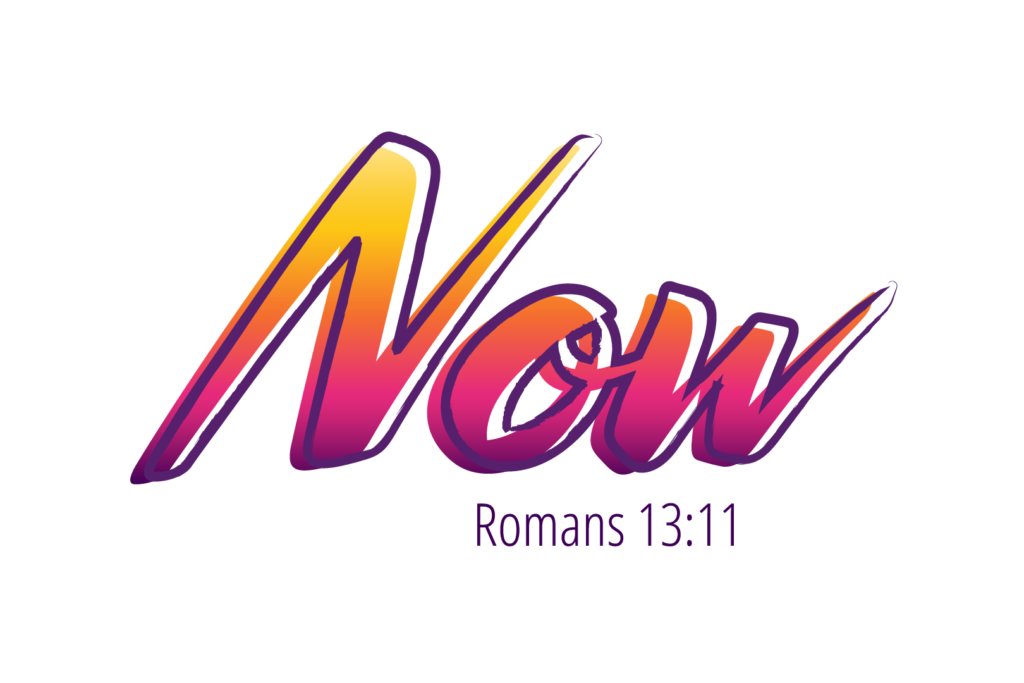 The song's lyrics draw from the conference's scriptural theme, "Now," proclaiming that today, not tomorrow, is when we must make real progress in dismantling racism.
Now with God's grace,
We can build equity
Justice will flow all over this place
Song supports Path toward Wholeness racial justice initiative
Indeed, the song was inspired by a major CORR Dismantling Racism endeavor in 2021 that led to the conference's new Path toward Wholeness racial justice initiative (Resolution 2022-07 in Resolutions, pages 50-57). CORR's Economic Justice Council did intensive research and analysis to reveal racial inequities in EPA's systems of pastoral appointments and church financial apportionments.
The interracial, intergenerational Creative Witness Team sought to support the Path toward Wholeness resolution and its implementation with a rallying song and poem that would advocate for its values of justice and reconciliation.
Awake, arise and take a stand
In our church and in our land.
We are diverse and work as one
Blest by the light of the same sun.
"We wanted to find a way to express the urgency of achieving equity and justice now, and add our witness to what the (CORR) council was trying to carve out," said Leaman, a retired pastor and Lincoln University professor.
"Our process was to come together in a diverse and inclusive way to create a song that could speak to the issues at hand. We sent the theme and scripture to our various writers, and said, 'Here are the goals of the equity and justice team. So let the Spirit move you.'"
The call is not for comfort's sake
But for the eyes that remain awake
Growing in love and equity
Becoming be-loved community
Tanksley-Brown and Warner have both written poetry with urgent justice and reconciliation themes before; so the song and poem were a natural fit for them.
"I'm usually a solo writer, but I liked branching out with other folks," said Warner, a published and recorded spoken-word poet who performs often and occasionally preaches at her church, Grace UMC in Philadelphia. She described music as "a universal language that can inspire and move people to places they never thought of being." And she described poetry as "such a powerful tool that reaches people's hearts and souls.
"I'm for anything that can help dismantle racism and…unify the body of Christ.," she said. "And what I loved about it was that we were so diverse in terms of our ethnicity, our environments and our age differences."
Young voices play important role in choices
Esposito, a young adult youth minister at Grove UMC, recruited teenagers Taylor Williams and Kenny Boggess. Williams contributed verses to the song and her voice to the poem. Boggess plays a haunting "Amazing Grace" solo on the cello as a backdrop to the poem.
"Choices we are making now in the church are primarily going to affect our young people," said Esposito, "and they are not getting enough of a say in the choices we're making."
"It was really important for me to get into this project because I know that I am already an advocate," said Williams, 15, a young leader in justice causes in her school and community. "I know how to get my point across in ways that a lot of different people understand.
"A lot of young people want to speak out about issues, but they don't know how or they don't have the courage to do it," she said. "You can see some young people are in really dark places. And so I always just remind them that there is hope and God has a plan for all of us."
Williams speaks the last words in the poem to represent that youth will have more to say about our world as time goes on.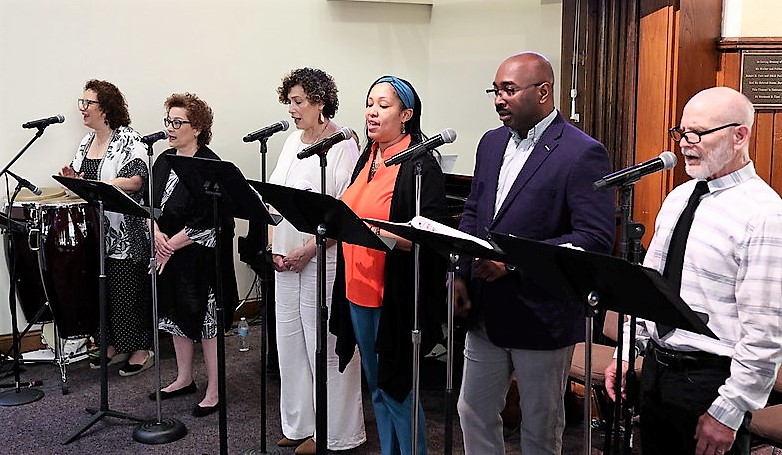 Muñoz, the song's composer, adapted the lines that everyone contributed, modified Leamen's initial folk-style version, and added lyrics and contemporary praise-style music.
"We considered Lydia a member of our diverse team, an extension of our process, who would take our words, add her own and put it all to music," said Tanksley-Brown. She and others hope that different groups will further adapt the song's music and format to their own styles of musical expression and make it their own.
Let us with grace embrace the truth
Too many still are living proof
May we become the bread we break
So all can drink and all partake
"I've heard the song in three different genres," said Esposito. "A comforting, familiar folk version; then Lydia's version that feels more like worship; and then the spoken-word version that has so much heart in it. To think that we started at the same place, but now we can hear so many differences. So much can be created from it."
Indeed, perhaps Latino, acapella and reggae versions are soon to come?