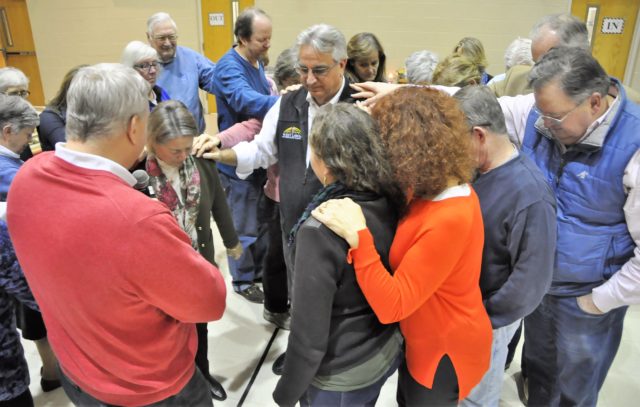 A handful of Eastern PA Conference delegates to the 2019 Called General Conference have been meeting with groups around the conference, as promised, to explain the groundbreaking proposals that worldwide body will consider in determining The United Methodist Church's future administration, doctrine and discipline.
When Bishop Peggy Johnson held five district town hall meetings in the early fall to explain the three major plans for what is called "The Way Forward" for the UMC, she promised follow-up interpretation by the conference's delegation members. Some of them joined her at the town hall events and offered their reflections on the overall Way Forward concerns and process.
The three chief proposals offered by the UMC's Special Commission on a Way Forward are the One Church Plan, the Traditional Plan and the Connectional Conference Plan. Additional plans introduced since those were first presented include the Modified Traditional Plan and the Simple Plan.
Delegates who have spoken and answered questions at sessions over the past several months include: the Rev. Dawn Taylor-Storm and Judy Ehninger, who co-lead the delegation, and the Revs. Jeff Raffauf, Lydia Munoz and Joseph DiPaolo. Gatherings have been hosted by West Lawn, Berwyn, Jonestown and other churches, varying in attendance from dozens to over a hundred very attentive people.
"This is a sacred and historic responsibility for us, and we take it very seriously," Judy Ehninger told listeners at several events. "Yes, we have studied and discussed these plans and concerns many times; but we want to make sure everyone understands them because there's a lot at stake." She and Raffauf have teamed up to share the interpretation task at several venues.
"I really don't know how I will vote when the time comes," Raffauf said after the Dec. 3 session at Berwyn UMC. He freely shares that, like in many other congregations, some of his flock at West Lawn are waiting anxiously to see what is decided to determine if they will become or remain full members. "I see merits in both the One Church and Traditional plans—pros and cons," he said, "and I will use these next few months to pray and discern what's the best path to take and where God is leading us.
Raffauf seemed pleased when he told the Berwyn crowd that while Bishops Peggy Johnson and LaTrelle Easterling of the Baltimore-Washington Conference both seem to disagree with the church prohibition against homosexual clergy and same-sex marriages, they nonetheless have made it clear they will uphold church's Book of Discipline as bishops.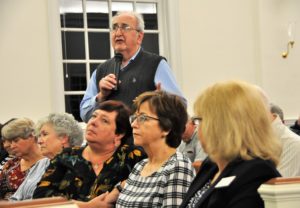 When attendees at each location talk among themselves—answering questions supplied by their guest presenters—some likewise emphasize the primary importance of upholding the church's laws and clergy covenants. Others see the church's mission to "make disciples for transformation of the world" as inarguably more important than staunch adherence to church doctrines and discipline that may be questionable.
Two other delegates—the Rev. Joseph DiPaolo, lead pastor of First UMC Lancaster, and Clarita Anderman Krall, a longtime member of First UMC Germantown—have written essays criticizing and defending, respectively, the popular One Church Plan. DiPaolo is an advocate for the Traditional Plan and an organizing member of the conservative Wesley Covenant Association.
You can read their insightful essays—The One Church Plan as the 'Way Forward' and Why the One Church Plan is a bad idea on our website. Find them in our UMC Way Forward special section.
"The EPA Delegation has modeled how individuals can work together across differences with respect, grace and compassion," said Taylor-Storm. "Our Eastern PA Conference delegation represents various perspectives on the three main plans. We have been able to discuss our differences openly and hear one another's hearts. I pray the respect and collegiality we have developed as a delegation is a model for the General Church and how we are called as the people of God to work and serve together."
NEWSpirit Communications hopes to obtain and offer more statements by delegation members on the developing Way Forward path before, during and after the Special General Conference, which will happen Feb. 23-26, in St. Louis, Mo.
John Coleman photos.