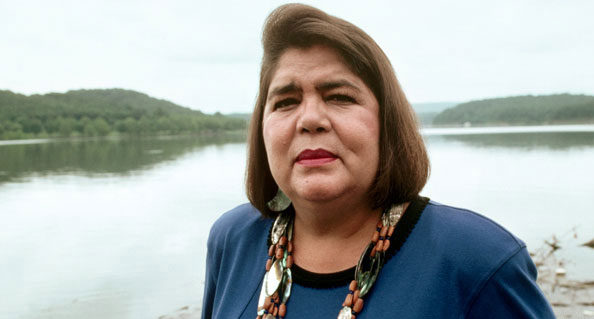 Sherry Wack, CSM, a member of Evansburg UMC and vice-chair of the Eastern PA Conference Committee on Native American Ministry, kindly sent us this inspiring essay about Native American history-maker Wilma Mankiller that she wrote for her church's celebration of Women's History Month­­. We publish it on Thursday, March 8, for International Women's Day.
Mankiller, born in 1945, was the first woman elected principle chief of the Cherokee Nation and a formidable advocate for Native American and women's rights. We thank Wack for sharing her heroic story.
In celebration of Women's History Month, we also invite anyone among our readers to please send stories (and photos if available) of other admirable, women history-makers with us to include in more website articles throughout the month of March. Tell us about honorable women of international, national or even local renown who have made important contributions to church and/or society. You don't have to write full essays; just send us several paragraphs of information about them…and of course, a photo if you have one. Thanks!
---
Born on November 18, 1945, in Tahlequah, Oklahoma, Wilma Pearl Mankiller was a descendant of Cherokee Indians, Native Americans who were forced to leave their homelands in 1830s; she was also of Dutch and Irish descent. She grew up on Mankiller Flats, located near Rocky Mountain, Oklahoma, before moving with her family in the mid-1950s to San Francisco, California. Her family was part of a federal relocation program encouraging Indians to move from the reservations to the cities, get a job and blend in, thus solving "The Indian Problem." Her family hoped for a better life but unfortunately they struggled greatly in their new home due to dwindling finances and discrimination.
Living in San Francisco during the turbulent '60s Wilma could not help but be inspired by the American Indian Movement and she participated in the Indian takeover of Alcatraz. To quote President Bill Clinton, "It was in San Francisco during the civil rights era that she found her voice and a belief in the power to make change." During that decade Wilma also married and gave birth to two daughters.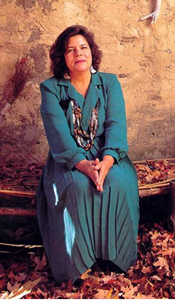 Always passionate about helping her people, she decided to return to Oklahoma in the mid-1970s, not long after filing for divorce. Soon after returning to her native state, she began working for the government of the Cherokee Indian Nation as a tribal planner and program developer. She brought her passion and organizing expertise with her when she returned to the Cherokee Nation.
In 1979, Wilma nearly lost her life in a serious car accident, in which she was struck head on by her best friend. Her friend died, and though Wilma survived, she underwent numerous surgeries as a part of a long recovery process. She then had to battle a neuromuscular disease known as myasthenia gravis, which can lead to paralysis. But with strength and determination Wilma was able to overcome her health challenges.
Wilma Mankiller ran for deputy chief of the Cherokee Nation in 1983 and won, subsequently serving in that position for two years. Then, in 1985, she was named the tribe's principal chief—making history as the first woman to serve as principal chief of the Cherokee people. She remained on the job for two full terms thereafter, winning elections in 1987 and 1991. Due to ill health, she decided not to seek re-election in 1995.
A popular leader, Mankiller focused on improving the nation's government, and health-care and education systems. Although she faced rampant sexism, she served three terms as the Cherokee Nation's principal chief, winning 80 percent of the votes in her final election. She was determined to let the Cherokee people be on their own without all the bureaucracy of the federal government. Wilma Mankiller laid the foundation for the Cherokee nation's current economic and socio-cultural status as one of America's most successful tribes.
Bill Clinton: "She was not only the guardian of the centuries-old Cherokee heritage, but a revered leader who built a brighter and healthier future for her nation."
She went from being a street kid in Oakland to being a member of the Ford Foundation.
For more than two decades, Wilma Mankiller led her people through difficult times. After leaving office, she continued her activism on behalf of Native Americans and women. She also taught for a short time at Dartmouth College in New Hampshire.
A stalwart activist for women's rights, Wilma Mankiller was cited by the organizers of the January 2017 Women's March on Washington as one of the most important leaders in America's movement for equality.
Mankiller shared her experiences as a pioneer in tribal government in her 1993 autobiography, Mankiller: A Chief and Her People. She also wrote and compiled Every Day Is a Good Day: Reflections by Contemporary Indigenous Women (2004), featuring a forward by leading feminist Gloria Steinem. For her leadership and activism, Wilma Mankiller received numerous honors, including the Presidential Medal of Freedom in 1998.
Wilma Mankiller died on April 6, 2010, at the age of 64, in Adair County, Oklahoma. She was survived by her second husband, Charlie Soap, whom she married in 1986.
This month many PBS channels are featuring a documentary called "Mankiller" that examines the legacy of the formidable Wilma Mankiller, who defied all odds to become one of the most influential and successful leaders in the United States.
According to Valerie Red-Horse Mohl, co-creator of the film, "Not only was she a great leader and achieved a lot for the Cherokee Nation and laid a lot of important foundational work for the growth and economic development, she was an amazing human being. She really gives us some important lessons in servant leadership, in working across the aisle. She did not believe in political titles; she really believed in the true idea of community organizing and working with and for people. In my opinion, we could all take some lessons from that today. I think she was just an incredible role model. Very humble to the point where her life is not well known. … I feel like it's my honor to bring attention to what she did and what she really gave us."
Her daughter said, "I really did not realize until I got older the impact my mother had on not just the Indian people but the world."
Wilma Mankiller: An American hero.
Sherry Wack CSM
Co-chair of EPAUMC CONAM
Bibliography:
Biography.com
NewsOK
"Mankiller" documentary by Gale Anne Hurd and Valerie Red-Horse Mohl