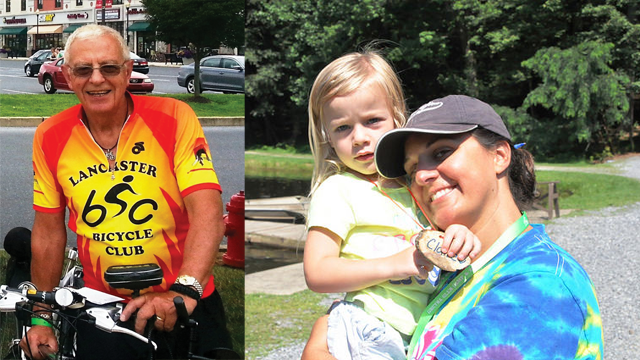 The Eastern PA Conference Connectional Ministries Office grants awards at each Annual Session to recognize people, churches and institutions doing exemplary work in evangelism, church growth and urban ministry. Such recognition spotlights not only the recipients and the work they do but also the importance of these missional values in the work of discipleship that all are called to do, and do well, in service to Christ.
The Harry Denman Evangelism Awards, sponsored by the UM Foundation for Evangelism, honors nominated United Methodists in each annual conference "whose exceptional ministries of evangelism–expressed in Word, Sign and Deed–bring people into a life-transforming relationship with Jesus Christ." They are clearly committed to introducing others to Christ's good news in various ministry settings.
This year the Eastern PA Conference awards the clergy Denman Award to the Rev. Richard Connor, a retired but still serving pastor, and the laity Denman Award to Apryl Miller, Director of Gretna Glen Camp & Retreat Center.
Connor has been an "intentional interim pastor" at Bethesda UMC in southern Lancaster County for two years. He has served 11 churches since his first appointment in 1967, including several since his retirement in 2010. Trained in evangelism ministries, he led congregations to start innovative outreach programs and contemporary worship services to reach new and younger people. He is also an avid bicyclist and participates in marathon bike rides to help raise funds for research in Multiple Sclerosis.
Apryl Miller has served at Gretna Glen since 2005, directing operations there since 2009. She eagerly invites and welcomes church and non-church-related campers and retreaters from across the conference and throughout the Lebanon area, always sharing a spirit of hospitality. Reportedly, numbers of campers and retreat groups have increased, providing opportunities for more people to experience the love of Christ in Gretna Glen's scenic setting. "The way she interacts with staff," reads her nomination form, "the way she appreciates volunteers, the way she points people to Christ in each conversation speaks volumes for her suitability for this award."
Each year the UMC's Discipleship Ministries awards churches recommended by Annual Conferences the One Matters Award, recognizing churches that have grown from zero to at least one new profession-of-faith member, or more, in one year. This year Cokesbury UMC in Marcus Hook is recognized for its growth from 0 to 7 new members since 2016. The church has become a popular place for children and families especially due to its summer Lunch and Learn reading improvement program and its monthly, first-Sunday community dinners, among other ministries.
Finally, the conference this year will expand its yearly Kim Jefferson Award for Urban Ministry from one recipient to eight recipients, two for each of the four districts.
Each superintendent was asked to identify two ministries–whether chartered or mission churches, cooperative ministries or related mission institutions—that exhibit "a passionate desire and effective pursuit" to address needs in their various "urban" communities. While several of the awardees are being commended for their achievements, others are being recognized (and encouraged) for creatively investing strategic vision, talents and resources into their pursuits.
The 2018 Kim Jefferson Awards for Urban Ministry will be presented to:
North District
Salem UMC, Allentown
Emmanuel/La Trinidad UMC, Allentown
West District
LUMINA, Lancaster
Anchorage Breakfast Ministry, First UMC Lancaster
East District
Haven-Peniel UMC, Philadelphia
Casa del Pueblo at Lehman UMC, Hatboro
South District
Union Memorial UMC, Darby
Clifton Heights UMC
(Joint award for their new Urban Alliance)
Learn more about these awardees in upcoming stories published on our conference website.